This stir fry just takes a few minutes to prepare.
By Chitra Agrawal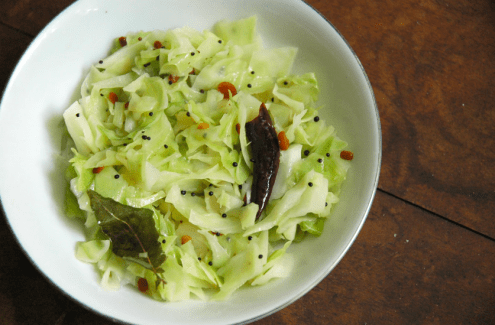 Cabbage palya is a South Indian stir fry. To make it you only need a few spices, which I recommend buying at the Indian store – black mustard seeds, ground hing (asafoetida), dried red chili, curry leaves (dry or fresh), urad dal (with no skin) and chana dal. Once you have these ingredients, you can apply them to a number of different vegetables (beets, green beans), rices, yogurt and salad dishes. This stir fry just takes minutes to prepare.
Cabbage Palya - South Indian Stir Fry
This stir fry just takes a few minutes to prepare.
Ingredients
1 small head of cabbage, chopped
2 tablespoons oil or ghee
1 teaspoon black mustard seeds
pinch of hing (asafoetida)
1 teaspoon chana dal
1 teaspoon urad dal
1 dried red chili, broken in half
3 curry leaves
cilantro
lemon
salt
Instructions
Heat oil in a wok under medium-high heat. Add mustard seeds and hing and shake the pan up. Add in the chana and urad dal. The mustard seeds should start popping and the dals should start to brown up. Once this happens, turn the head to medium and add in the red chili and curry leaves. Stir them around and coat them with the oil.
Next throw in the cabbage and fry for 7-8 minutes. If you are getting a little burn on them, add a little bit of water to the leaves. The cabbage should be wilty, soft and have just a little crunch to it. Mix in salt to taste and squeeze lemon on top. Garnish with cilantro.