A healthy cauliflower bake with authentic South Indian flavors.
By Shuchi Mittal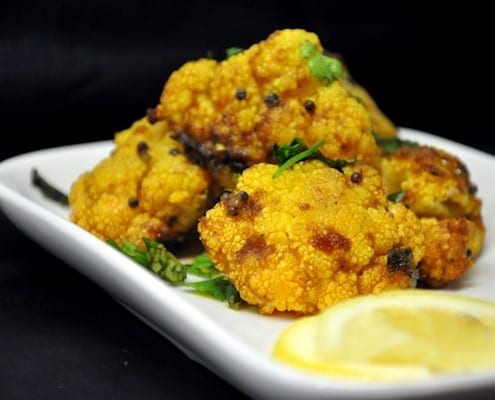 A friend of mine made a comment the other day- the words 'South-Indian' and 'Bake' cannot be in the same sentence. If it should be a South Indian snack, it must be fried. Well, challenge accepted! Off I went to experiment (with much excitement) on how I could retain those scrumptious flavors of curry leaves and mustard, without smothering & drowning the vegetable in oil. I salvaged my standing for this dish turned out so well that my husband and I polished off the whole thing in under 10 mins! (It serves 4). Geez, it took me longer to prepare it, but I'll try not to complain. I'll just sing along and enjoy the triumph of will over words of (supposed) wisdom…
"The tang from mustard
Or smoked curry leaves,
Brings back memories
Of home overseas…"
South Indian Cauliflower Bake
A healthy cauliflower bake with authentic South Indian flavors
Ingredients
1 Big Cauliflower (Cut Into Small Florets)
¼ Cup Olive Oil
2 Tablespoons Sambar Powder (A South Indian Curry Powder)
1 Teaspoon Mustard Seeds
2 Tablespoons Crushed Curry Leaves
1 Teaspoon Paprika
½ Teaspoon Hing (Asafoetida)
2 Tablespoon Cornflour or Corn Starch
1 Tablespoon Lemon Rind
Salt to taste
Chopped Coriander & Chat Masala To Garnish
Instructions
Cut the cauliflower into small florets and clean it by soaking in a mixture of warm water and salt for 15 mins.
In a large mixing bowl combine all the other ingredients, except the lemon rind and coriander, and mix well.
Add the cauliflower florets and toss well to coat thoroughly with the mixture. Leave aside for 20 minutes to marinate.
Preheat an oven to 200 degree C and put aluminum foil on a baking tray.
Spread the cauliflower evenly on the tray and sprinkle the lemon rind on top. Bake for 25 minutes, tossing it once after 15 minutes. To get a brown crispy surface, turn the oven to grill mode and grill for 3-5 minutes at 200 degree C.
Garnish with chopped coriander, chat masala and serve hot. A great appetizer!