For your next braai, why not fire up some Boerewors Rolls? Don't get it? Meet South-Africas beloved answer to Hot Dogs.
By Alida Ryder

The United States have Hot Dogs, South Africa has Boerewors Rolls. Directly translated, Boerewors means Farmer's sausage and in South Africa, no Braai (Barbecue) is complete without the very well known coil of Boerewors sizzling away. Boerewors is made from coarsely ground Beef which is most often combined with ground Pork and fat. The unmistakable flavour and aroma of Boerewors comes from the amount of spice added to the ground meat. Coriander, nutmeg, cloves, all spice and black pepper are all added and when the Boerewors is cooking over the coles, the aroma is intense and absolutely saliva-inducing.
Even though Boerewors is best braaied, it can also be fried in a pan or cooked in the oven. In South Africa, it is
often served with Pap (a grainy porridge made from Mielie-Meal and very similar to the American Grits) and a thick tomato sauce but my favourite way of serving it is in a fresh hot dog bun with fried onions and tomato relish. Sadly though, South Africa is moving away from our beloved Braai season (Summer) and into comfort food eating season (Keep posted for some fab South-African stews "Bredie's") so I will be taking every opportunity to eat as many Boerewors rolls as I can in the next few weeks, but if you are in the Northern Hemisphere, why not track down a South African butcher and ask him for some of this delicious sausage, it really is worth it.
If all else fails, ask your local butcher for a coarse-textured farmer's / country sausage and you might be absolutely delighted at the outcome. And don't forget to serve it with an ice-cold beer!
Boerewors Rolls
Serves 4
See Also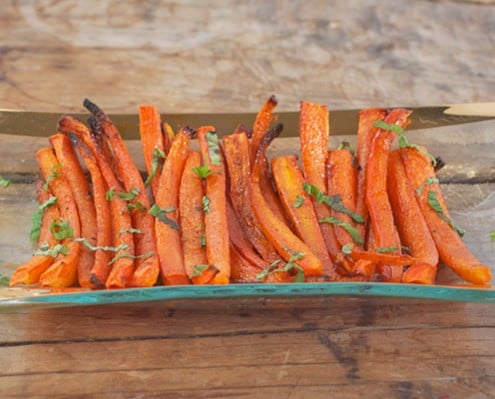 2 large onions, thinly sliced
2 cans chopped tomatoes
1tbsn sugar
1tbsn balsamic vinegar
salt & pepper to taste
500g / 1.1 pounds Boerewors (or sausage of your choice)
4 fresh Hotdog rolls
Wholegrain mustard, to serve
Coleslaw, to serve
1. Firstly, start with the onions. Heat about 2tbsn oil in a large pan and add the sliced onions. Gently fry for 5-10 minutes until the onions are soft and golden. Set aside.
2. For the tomato relish, add the chopped tomatoes, sugar, balsamic vinegar, salt & pepper to a small pot and allow to reduce on a medium heat for 5-10 minutes until it's thickened slightly.
3. In South Africa, Boerewors is almost always braaied but you can also pan fry the sausage of your choice. Cook until it's cooked through but still juicy.
4. Serve the boerewors in the fresh rolls with some wholegrain mustard, tomato relish and fried onions. Add some coleslaw on the side.
Alida Ryder
Alida Ryder is a South African food writer and blogger. She has a passion for simple and delicious food, as well as fun and healthy family cooking. She shares her tips and recipes on her Simply Delicious blog and of course here at Honest Cooking.