It's time for a pizza party. With a sourdough pizza crust you can be sure to have a delicious flavorful crust.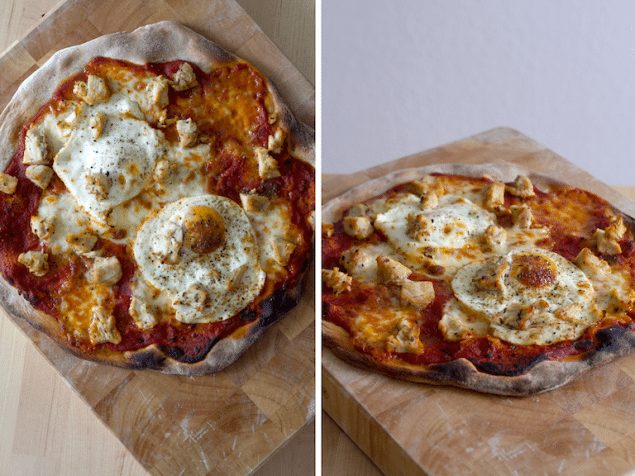 After living in Berlin for the last year-and-a-half, we finally had our first dinner party last weekend. To make things fun (and a bit easier) we decided to throw a pizza party, using some sourdough starter to create the pizza dough. TH took the reins as pizza master, rolling out the dough and pre-baking the shells, and then everyone had a chance to make their own pie. It was really fun to see (and taste!) the different combinations and flavors that came together. My favorite was the pesto pizza with fresh mozzarella, and the spicy chicken and red onion pie.
As I've mentioned before, keeping up a sourdough starter means tossing a bit of it out each day. Tons of recipes have sprouted up to use this extra dough, as the sourdough can be substituted for yeast and adds flavor. Pizza dough is a relatively easy way to use up the extra sourdough, and it makes a quick and simple dinner. For our pizza party, I made several batches of dough and we ended up with a few leftover pie shells. This pizza was a Saturday morning breakfast pie, prefect with the spicy chicken and fried eggs on top.
Katherine Sacks
Ingredients
1½

cups

sourdough starter

1

tablespoon

olive oil

1

teaspoon

salt

1½

cups

flour

½

teaspoon

garlic powder

½

teaspoon

dried oregano

½

teaspoon

dried basil
Instructions
In a medium-size bowl, combine the starter, olive oil, salt, flour, garlic powder, oregano, and basil. If the dough is too dry, add a little more starter or water.

Once the dough comes together, knead it gently for 5 minutes until a smooth dough forms. If baking immediately, place dough in a well-greased bowl, cover, and let rest for 30 minutes. Meanwhile, preheat oven to 230°C. Alternatively, refrigerate dough overnight.

After the dough has rested, lightly dust the workspace with flour and roll out the dough into round pie about ?-inch thick. Lightly grease a baking sheet, place dough onto sheet, dock a few times with a fork, and bake for 5 minutes. After the shell is pre-baked, you can freeze it or top and continue baking.

To continue, brush a small amount of olive oil on the top of the pie shell, then top with sauce, toppings, and cheese. Return to tray and continue baking for another 10 to 15 minutes; you may need to remove the pie from the tray halfway through and bake directly on the oven rack to fully cook the crust. Watch the pizza and crust, and remove when the crust and toppings are nicely browned.
Katherine Sacks
Katherine Sacks is a Berlin-based freelance writer and recipe developer specializing in travel, food, lifestyle, and health topics. A graduate of Drexel University's culinary arts department and Northwestern University's Medill School of Journalism, Katherine combines seven years of restaurant experience with her reporting and editing background. Her work has appeared in Chicago magazine, the Chicago-Sun Times, and FoodandWine.com, among other publications. She also contributes to culinary trade publication StarChefs.com, Forbes Travel Guide, and Snooth Eats, and blogs at LaVitaCucinare.com.