Skip candied apples and instead make this soft apple cake complete with sweet toffee pieces and a decadent salted caramel sauce.
By Emily Clifton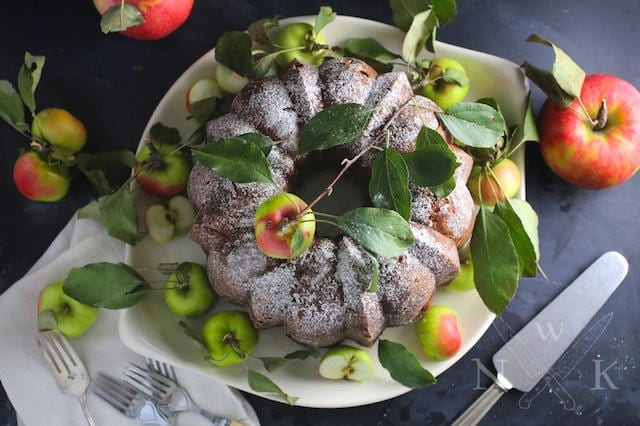 In this recipe there's the toffee, which, as our Ultimate English Toffee recipe proves, we're all about.
There are the apples – and who doesn't like apples? Your basic apple is basically the perfect snack – you can eat it on the go without getting your hands covered in crumbs, it's got plenty of natural fiber, vitamins and that, they're available pretty much all year round no matter where you live.
Toffee apples – those of a more American persuasion might be more familiar with them as "candy apples" – are a mainstay of autumn, and the first hints of autumnal flavors in our cooking always give me a frisson of delight. But instead of toffee apples, I created a toffee apple inspired cake!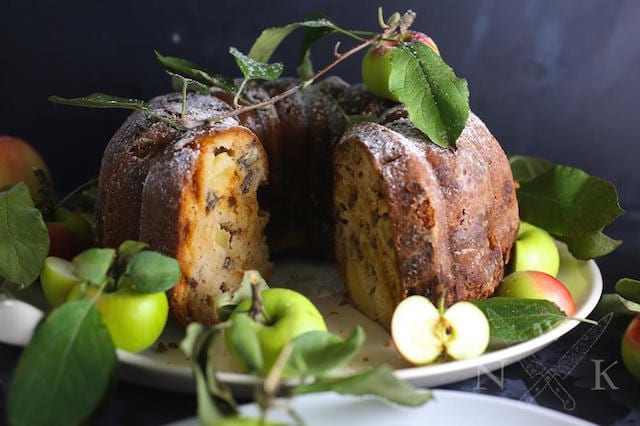 So this cake is a toffee apple for those, like me, who don't really like toffee apples. It's thicker than a sponge, and has a consistency somewhere between a coffee cake and a bread pudding. The apples, sour cream and melted toffee (or butterscotch) keep it incredibly moist. We served it with a drizzle of our Salted Caramel Sauce but you could absolutely definitely take it a la mode with ice cream, or, if you're feeling devilish, whip up some mascarpone cream (see step 2 in the Rhubarb Curd Tartlets recipe). We made this version with butterscotch chips, since we had them, but you could absolutely use toffee chips if you can find them in your local store, or if you want to make your own with the recipe above.
See Also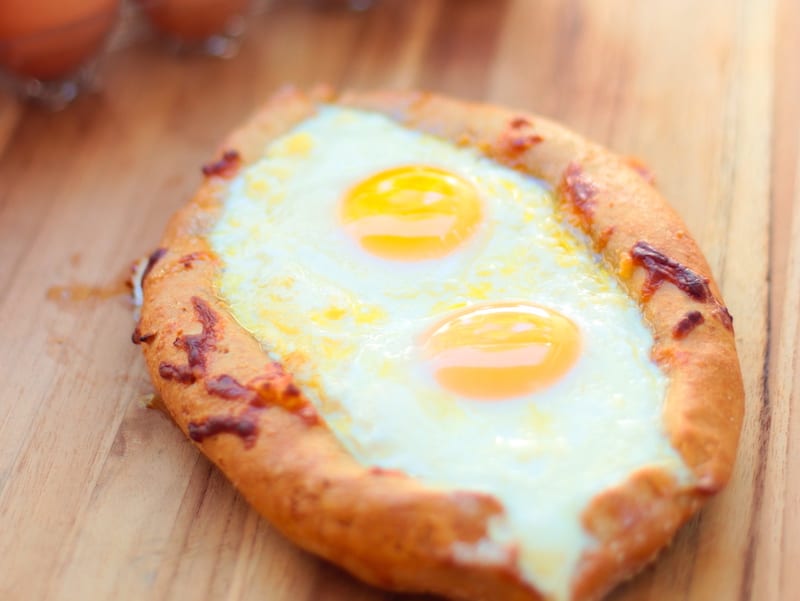 We used a bundt (or tube) pan to bake the cake, but you could just as easily use a regular deep square or oval baking dish. If you want to try using a much shallower dish, you should reduce the cooking time by 10-15 minutes (check after 45 minutes). If the top looks done and a toothpick comes out mostly dry, it's done. A bundt pan gives you great crowd-pleasing results, but don't forget to prep it before you pour in the batter – rub the inside surface liberally with butter (or use a neutral-flavor spray oil) and then dust with flour. You will probably have to run a plastic spatula carefully around the sides to loosen it, but once that's done, turn it out onto a flat surface and wobble the pan a little to release the cake.
Find the recipe for the salted caramel sauce here.
Print
Sour Cream Apple Cake with Toffee and Salted Caramel Sauce
Skip candied apples and instead make this soft apple cake complete with sweet toffee pieces and a decadent salted caramel sauce.
Author:

Emily Clifton

Prep Time:

30 mins

Cook Time:

1 hour

Total Time:

1 hour 30 mins

Yield:

16

servings

1

x
Category:

Baking, Dessert, Cake

Cuisine:

American
Butter for greasing pan

3

cups

all-purpose flour, plus more for dusting pan

1/2

cup

vegetable oil

1

cup

sour cream, room temperature

1

cup

granulated sugar

1/2

cup

brown sugar, packed

3

eggs, room temperature

1 teaspoon

salt

1 teaspoon

cinnamon

1 teaspoon

baking soda

1 teaspoon

vanilla

3

cups

apples (preferably tart like Honeycrisp or Granny Smith), peeled, cored, and chopped into 1 1/2 inch chunks

1

cup

pecans or walnuts, roughly chopped

1

cup

toffee or butterscotch chips
Salted Caramel Sauce (for drizzling, see recipe above)
Vanilla ice cream, Creme Fraiche, or whipped cream (optional)
Instructions
Preheat oven to 350°F. Butter and flour a 9-inch tube pan. Beat the oil, sour cream and sugars together in a mixer (fitted with a paddle attachment) for about 5 minutes. Add eggs, one at a time, beating each until creamy. Add vanilla and beat for anther minute.
In a medium bowl, add the flour and cinnamon, salt and baking soda and whisk to combine. Add to the wet ingredients, beating on low speed just until combined. With a rubber spatula, fold in apples, nuts and toffee chips until they are dispersed evenly. Don't over-mix.
Pour the batter into the prepared bundt pan. Bake until a toothpick inserted into the middle of the cake comes out clean, about 1 hour. Remove from oven and set on a cooling rack on the counter. Allow cake to cool in pan.
Once cake is completely cool, turn it out onto a serving plate. Sprinkle the top with powdered sugar. Slice and serve with ice cream, whipped cream or creme fraiche and a drizzle of Salted Caramel Sauce, if desired.
Emily Clifton
I love to cook and learn about food. I was born and raised in New York City and I was exposed to a lot of different food cultures as a kid though I was weirdly picky. I hated mashed potatoes but I loved kim chee. Hated fish, loved escargot. I said I was weird, don't judge me. My mom is a great cook but I definitely don't have any "passed down from grandma" types of recipes. Both my grandmothers were horrible cooks. I mean really, truly bad. I give my mom a lot of credit for knowing that string beans are not actually supposed to be gray. In real life I'm a film/TV editor which just might be the most fun job in the world. Occasionally it can be the most annoying job in the world which is why I really appreciate it when I get to take a break and do my other favorite things which is cook, take photographs and write.