You can do things to brighten the dark days. Like making a cherry pie that brings a bit of July to the middle of the winter.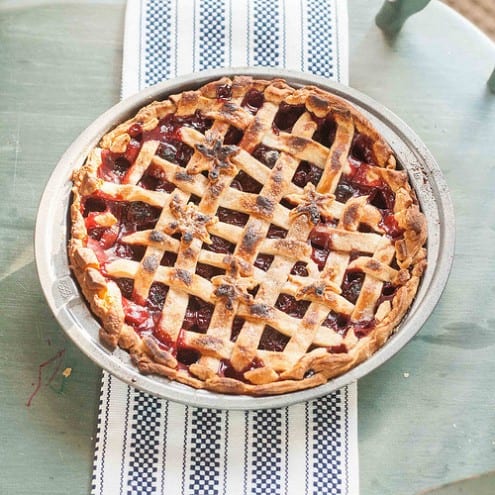 I'm feeling particularly impatient with the cold. Not just because it's winter, but also because our heat has not been working properly for the past few days. It's hard enough to get out of bed in the morning on a dark mid-winter morning, and when it's 41 degrees in the living room, that doesn't help matters.
While it's still cold enough that the prospect of double digit temperatures is exciting, our heat is fortunately working (unless I just jinxed us).
I'll still have to be patient for warmer temperatures but we can do some things to brighten our dark days. Like making a cherry pie that brings a bit of July to winter.
And don't worry–I'm not going to tell you about making sour cherry pie from fresh cherries in mid-winter. That would just be annoying. Tart cherries are hard enough to find when they are in season, much less this time of year (hence I've had to "make do" with sweet even in the height of summer). But fortunately they can be found jarred. My local whole foods sells 24 ounce jars imported from Hungary, billed either as "compote" or simply "sour cherries in sugar." They are simply packed in their juice, which is only lightly sweetened–no viscous, cloying pie filling here. You could happily spoon this compote into your morning yogurt, or even just eat a few straight from the jar. Or, of course, make pie!
A few tweaks are in order, though. Most fresh pie recipes require you to macerate the cherries in sugar to draw out their juice–obviously that step is not necessary, but you should save some of the juice when you drain the cherries to compensate for this–I found a half cup worked well. I also added just a touch of sugar, as jarred cherries usually come pre-sweetened.

Sour Cherry Pie with Jarred Cherries
You can do things to brighten the dark days. Like making a cherry pie that brings a bit of July to January.
Recipe Type:
Dessert, Pie
Ingredients
Your favorite recipe for Double Pie Crust.
Filling:
3 tablespoons cornstarch
¼ teaspoon salt
2 24-ounce jars of sour cherries, sweetened (such as this brand) (reserve ½ cup of the juice)
3T sugar
1 teaspoon fresh lemon juice
½ teaspoon vanilla extract
1 egg white (optional)
sugar and milk
Instructions
Prepare crust in advance and divide into two disks. Make sure the dough has time to rest before assembling the pie.
Position rack in lower third of oven and preheat to 425°F.
Drain the cherries and reserve ½ cup of the juice.
Stir together the cornstarch, salt, cherries, sugar, lemon juice, reserved cherry juice, and vanilla extract.
Roll out 1 dough disk on floured surface to 12-inch round. Transfer to 9-inch pie dish. Trim dough overhang to ½ inch. If using egg white, paint the crust with the egg white to "seal" it.
Roll out second dough disk on floured surface to 12-inch round. Using large knife or pastry wheel with fluted edge, cut ten ¾-inch-wide strips from dough round. (You can also just roll into a round and use this to top the pie if you don't want to make a lattice crust).
Transfer filling to dough-lined dish, mounding slightly in center.
Arrange dough strips over filling, forming lattice; trim dough strip overhang to ½ inch. Fold bottom crust up over ends of strips and crimp edges to seal. Brush lattice crust (not edges) with milk. (If not using a lattice crust, slash the top decoratively to allow steam to escape while baking). Sprinkle the top crust with sugar.
Place pie on rimmed baking sheet and bake 15 minutes. Reduce oven temperature to 375°F. Bake pie until filling is bubbling and crust is golden brown, covering edges with foil collar if browning too quickly, about 1 hour longer.
Transfer pie to rack and cool completely.
Sara Clevering
Sara sees cooking and baking as a delicious way to connect with the past and travel the world from her kitchen. She is commited to preparing homemade, unprocessed meals for her family and is always looking for tricks to fit this into a busy schedule. Sara is currently in the Boston area after several years living in London, Spain, and the Czech Republic, and travelling extensively in Eastern and Western Europe, always making sure to experience local culture through food. She also blogs with her sisters at www.threecleversisters.com