Cherry pie gets an update with the fruit's sour counterpart, perfected for summer with a cold wheat ale.
By Amanda Brooke Bothwell
There are times when you taste something so good, everything about that very moment: the flavors, textures, atmosphere, are forever ingrained in your mind and on your taste-buds. Following these moments, however, is when the struggle sets in. How can I ever recreate that? is the thought that is nearly haunting while trying to pin down what exactly made for such a perfect combination.
This was the kind of moment that occurred while I was dining out a few months ago. Though it isn't the main dish that I've been stuck on, nor is it the dessert. Heck, we hadn't even gotten to the salad when I experienced what I still consider to be the best part of the meal: the bread basket. While the rest of the meal was very enjoyable, this particular restaurant offered freshly baked biscuits with butter and sour cherry chutney. And that, my friends, just can't be topped.
Sour cherries have been on my mind since that very moment: the salty creaminess from the butter melting and swirling with the fresh chutney on the warm biscuit. It needed to be recreated. Mimicked. At the very least, reinvented. I settled on a Sour Cherry Galette with a warm, buttery crust surrounding the beloved little gems. Not exactly the biscuits I had experienced, and not quite a pie (though it did set off an evening of off-key renditions of Warrant's "Cherry Pie"), this dessert is simple to pull together after plucking a few sour cherries fresh from the tree.
I did the only thing I could think to do to make this dish even more perfect than those heavenly biscuits and chutney–I served it with a beer. I paired this galette with Troegs DreamWeaver Wheat. This wheat ale brings out the nuttiness in the pastry, while encouraging the sour cherries to come front and center. One bite and I already know I'm satisfied with my quest for a sour cherry revival. At least this time I have the recipe.
See Also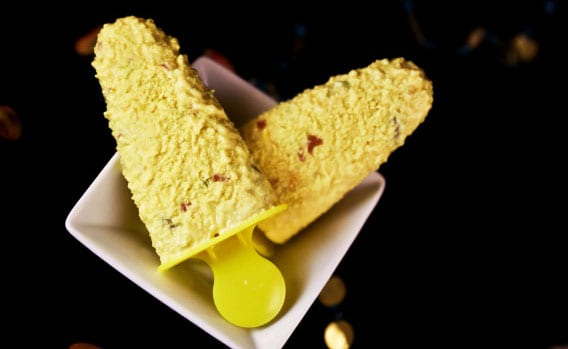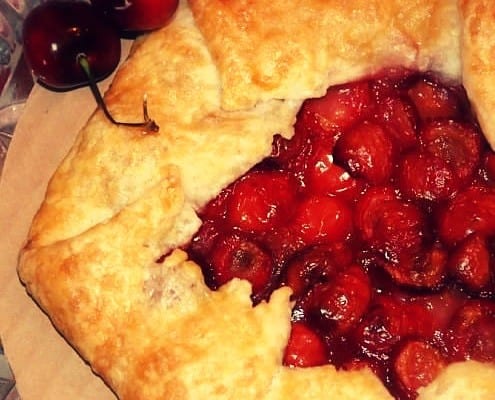 Sour Cherry Galette and DreamWeaver Wheat
Sour cherries shine in a buttery pastry served with a cold and summery wheat beer.
Author:
Amanda Brooke Bothwell
Ingredients
Pastry
¾ cup (74.5g) flour
1 Tbsp (12g) granulated sugar
¼ tsp (1g) salt
3 Tbsp (43g) very cold butter, cubed
1 Tbsp (15g) cold shortening
3-4 Tbsp (45-60g) ice water
Egg wash
1 tsp (4g) turbinado sugar
Pinch of kosher salt
Sour Cherry Filling
1 cup (150g) sour cherries, halved and pitted
1 Tbsp (12.5g) brown sugar
1 tsp (4g) granulated sugar
½ tsp (3.5g) vanilla bean paste (or vanilla extract)
1 tsp (2g) flour
Instructions
Preheat oven to 350 degrees F.
For pastry dough, mix together flour, sugar, and salt.
Cut in butter and shortening with a pastry blender until mixture resembles wet sand.
Gently stir in water just until dough forms.
Shape into a disk, wrap in plastic and refrigerate for at least one hour.
While dough chills, prepare filling. Mix together cherries, brown sugar, granulated sugar, and vanilla bean paste.
Roll out dough until 9 inches in diameter.
Sprinkle 1 teaspoon of flour around the center of the dough.
Pour filling on top of flour, leaving 2 inches of dough around the edge.
Gently fold over edges of pastry, leaving some of the cherries exposed in the middle.
Brush pastry with egg wash and sprinkle with turinado sugar and a little kosher salt.
Bake for 45-55 minutes, until pastry is golden.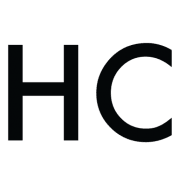 Amanda Brooke Bothwell
Torn between a world of beer and baking, Amanda has embraced both in her life of home-brewing and cake-making, occasionally "spilling" a bit of the former into the latter. Beyond baking and fermenting, she is in the search for some of the world's greatest food offerings perfectly paired with a cold one.