Christian Aarø Mortensen is the owner and sommelier at one Michelin starred restaurant AOC in Copenhagen, Denmark. Kalle Bergman caught up with him to talk about the restaurant and how to pair the New Nordic Cuisine with wine.
By Kalle Bergman
NORTH FESTIVAL in NYC 2013 – Your Chance to Experience New Nordic Cuisine in New York!
ASKA – New York goes Oslo – Fredrik Berselius vs Esben Holmboe Bang – October 3rd and 4th, 2013

Produced by Honest Cooking Magazine, in collaboration with Restaurant Aquavit and the International Culinary Center, NORTH is the first ever Nordic gastronomy festival to take place in New York City.
Two old friends come together for an excursion in New Nordic Cuisine from a New York perspective at ASKA in Williamsburg.
Fredrik Berselius has taken New York City by storm with his Williamsburg eatery ASKA, where diners are treated to Nordic inspired New York menus.
Esben Holmboe Bang is the owner/chef of the most famous restaurant in Norway, Maaemo, a restaurant that uniquely received 2 Michelin stars in its first ever mention in the guide.
Get a ticket for the Fredrik Berselius vs. Esben Holmboe Bang dinners at ASKA below!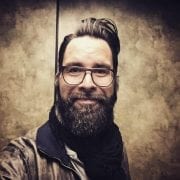 Kalle Bergman
Kalle Bergman is a food writer and media entrepreneur who is the founder of Honest Cooking. As a food writer, his writing has been regularly featured in publications like Gourmet, Los Angeles Times, Huffington Post and Serious Eats. He is obsessed with simple food, more often than not from his native Scandinavia.