This delicious and good-for-you fish is sustainably caught in Bristol Bay, Alaska. It's a fish dish you can definitely feel good about serving.
By Carrie King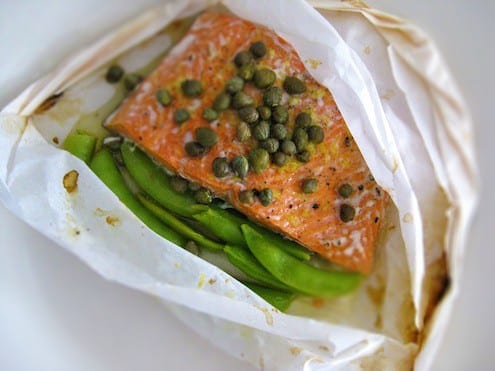 For me, the most overwhelming part of trying to use sustainable ingredients is buying fish.
When I say that I find this topic overwhelming, I mean that sometimes I go weeks and weeks and weeks without buying fish to cook at home because I get so confused and discouraged when I walk up to the fish counter that I avoid it at all costs.
My experience always goes a little something like this.
I stare through the glass at all of the glistening filets and sides of fish nested on ice. Between all of the info pasted on the case and dotted throughout, I find myself studying and reading signs for the next 10 minutes, trying to make sense of where the fish is from, how it was caught or raised, and even what type of fish it is. The fact that so many fish species seem to have multiple names does not help the situation. I mean, broccoli is broccoli. Chicken is chicken. Cod should just be, well, cod, no? But it's not; it could also be Scrod, Whitefish, Alaska cod, Gray cod or True cod. See what I mean?
Along with multiple 'seals of approval' from folks like the Marine Stewardship Council, there are almost always various color-coding systems, which differ from store to store, meant to represent how "sustainable" each selection is. I am convinced that these systems and signs are meant to daze me into indifference rather than to actually help me make an informed choice.
Ten to fifteen minutes later – signs read – it's time to make decisions. Farmed or wild?
That's when I realize that, in spite of all of those signs and seals of approval, I am still at a loss. Although it's far better to be a clued-in consumer, in the case of fish, figuring out what we should buy is like trying to decode a very, very disturbing and confusing puzzle. Except it seems like the answer is always a choice between the lesser of many evils – and that doesn't really sit well with me. And that's when I turn around on my heels and exit the fish shop – no fish or shellfish in hand.
See Also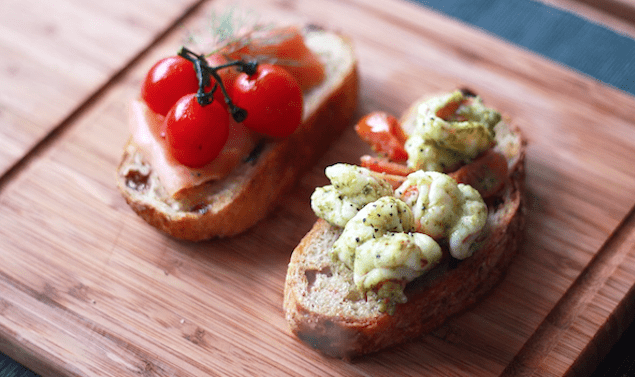 But, because I adore eating fish and there's no denying how good it is for us, I have reinvigorated my quest to source sustainable fish and have left the stress and guilt behind. With the help of The Monterey Bay Aquarium and their seafood watch, it's easier than ever to find up-to-date info about which seafood we should be avoiding or choosing.
A local Brooklyn favorite for sourcing seafood is Forager's City Grocers, located in DUMBO. They work hard to stock their counter with sustainably sourced fish and shellfish – and the people that work there know their stuff should you have questions. This takes a lot of the guesswork and anxiety out of the fish buying process. This is kind of great for me, because it means even if I have left my brain at home, I can still walk away, seafood in hand, knowing that what I've purchased is sustainable.
Since not everyone has a Forager's, it also helps that the folks at Trader Joe's have made a commitment to sourcing only sustainable seafood – a move that is supposed to be complete by December 2012. I recently made a visit to assess the situation and, have to say, I was impressed with the amount of sustainable seafood they have available. And, true to TJ's form, the price is right too.
So, thankfully, my fish-counter-induced anxiety is on its way to becoming history. With a tiny bit of research done before shopping, it's not so hard to be an informed fish consumer. And thanks to the commitments made by the folks at stores like Trader Joe's and Foragers City Grocers, it's a becoming a little bit easier for conscientious cooks to get their hands on fish they can feel good about eating. 
Print
Sockeye Salmon en Papillote
While scouting for sustainable fish, I picked up some Sockeye Salmon, known for its intense red color. Lucky for us, this delicious and good-for-you fish is sustainably caught in Bristol Bay, Alaska It's a fish dish you can definitely feel good about serving.
Author:

Carrie King

Prep Time:

15 mins

Cook Time:

15 mins

Total Time:

30 minutes

Yield:

4

1

x
4

Sockeye salmon filets

4 Tablespoons

Olive Oil

4 Tablespoons

capers, drained

4 Tablespoons

white wine

4 teaspoons

lemon zest

4

handfuls of sugar snap peas, trimmed and cleaned

1

lemon for garnish
Salt and pepper
Instructions
Preheat the oven to 350ºF/175ºC
Cut four pieces of parchment paper that are each roughly 11×17 inches.
For each filet follow this process:
Fold the parchment paper in half and open it again, creating a crease down the middle.
Dollop one tablespoon of oil to the right of the crease.
Place one filet of salmon on top of the oil.
Season with a pinch of salt and pepper.
Spoon capers over the top of the salmon and do the same with the lemon zest.
Nest the clean sugar snap peas to the right of the salmon.
Drizzle the wine over the salmon and peas.
Fold the parchment in half again, this time over the top of the fish and veggies. The fish and green beans are nested in the center, towards the centerfold.
Working around the outside, starting from the bottom – fold the parchment over on top of itself, pleating it with each fold, to create a tightly sealed pocket.
Place the parcels on a sheet pan in the center of the oven.
Cook for 12-14 minutes.
Remove from the oven and serve each parchment package on a plate – opening the packages at the last moment, just when serving.
Serve with a wedge of lemon.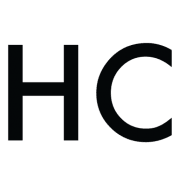 Carrie King
Carrie King is a Brooklyn-based freelance food writer and trained chef. When not in her kitchen or at her desk, she's poking around a market, searching for the components of her next meal. Carrie believes that in the war against bad cooking, using local and seasonal ingredients is half the battle. You can share in more of Carrie's culinary adventures at her blog, A Cook Grows in Brooklyn.