This super-simple, semi-homemade crowd pleaser will appeal to the kid in everyone.
By Kim Hamill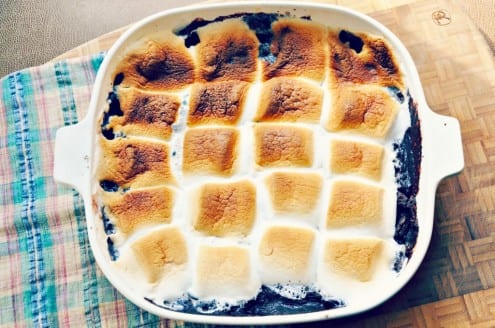 S'more Cobbler
This super-simple, semi-homemade crowd pleaser will appeal to the kid in everyone.
Ingredients
1 box chocolate cake mix
1 cup whole milk (I used fat-free, it was fine)
1 5oz chocolate pudding (cook & serve)
½ cup butter
6 whole graham crackers
½ cup chocolate chips
40 large marshmallows
Instructions
Combine milk and pudding mix and place into greased 13×9 baking dish (I used a 9×9 so i used a little less of everything, particularly the cake mix)
Place graham crackers (broken in half) on top of pudding mixture with space in between each one
Add ½ cup chocolate chips. Throw a few more in for good measure.
Spread DRY cake mix over top and place the butter by tablespoons on top of dry mixture.
Bake at 350 degrees for 25 minutes. Mix slightly so there isn't large areas of dry ingredients.
Add marshmallows and bake for 8-10 minutes and if needed 1-2 minutes under a high broiler to brown.
Kim Hamill
By day, Kim is the 3rd generation in her family's NYC taxi business. By night, she writes about food, fashion, DIY projects, travel, and beyond on www.loveumadly.com. Her stories, recipes, and photographs have appeared in Marie Claire, NY Press, the Kitchn, HGTV.com, Food Gawker, and Finding Vegan. She doesn't sleep very much.