Chipotle pepper in adobo sauce adds a layer of smokey heat to balance the slight sweetness of roasted pumpkin for a soup that will keep you warm.
By Abby Himes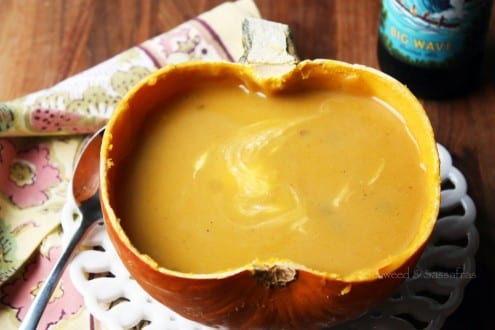 Smokey, Spicy Pumpkin Soup
Chipotle pepper in adobo sauce adds a layer of smokey heat to balance the slight sweetness of roasted pumpkin for a soup that will keep you warm.
Ingredients
2 Tablespoons olive oil
2 cloves garlic, roughly chopped
½ medium yellow onion, sliced
1 jalapeño, seeds removed and roughly chopped
1 pie pumpkin, roasted
3-4 cups chicken broth
1 teaspoon salt (more to taste)
½ teaspoon black pepper (more to taste)
1 teaspoon cumin
1 Tablespoon Chipotle pepper in adobo sauce (the sauce, and the pepper if you like heat!)
1 Tablespoon Sherry
½ lime juiced
1 15 oz can black beans, drained and rinsed
Optional:
crusty bread
plain greek yogurt for topping
cilantro, chopped, for topping
Instructions
To Roast the Pie Pumpkin:
Preheat the oven to 350 degrees F. Cut the pumpkin in half and remove the seeds and "guts". Place the pumpkin halves face down in a glass 13 x 9 pan. Fill the pan with water, ¼ of the way up the pumpkin. Bake for an hour or until tender. Flip the pumpkin halves over and let cool before scraping out the fresh, yummy pumpkin goodness. Turn off oven.
For the Soup:
In a dutch oven, warm olive oil on high heat and add the sliced onions. Cook 5 minutes and then add the garlic and jalapeño. Cook an additional 5 minutes or so, the onions should start to caramelize and turn translucent.
Stir in the pumpkin, salt, pepper, and cumin. Mix together well.
Pour in the chicken broth and stir well until the pumpkin has mixed in to the broth.
Bring to a simmer, and put heat at medium, medium-high.
Add the sherry, lime, and Adobo sauce (and pepper if you want - the pepper is too spicy for me with the jalapeño, feel free to omit one but the sauce part of the Chipotle Pepper in Adobo sauce is key!!)
Simmer for 10 minutes. Remove from heat and add to a blender a little at a time (or use an immersion blender! One of these days I'll get one...) and puree until smooth. Be sure to work in batches! It's hot and you don't want it exploding out of the blender...been there done that.
Once the entire soup is pureed, add it back to the dutch oven pot, and add the black beans. Simmer for another 5-7 minutes. Serve with crusty bread, top with plain greek yogurt and cilantro.
Enjoy!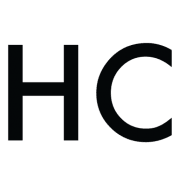 Abby Himes
Abby can be found cruising her local farmer's market and co-op looking for fresh, new, flavors and sustainable options. She sees food as an adventure, and is always excited to try something new. Abby is also the creator and voice behind the food blog, Seaweed & Sassafras.