This Finnish-inspired side features smoked salt in three different ways for a distinct, but not overpowering, flavor.
By Carly DeFilippo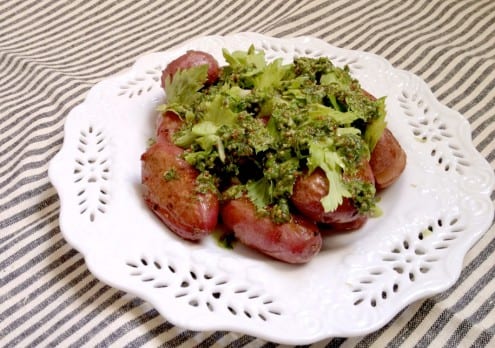 Smoked Salt Potatoes with Celery, Mustard and Dill
This Finnish-inspired side features smoked salt in three different ways for a distinct, but not overpowering, flavor.
Ingredients
340g fingerling potatoes
two very leafy celery stalks
a generous handful of dill (3g)
1 tbsp whole grain mustard (14g - I prefer Maille)
roughly 1 tbsp smoked salt
1 bay leaf
6 tbsp extra virgin olive oil (50g)
Instructions
Scrub potatoes and place into a deep pan or small pot. Cover with cold water. Add a pinch of smoked salt and the bay leaf and bring to a boil.
Once water is boiling, reduce to a simmer. Cook potatoes for about 10 minutes, until tender.
Meanwhile, pull the leaves off the celery stalks and put to the side. Mince the remaining stalks and put to the side.
Mix mustard, a handful of the celery leaves, dill, olive oil and a pinch of smoked salt in a blender. (The puree doesn't have to be perfectly smooth, but pulse until you have achieved a fairly uniform consistency.)
Once potatoes are cooked, drain water and flatten (one at a time) with the back of a wooden spoon or the heel of your hand.
Heat a neutral, high-heat oil (such as grapeseed) in a cast iron pan. Add the potatoes, leaving enough space for each to be in direct contact with the base of the pan. Sprinkle with a pinch of smoked salt.
Cook potatoes approximately 3 minutes or until crisped on one side. Flip them and repeat.
To serve, sprinkle fried potatoes with minced celery. Garnish with celery leaves and dressing to taste.
Carly DeFilippo
Carly is a Contributing Writer at Honest Cooking. Though the first line of her college application essay was "I love tunafish," it wasn't until she pursued graduate studies in Paris that she ever considered a future in food. Based in Manhattan, Carly is a freelance writer and the co-founder of Cognoscenti Creative, a boutique branding agency dedicated to establishing artisans as influencers.