Smoked Salt and Pepper Prawns with Coriander Lime Sauce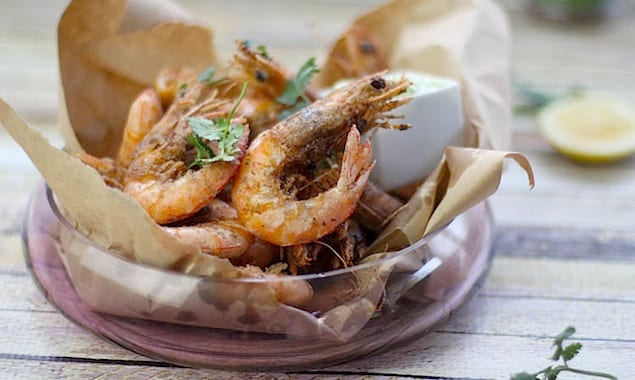 Use this smoked salt and chili powder with a coriander lime dip not only for prawns, but also for chicken and squid.
By Tania Cusack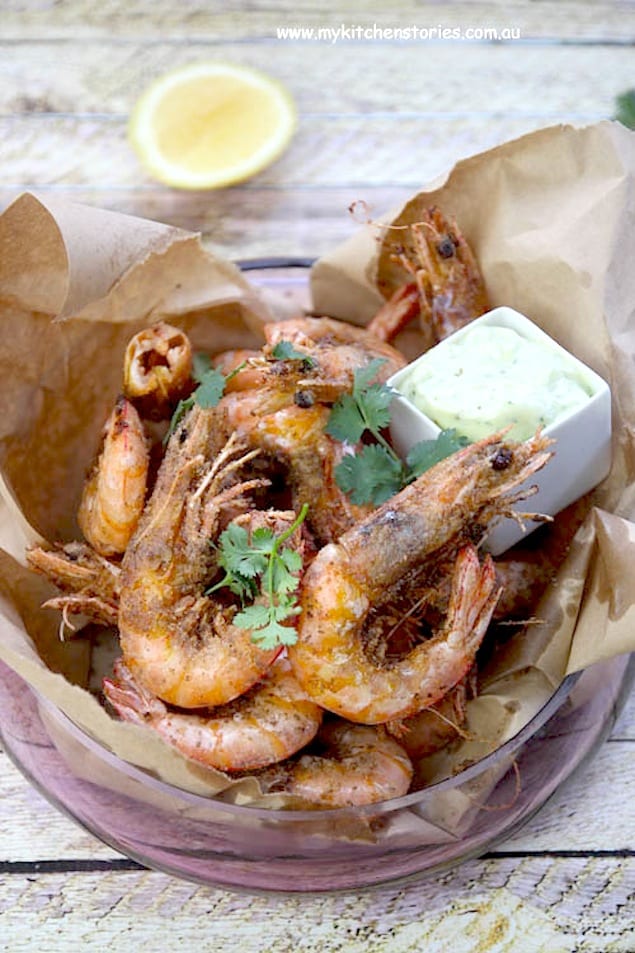 Be sure to cut the legs and spikey bits from the Prawns with scissors.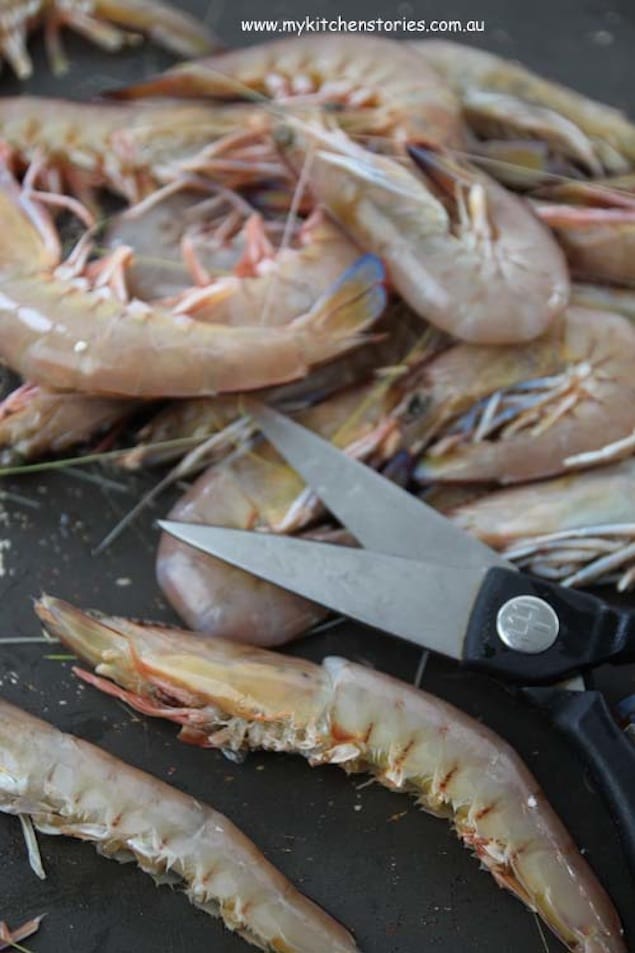 Smoked Salt and Pepper Prawns
Use this smoked salt and chili powder with a coriander lime dip not only for prawns, but also for chicken and squid.
Recipe Type:
Main, Appetizer
Ingredients
½ kg prawns
4 teaspoons Smoked salt ( or another flavour)
½ teaspoon chilli powder ( optional)
1 teaspoon smoked paprika
6 Tablespoons rice flour
Coriander and lime Mayonnaise
1 egg
½ teaspoon dijon
¼ bunch coriander
2 tablespoons lime juice
½ teaspoon zest
smoked salt and pepper
up to 1-1/2 cups rice bran or other oil
oil for frying- aprox 3 cups
1 tablespoon extra chopped coriander
Instructions
rim the prawns
Mix the spices and put them into a plastic zip top bag. Add the Prawns and shake. Set aside in the fridge.
Put the egg yolk, dijon, juice and zest into a blender or processor. Blitz till combined and creamy. Slowly add the oil with the blender going until the mayonnaise is thick. If the mixture is still thin when all the oil is added add a little more.
Season with smoked salt and pepper and a little more lime juice.
Put the oil into a deep pot and heat to around 180C/350 F or until a piece of bread dropped into the oil sizzles.
Add the prawns a few at a time cooking for approx 8 minutes or until starting to colour. The shell should be crispy and the inside moist. Test one.
Drain on kitchen paper and sprinkle with a tiny bit of extra smoked salt and chopped coriander
Tania Cusack
After completing Culinary School in Sydney, Tania travelled the world working as a Chef in restaurants, doing catering and cooking on road for a travel company in Europe and the US. Once back at home, the birth of her son meant a change, and during his small years, she enjoyed jobs in wholesale food, buying Artisan food products, testing and recipe writing as sales and educational tools. Tania is now back to what she loves, working as an in house Chef for a large retailer, conducting Cooking Classes and writing recipes for her blog.