Smoked Salmon, Pomegranate and Quinoa Salad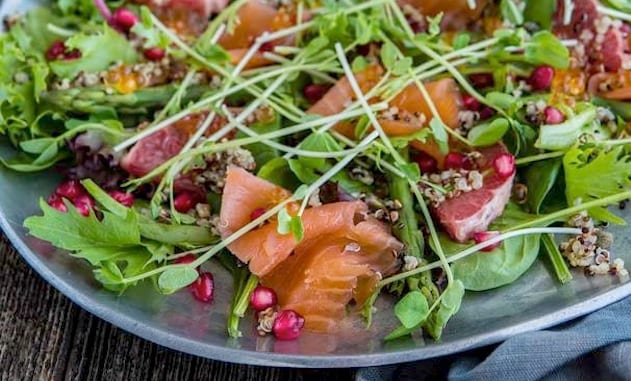 A beautiful, blush-coloured salmon salad. The pomegranate seeds and salmon caviar look like little jewels. Quinoa is used in this salad because the gluten-free superfood is filling without weighing you down. It's also high in protein and low in fat, making it a great choice for health-conscious foodies.
By Christina Soong Kroeger
Smoked salmon and I have had a long and regular love affair. I like it with scrambled or soft boiled eggs and freshly steamed asparagus spears, in a bagel with cream cheese, capers and cornichons, or served on top of a crispy pizza base with red onion, goats cheese and rocket. Heck, I've been known to eat it straight out of the packet when I'm famished.
Now while smoked fish is often used in breakfast and appetiser type dishes, it also works beautifully in salads. I like making smoked salmon or smoked trout, potato and dill mayonnaise salads for a substantial, one-bowl meal. But I've been eating out way too much lately and my system needs a break. So I came up with this beautiful, blush-coloured salad instead. I love how pretty this salad is – the pomegranate seeds and salmon caviar look like little jewels. I've used quinoa in this salad because the gluten-free superfood is filling without weighing you down. It's also high in protein and low in fat, making it a great choice for health-conscious foodies. In terms of the salad leaves, I've used a mixture of different kinds but this salad would also be great with radiccio and witlof.

Smoked Salmon, Pomegranate and Quinoa Salad
A blush-colored salmon salad with pomegranate jewels and sprinkled with quinoa is filling, while still being light.
Author:
Christina Soong Kroeger
Ingredients
Salad
3 cups water
1 cup quinoa
1 bunch asparagus, trimmed
Mixed salad leaves
250 grams Huon Reserve Selection Whisky Cured Tasmanian Cold Smoked Salmon
1 ruby grapefruit, peeled, sliced and halved into mini fan shapes
Seeds from 1 pomegranate
Half red onion (optional)
Handful snow pea sprouts (optional)
2 tablespoons Huon Reserve Selection Hand-Milked Tasmanian Salmon Caviar
Dressing
3 tablespoons best quality virgin olive oil
1 tablespoon red wine vinegar
½ teaspoon honey
½ teaspoon mild grainy mustard
Salt and pepper to taste
Instructions
Cook quinoa in water according to packet instructions and leave aside to cool.
Steam asparagus and leave to cool.
To assemble salad, spread mixed salad leaves on a large platter.
Top with smoked salmon arranged into casual rosettes, grapefruit, pomegranate, quinoa, asparagus and onion (optional).
Garnish with snow pea sprouts and salmon caviar and serve with dressing.
Christina Soong-Kroeger
Christina publishes The Hungry Australian - a collection of recipes, reviews and stories about food - and is a regular contributor to Sumptuous. Her writing has appeared in the China Daily and That's Shanghai while her photography regularly appears on Foodgawker, Tasteologie and Photograzing. After eating her way around Shanghai, London, Hong Kong, Leeds and Melbourne, she now calls Adelaide, South Australia, home again.