PARTNER POST: Get ready to feed a holiday crowd with appetizer recipes paired perfectly with food-friendly Cavit wines.
Switch up the traditional potato latkes by forming them with beets and carrots. Top with smoked salmon and horseradish sour cream, pour yourself a glass of red wine and sit back and enjoy the party.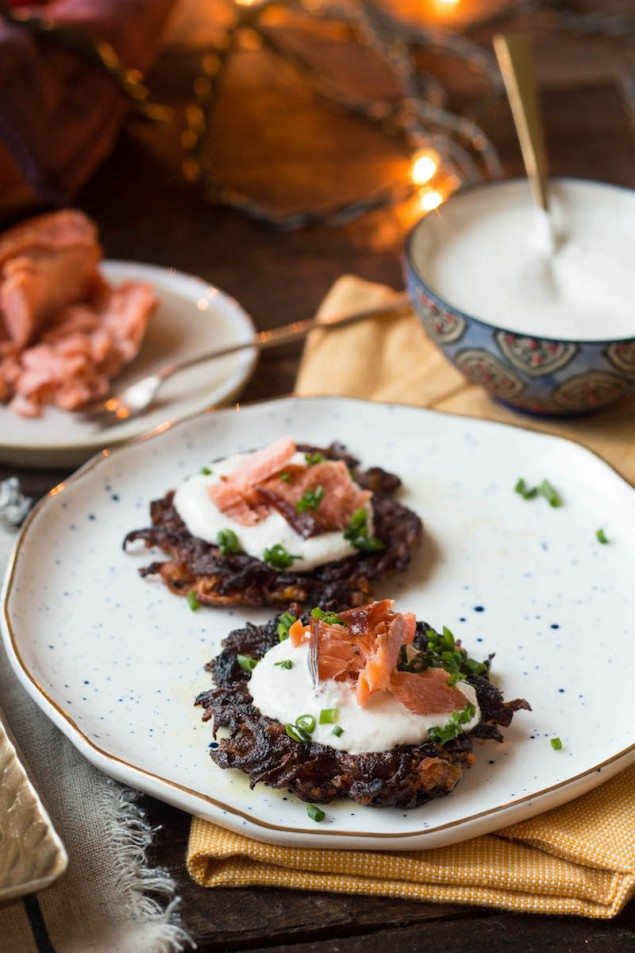 FACT: I am not Jewish. But if I'm being totally honest, sometimes the food makes me wish I were. I'm a big fan of all the classics like bagels, kugel, knish, matzoh ball soup, pickles, apple cake, rugelach, brisket, anything made with schmaltz, not to mention the Israeli staples like falafel, hummus, tabbouli…. Seriously, the list goes on and on. But my one true Jewish food love will always be the humble, crispy fried latke, and thankfully, you don't have to be a member of the tribe to enjoy them.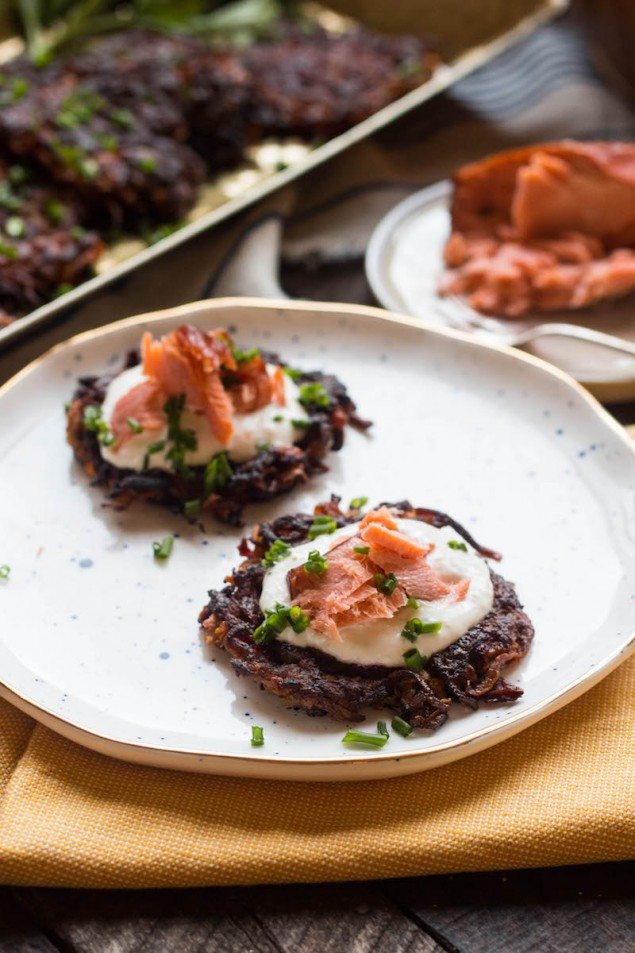 Latkes, if you're not familiar, are fried potato pancakes typically made from shredded potatoes, onions, eggs and a binder like flour, matzoh meal or breadcrumbs. Along with other fried foods like jelly doughnuts, latkes are consumed around Hanukkah to commemorate the miracle of the menorah when a one-day supply of oil lasted for a solid eight days. Every year in December I start sniffing around to see which of my Jewish friends are making latkes. Lucky for me, they're always happy to share their tasty treats and traditions with Coley the hungry shiksa.
The first night of Hanukkah falls on December 24th this year, which also happens to be Christmas Eve. My family always celebrates Christmas Eve with the traditional Italian Feast of the Seven Fishes, which consists of an overwhelming, mouthwatering spread of all the seafood you can handle. This year, I'm tying the best of both cultures together with an appetizer that features crispy veggie latkes and rich smoked salmon. Pair this awesome app with some delicious Italian Cavit wines and your party is destined to be a hit, regardless of which holiday you're celebrating. Consider this a life lesson in winning.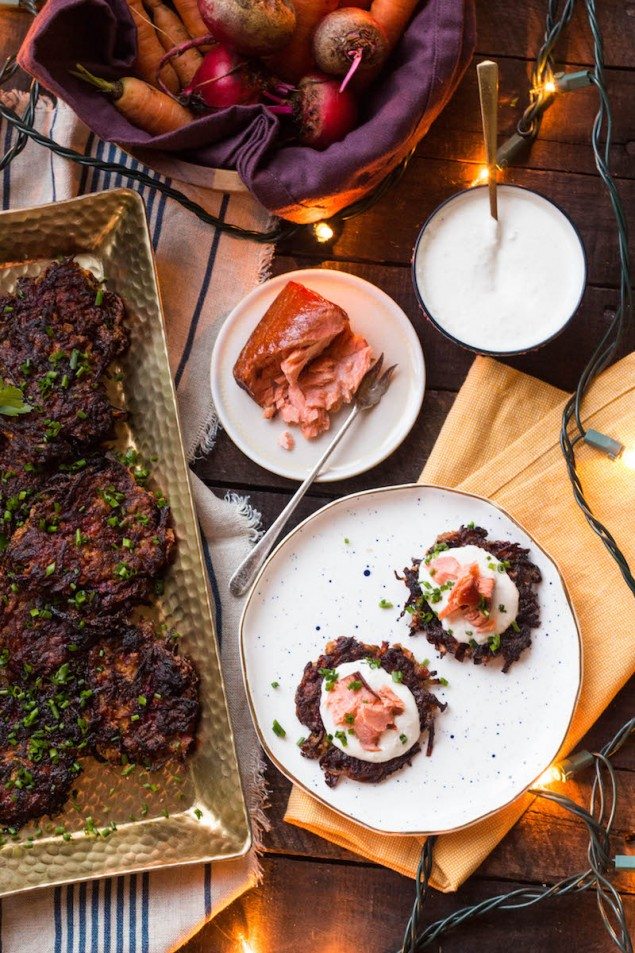 These are not your Bubbie's latkes. I've swapped out the potatoes for carrots and beets to make them just a teeny tiny bit healthier (who am I kidding), but really more so for the flavor. Beets and carrots are loaded with sugar and starch, so these babies crisp up beautifully and have such a lovely caramelized, earthy taste. They're pretty fabulous on their own, but even better when topped with a dollop of tangy horseradish sour cream and buttery smoked salmon.
Any type of smoked fish would work really well here, but I chose to use this amazing Alaska Gold Smoked King Salmon that was leftover from the Wild Salmon Dinner that I hosted with Emma Frisch back in October for Ithaca Sustainable Seafood Week. I've been keeping it socked away in my freezer for a special occasion, and the holidays are about as special as it gets. This salmon is hot smoked, so it has the texture of cooked fish, but a cold smoked salmon would be just as nice in this recipe, as would a smoked white fish, like barramundi.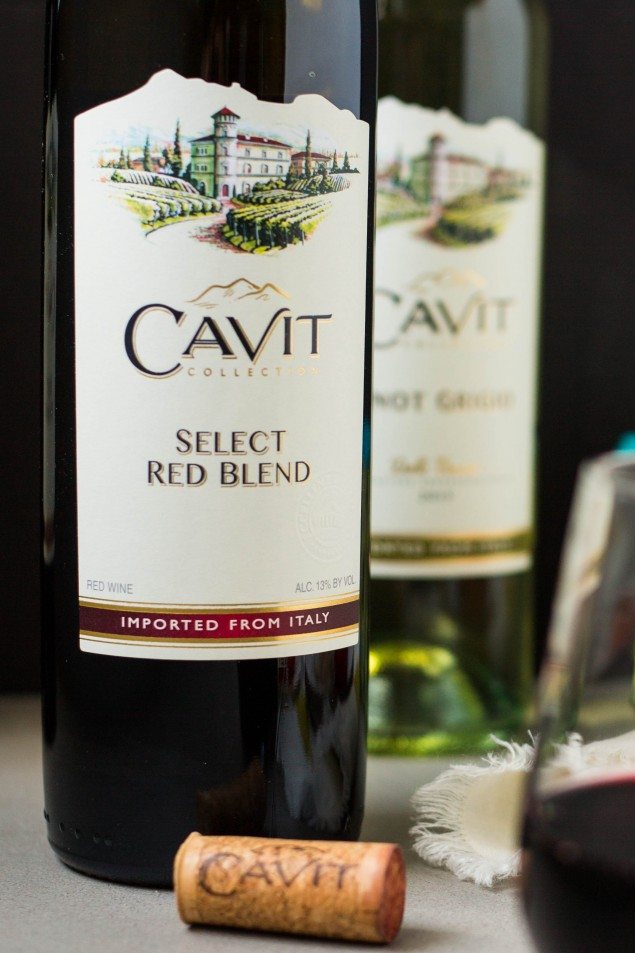 What's so great about this recipe is that it pairs equally well with red and white wine. Cavit Pinot Grigio is a classic, and one that my family ALWAYS has on hand Christmas Eve (actually, we always have it on hand period). What good Italian household doesn't? It's light, citrusy, and very food friendly, which is no wonder why it's the most popular Italian wine in America. This crisp white makes an excellent for pairing for any kind of seafood and it cuts right through the richness of these latkes.
That said, I personally tend to go for reds this time of year, mainly because I'm always freezing and try to avoid chilled beverages like the plague. Most people associate white wine with seafood, but reds can make a wonderful pairing with full flavored fish like salmon, and especially with anything smoked. Cavit's new Select Red Blend combines Cabernet Sauvignon, Merlot, and Syrah, along with the lesser known Italian grape, Teroldego. This blend is well balanced, rich, and robust, making it a perfect match for the earthy latkes and meaty smoked salmon.
Regardless of what religion and traditions you follow, the holiday season is a wonderful time to indulge in all the best treats from cultures around the word. This appetizer has "holiday" written all over it, but in reality, it would be killer to serve any time of year. Especially on those cold winter nights when only the most indulgent comfort foods will do.
For another easy holiday appetizer, try these trout bites. Recipe here.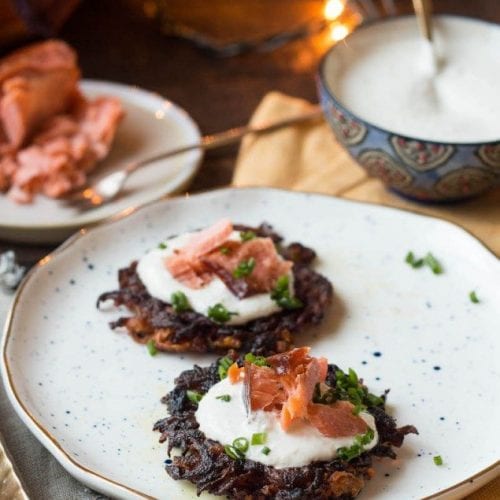 Nicole Gaffney
Ingredients
2

large eggs

1

teaspoon

salt

freshly ground black pepper to taste

2

packed cups shredded peeled beets

2

packed cups shredded peeled carrots

2

cups

very thinly sliced onion

1/3

cup

all purpose flour

3

tablespoons

cornstarch

vegetable oil

for frying

1/2

cup

sour cream

2

tablespoons

prepared horseradish

more or less to taste

6

ounces

smoked salmon

chopped chives and/or parsley for garnish

optional
Instructions
Whisk together the eggs, salt and pepper in a large bowl. Add the beets, carrots and onion and toss to combine. Sprinkle flour and cornstarch over top, then mix until incorporated.

Pour a thin layer of oil in a large skillet over medium-low heat. Use a 1/3 measuring cup to scoop out a portion of the batter and place it in the frying pan. Press down gently with a spatula to flatten out, then repeat with a few more, but don't overcrowd the pan. Cook gently until browned on one side, then flip, press down a bit more, and cook on the other side. Be sure to keep the heat at medium low or risk burning. Transfer the cooked pancakes to paper towels to drain, then repeat until all the batter is used up.

Cooked latkes can be held in a 250 degree F oven for up to one hour before serving.

Mix together the sour cream and horseradish and adjust to your taste. Spoon a dollop of horseradish sour cream over each latke, then top with a chunk smoked salmon. Sprinkle with chopped chives or parsley if desired and serve immediately.
Notes
Leftover latkes will keep refrigerated for up to 5 days. Recrisp them in a 400 degree oven or in the toaster oven. Freeze for longer storage.