PARTNER POST: Get ready to feed a holiday crowd with appetizer recipes paired perfectly with food-friendly Cavit wines.
Smoked prosciutto apple bites with Parmesan and basil are an easy and delicious appetizer that are perfect to serve warm with glasses wine.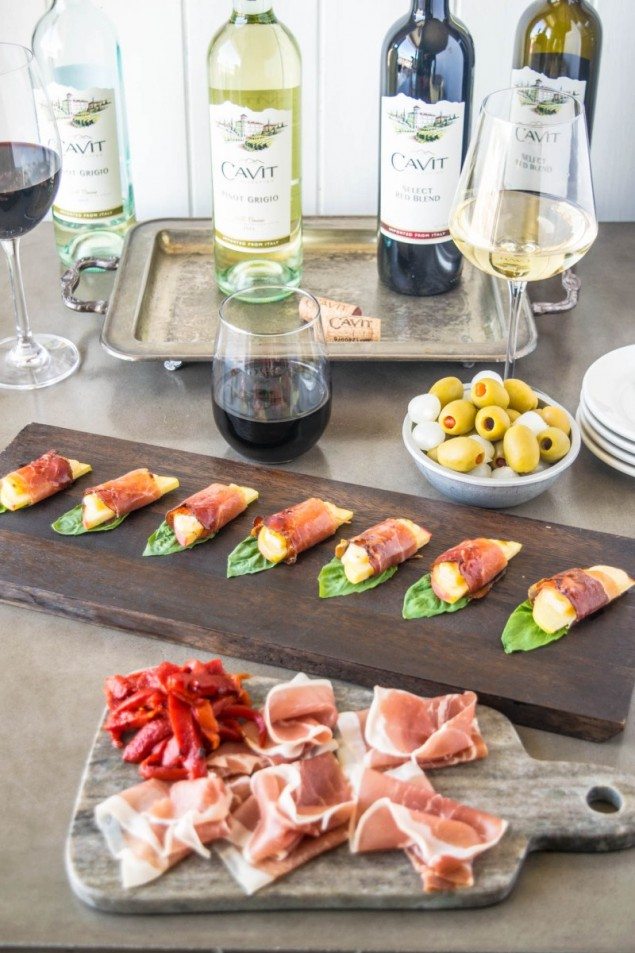 I have teamed up with Cavit Wines to bring you an appetizer that pairs perfectly with their wines. The two wines I received were the Select Red Blend and Pinot Grigio. The Pinot Grigio is a light, refreshing wine with citrus and green apple flavors. The red is more complex. Also fruity, but floral and rich. Both very much suited to wash down these delectible bites.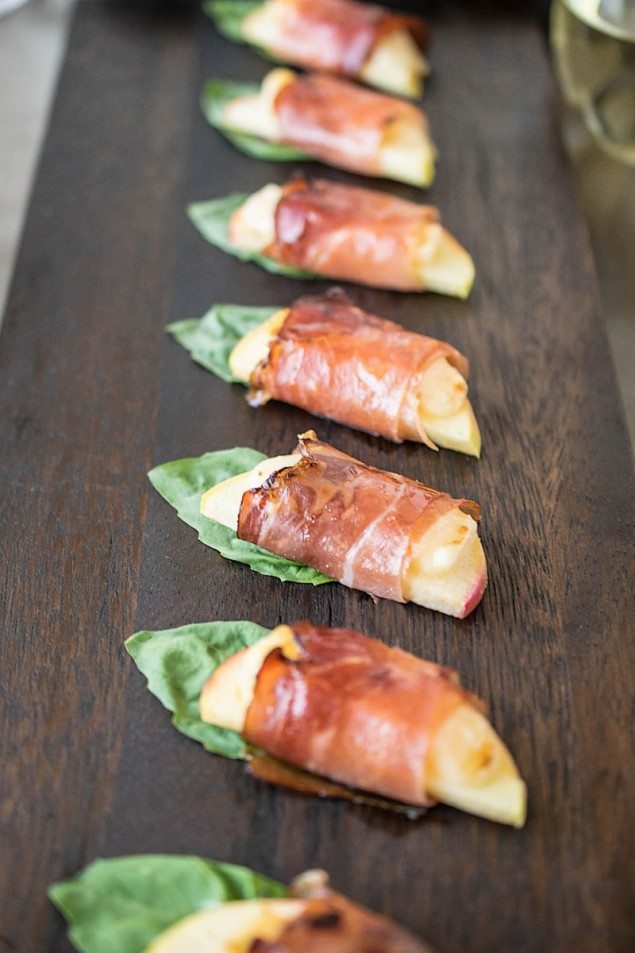 My inspiration for an appetizer pairing started with researching the origin of the wine, the region of Trentino. A picturesque landscape of mountains and lakes in the far north of Italy, Trentino is known for it's production of apples from the Non Valley. This was perfect since we are in the midst of apple season, apples are my starting point. Trentino is also known for speck. You may not have heard of this cured meat, it very much like prosciutto, but it is smoked. The combination of the smokey speck and sweet apple seemed to be the perfect pairing for a small bite, but I could not make an Italian inspired appetizer without using Parmesan cheese and basil. And so the smoked prosciutto wrapped apple bites recipe took shape.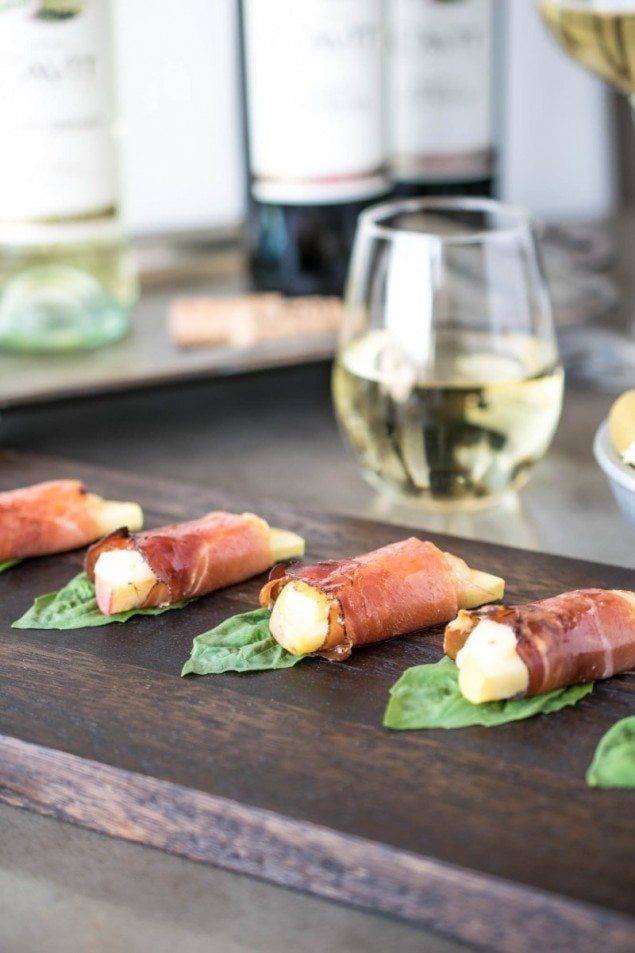 With their red, white and green presentation, the bites are very festive so you can serve them all holiday season. When guests come in out of the cold, the will not want to nibble on cold food, this is why I thought a warm appetizer would be fitting to serve. Of course there are always the times when you have last-minute visitors. Not to worry, you can have them on the table in 15 minutes.
Sweet apple slices are topped with a slice of Parmesan, then wrapped in the speck. Honey is brushed on top and the bites are broiled until the honey bubbles, the speck gets browned on the edges and the cheese softens. This amount of time is just enough to warm the bites through and what you get is sweet, smokey, slightly salty bite with the flavor of the Parmesan and freshness of the basil. The apple flavors in Pinto Grigio are heightened by the apple in the bites and the pronounced fruity richness of the Select Red Blend offsets the smokey speck.
See Also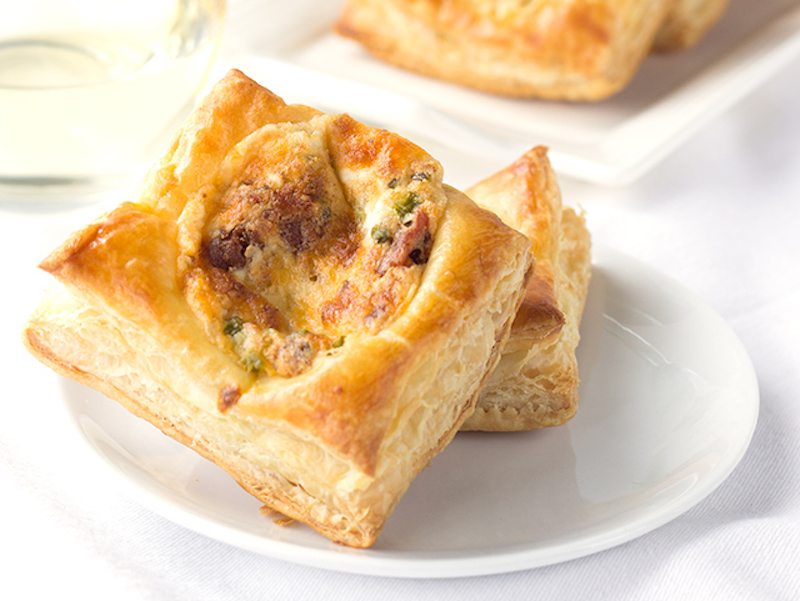 Speck is not widely found, but I was lucky enough to find speck in my grocery store. It is also available in Italian markets and of course online. If you cannot find speck, prosciutto will work as well.
For another easy holiday appetizer, try these trout bites. Recipe here.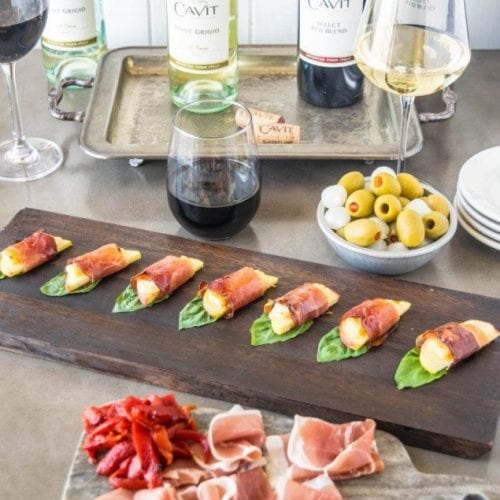 Janette Fuschi
Ingredients
1

sweet red apple cut into slices

8

slices

Parmesan cheese

3

ounces

8 slices speck

Good honey

8

fresh basil leaves
Instructions
Preheat broiler and line a baking sheet with foil.

Top each slice of apple Parmesan cheese, then wrap with 1 slice of speck. Line them up on the baking sheet.

Brush the tops with honey.

Broil for 2-3 minutes until you see the honey and speck bubble and brown slightly.

Remove and serve warm with a basil leaf for each bite.
Janette Fuschi
Hi, my name is Janette, originally from England, currently living in Southern California. I'm the author, recipe developer, photographer and resident redhead behind Culinary Ginger. I grew up in a household with 4 siblings where my mother cooked a from scratch meal for us every night. I took an interest at an early age in cooking and learned a lot by helping and watching my mother in the kitchen. Today that tradition is carried on my household in that I also like to cook every night. I like to use only fresh ingredients, no processed or pre-packaged foods are allowed in my kitchen. I like to try new recipes and adapt current ones from all cuisines. In addition to all of this, I am fortunate that I get to travel with my husband for business and this allows me to explore and document my findings here for you to read and hopefully, take something with you.