Smoked paprika is a great rub for barbecues or Mexican food. Here, it lends flavor to a lovely breakfast spread.
By Heather Sharpe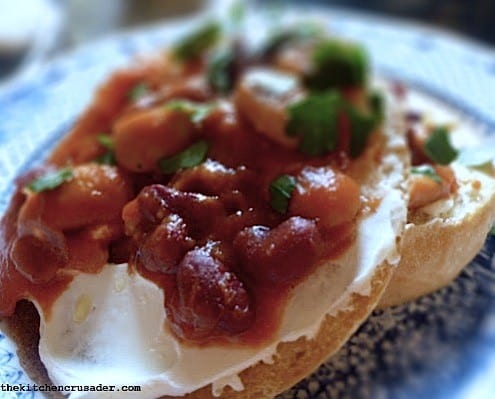 Have you tried smoked paprika? I don't mean the normal ground paprika, or even smoking normal ground paprika… which seems a pretty strange thing to do.  Nope, I'm talking about a spice called smoked paprika. It's just amazing. Did that sound like an infomercial? I promise I don't work for any smoked paprika companies. I'm actually just in love with the flavour of it.
It's so smokey/sweet/delicious. It's great in marinades/rubs and in Mexican food. Here's a quick, simple breakfast or lunch meal which uses smoked paprika, so maybe this is the perfect way to try it out? This is a great, simple recipe which is totally appropriate for a nice cooked breakfast and is vegetarian friendly (not that anyone would ever notice).
Smoked Paprika Baked Beans
Ingredients
½ an onion, thinly sliced
½ tbsp olive oil
2 tins of beans of your choice, drained (I like the mix of butter beans and red kidney beans)
1½ tsp smoked paprika
½ tsp ground cumin
zest and juice of ½ a lemon
1 bay leaf
1 tin chopped tin tomatoes
chopped parsley to serve (optional)
Instructions
Soften the onion with the paprika and cumin in the olive oil over a medium heat, in a large frying pan.
Add the tinned tomatoes and their juice, as well as the bay leaf, lemon juice and zest, bring to the boil, then lower to a simmer.
Add the beans and simmer for 5 minutes until reduced and slightly thickened.
You can serve this on toast, with eggs, or on a bagel with some cream cheese.
Sprinkle on the top with some parsley.
Serve immediately.