Smashed Potatoes with Feta Cream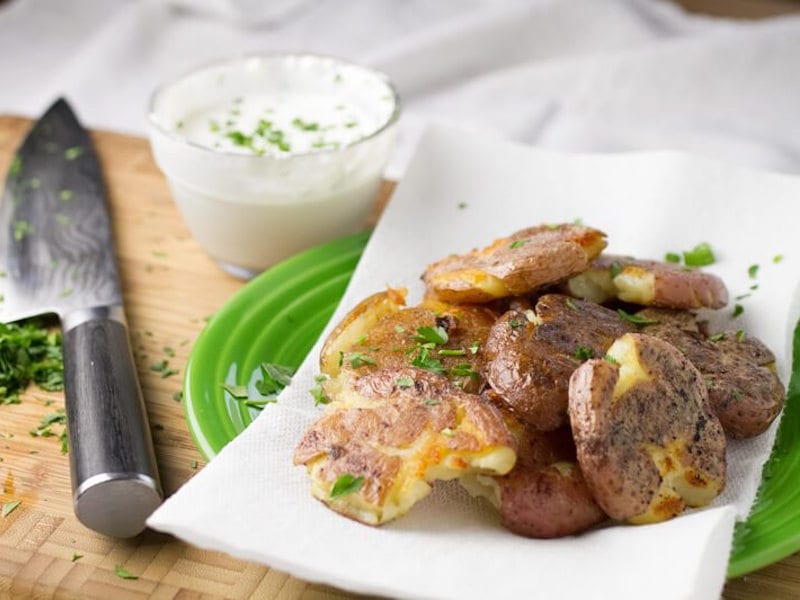 Smashed red potatoes with a feta sour cream are a perfect appetizer that is easy to create, but has addictive flavor.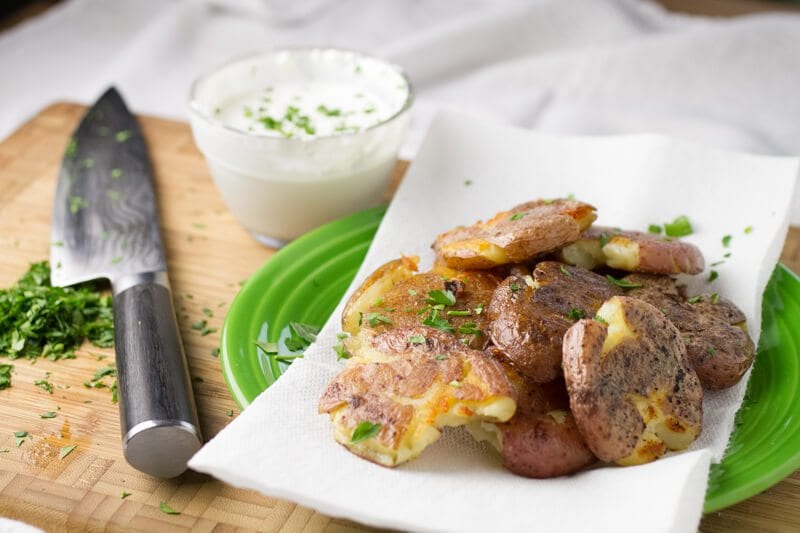 Is there anything better than a crispy potato? I don't think so. These oven-roasted, crispy smashed red potatoes will make you smile!
The Food Lab by Kenji Lopez-Alt is a book that I'm just a little obsessed with. Kenji fries his smashed red potatoes (which I tried…I'll admit it was amazing, but very time-consuming) but before he fries them, he boils them for a good long while (20 minutes). Reading that was my face-palm moment. I've been making great parboiled crispy baked fries for years, and somehow I missed the boat on the perfect crispy oven-roasted potato recipe. It's okay, though. I finally got there.
I knew that I wanted to serve my crispy smashed red potatoes with some great sauce (for dipping or drizzling, depending on whether you want to eat your potatoes with your fingers or a fork). I had some feta cheese left over from a tabbouleh recipe and decided to stir it into some sour cream to make feta crema. Sprinkled with just a little parsley, this side dish is easy and fun or tasty and sophisticated, whatever you want it to be. Either way, these crispy oven-roasted potatoes are an easy and delicious side dish or even a great snack!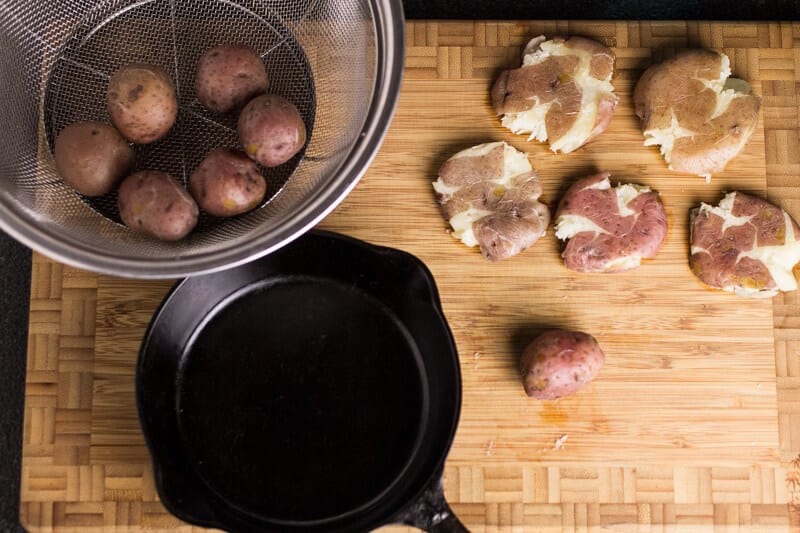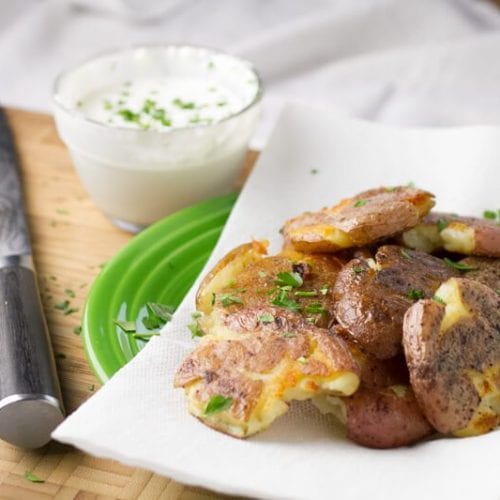 Mary Haymaker
Ingredients
2

pounds

tiny red or yellow potatoes

washed

1/4

cup

lard

vegetable oil, or duck fat

salt

parsley

for sprinkling (optional)
For the feta crema
2

ounces

feta cheese

crumbled

1/2

cup

sour cream

2

tablespoons

milk
Instructions
To make the crema, stir together the sour cream, crumbled feta, and milk. Refrigerate until ready to use.

Preheat the oven to 450 degrees. Bring a large pot of water to a boil. Salt the water heavily (I used 1/4 cup kosher salt) and add the potatoes.

Boil the potatoes for 20 minutes and drain. Place your fat of choice on a baking sheet and place in the oven to preheat.

While the fat is preheating, smash the potatoes to 1/2-inch thickness using a heavy skillet or the bottom of a glass.

Place the potatoes on the preheated baking sheet. Brush the tops of the potatoes with some of the oil from the baking sheet. Sprinkle with salt and place in the oven for 15 minutes. Turn the potatoes and return to the oven for another 15-20 minutes, until golden brown.

Remove the potatoes to a plate, sprinkle with parsley if desired, and serve immediately with the feta crema.
Mary Haymaker
Mary Haymaker is a teacher by day and a cook, food writer, and photographer by night. She has lived in the Chattanooga, Tennessee area her entire life and is dedicated to supporting the growing local food movement there. You can read more of Mary's writing at her blog, chattavore.com.