Slow Roasted Red Wine Beef Brisket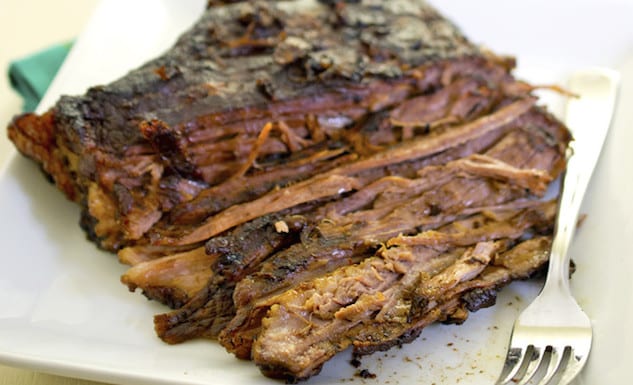 Oven Roasted Beef Brisket smothered with roasted vegetables, red wine, and beef stock. A perfect make-ahead Sunday dinner.
By Kelley Simmons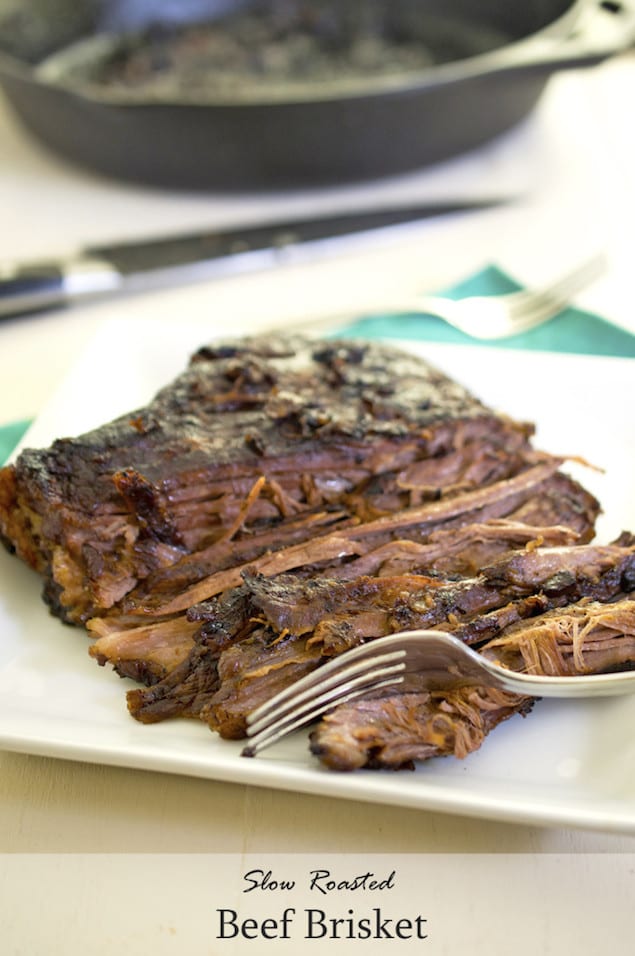 Beef Brisket is the ultimate comfort food. It's the perfect meal for a lazy Sunday dinner. Brisket needs to be cooked low and slow. With little preparation you can have a hearty dinner with little effort. Sear the meat and vegetables, throw them in the oven with some liquid and let the meat roast in the oven for hours. How easy is that?
This brisket makes enough for four people with a little left over. This slow roasted beef brisket comes out tender and melts in your mouth. I serve leftovers the next day on a roll with melted Swiss cheese and au jus. It is amazing!
As an added bonus everything gets cooked in one pan making for an easy clean up. I roasted my brisket with a mixture of carrots, celery, and onion. I also added a couple of garlic cloves for flavor.
As a liquid for the brisket I used beef broth, red wine and a touch of Worcesteshire sauce. I like to baste my beef brisket every 30 minutes to an hour. If you do not have a baster go ahead and use a spoon to baste the brisket.
Beef brisket can be cooked many ways. Smoked and slathered with barbeque sauce, low and slow in a crock pot, or seared and roasted in the oven. Either way the end result is always amazing.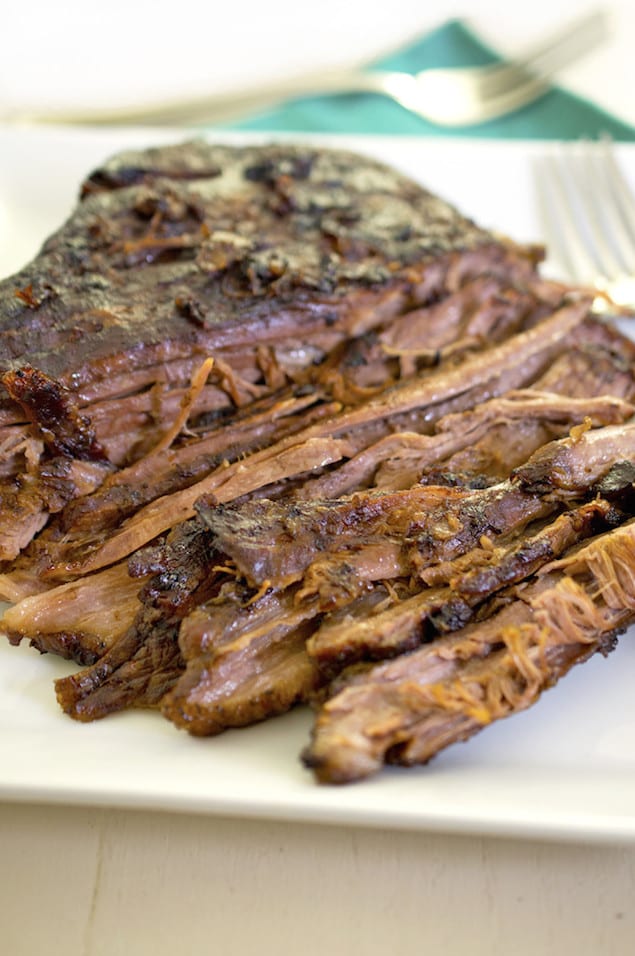 This beef brisket takes about 3-4 hours to cook. After your brisket comes out of the oven let it rest for about 30 minutes. If you cut into the brisket too early you will see the juices come out of the brisket and onto your cutting board. Allowing the brisket to rest after cooking helps retain the liquid and keeps your brisket moist.
This Slow Roasted Beef Brisket works great for leftovers. Make extra and save for the week ahead. This brisket can be used for sandwiches or even nachos. It tastes even better the next day.
The cut of brisket I used was a leaner cut known as "first cut" or "flat cut". It is a thinner slice of brisket with less fat.
Brisket comes from the breast of the cow and is known for being a tough cut of meat if not cooked correctly. Because of it's large amount of connective tissue this cut of meat needs to be cooked low and slow to break down the tissue.
I like to leave the excess fat on the brisket. It will help the brisket to stay moist while cooking.

Slow Roasted Red Wine Beef Brisket
Oven Roasted Beef Brisket smothered with roasted vegetables, red wine, and beef stock. A perfect make ahead Sunday dinner.
Ingredients
2 pounds beef brisket ("first cut" or "flat cut")
¼ teaspoon pepper
¼ teaspoon salt
1 tablespoon olive oil, divided
2 medium carrots, medium dice
2 stalks celery, medium dice
1 small onion, medium dice
3 garlic cloves, minced
1½ cups beef stock
3 tablespoons red wine
1 tablespoon Worcestershire sauce
2 whole bay leaves
⅛ teaspoon pepper
Instructions
Preheat oven to 300 degrees.
Season the brisket with salt and pepper.
Add ½ tablespoon oil to a cast iron skillet.
Over high heat sear the brisket on both sides. This takes about 2 minutes on each side. Take out of the pan and set aside.
Add ½ tablespoon oil to the same cast iron pan. Cook carrots, celery and onion for about 3-4 minutes until slightly tender.
Add garlic and cook for one minute.
Add beef stock, red wine, and Worcestershire sauce. Bring to a simmer.
Take off the heat and add in the bay leaves and season with pepper.
Place in the oven and cook until tender 3-4 hours. Baste every 30 minutes to an hour. If you run out of liquid add a bit more beef stock. The brisket should be easy to cut and fall apart when you pull at it with a fork.
Take out of the oven and let rest for at least 30 minutes.
Cut or shred and serve immediately.
Kelley Simmons
Kelley is a twenty something writer hailing from Delaware, and photographer behind chefsavvy.com. She started blogging in the beginning of 2014 and has been hooked ever since. She takes the worry out of cooking and helps reader's conquer their cooking fears with simple, easy to follow recipes.