Sky on 57 – Bringing Singaporean Cuisine to New Heights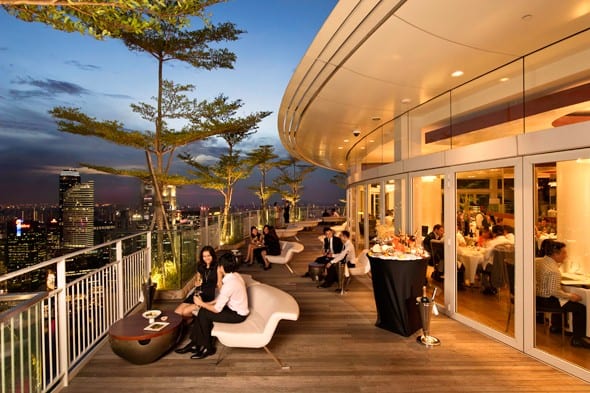 Singaporean born Chef Justin Quek trained in France at Le Centenaire and was the executive chef at the French Embassy.  At Sky on 57 he has developed a modern, "Franco Asia" cuisine that appeals to both western and eastern palates.  
By Marissa Sertich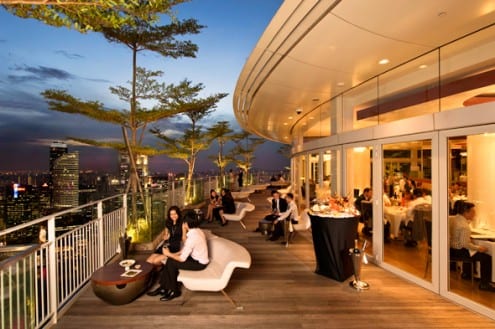 Just when I thought I couldn't find a better bao, I found Justin Quek at Sky on 57.  His signature foie gras Xiao Long Bao brought me to a new level of soup dumpling euphoria.
I regret not taking pictures.  My company was quite high-brow – Director of So and So and CEO of This and That – and whipping out my camera would have been one more indication that I was the least sophisticated person at the table.  I'm not exactly sure how I ended up at the VIP table, but by a strange sequence of events, there I was.  Only the night before I was drinking copious amounts of Tiger Beer with my elbows on a dirty Hawker Center table, and now I was sipping Veuve Clicquot at the top of the Marina Bay Sands.  As my grandmother always said, "You should be able to dine with the janitor and also have tea with the Queen of England."
Although the company was wonderful and the conversation was fascinating and educational, it was the bao and Chef Justin Quek who stole my bumpkin heart.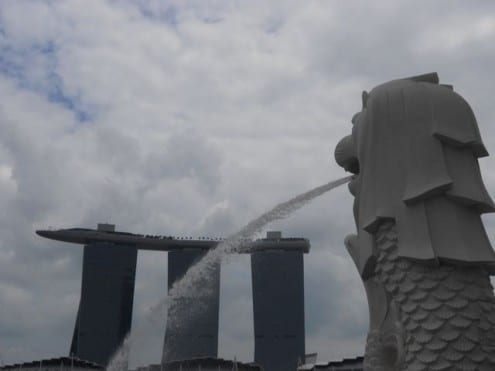 I've never seen a dumpling with skin so thin or so expertly crafted.  The folds at the top of the bao formed a perfect, pin-sized hole, where the aroma of foie gras and rich soup could steam through and give the diner a sampling of what they were about to enjoy before the bao even touched the tongue.
I am happy to report that my Hawker Stall chopsticks skills came into play.  While some at the table struggled, I gently gripped the bao, admired how the soup sagged within it, and raised it onto my spoon without puncturing, tearing or losing a drop of its savory insides. I daintily pinched a single julienne of ginger to curl on top before lifting the bao to my mouth.
See Also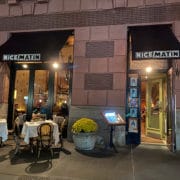 There it exploded, releasing its elegant package of flavor.  There were five bao in the steamer basket before me, and each one was as exciting and intoxicating as the first.  I could live on just these, but this was just the first course.   Laksa – a spicy Peranakan noodle dish, chicken rice – a hot and oily stock infused rice served with tender, room-temperature steamed (or boiled) chicken, and other beautifully French-interpreted versions of Singaporean classics followed.  Course after course, I suppressed the urge to take my camera out and document the beautiful, edible visions being presented before me.
Singaporean born, Chef Justin Quek trained in France at Le Centenaire and was the executive chef at the French Embassy.  Since he has developed several restaurants including La Plantane, Villa du Lac and Fountain in Shanghai.
At Sky on 57 he has developed a modern, "Franco Asia" cuisine that appeals to both western and eastern palates.  His ability to use French techniques to execute Singaporean flavor showcases the possibilities and power of a diverse background of training.  The powerful flavors in combination with the 360 degree view of Singapore from Sky on 57's position on the roof of the Marina Bay Sands, makes it, literally, the top place to eat in all of Singapore.
Marissa Sertich
Marissa Sertich Velie is a New York based pastry chef and graduate of the Culinary Institute of America. She passionately documents her adventures of baking and eating her way through the fascinating (and sometimes nutty) underbelly of the American pie. Velie has a Master's degree in Food Studies from NYU.