Shelina Permalloo was crowned winner of UK MasterChef 2012 earlier this year. Judges John Torode and Gregg Wallace were amazed by the selection of Mauritian-inspired dishes that she presented saying she brought "sunshine to a plate" and was a "very special cook". Reena Pastakia managed to squeeze into Shelina's busy schedule to ask her a few questions.
By Reena Pastakia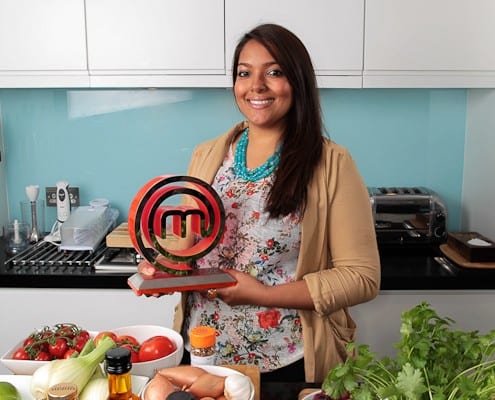 How does Mauritian food compare to other Asian cuisines?
Mauritian food is a mix of cuisines influenced through different settlers on the island –  European, Indian, African and Chinese.
You've described being on MasterChef as the biggest roller coaster of your life.  Has life calmed down since then?
Life has been really busy after the show as I am now busy writing my first cook book which is due out next year! I've no complaints as I'm now doing what I love and managing to cook food every day.
You knew you had won MasterChef three months before the results were made public.  How did you manage to keep the secret?
It was really difficult but I was able to tell my husband and also my mum who both helped keep me sane throughout the months of not being able to talk about it!
What happens to all the food on MasterChef?
All the food gets eaten! And any left over food is either reused where possible or the crew got to take it home (in exchange for a donation to charity) which is brilliant for everyone who works on the show.
What are your plans for the future?
I'm writing my first cook book currently and will be writing my second one soon after! As well as this I will continue learning through doing stages in professional kitchens, and also catering private dining events. My long term goal is to have my own restaurant..

We all know your favourite ingredient is mango.  What's your favourite dish made from mangoes?
Ah, I absolutely love sticky Thai coconut rice with fresh mangos – a staple sweet dessert in Thailand that I've fallen in love with!
What is your favourite cuisine (other than Mauritian?)
Well, I love both Thai and Italian cuisine, and you can't beat a good roast dinner!

What are your top 3 places to eat in London?
I love low key places, gastro pubs and places where you can relax. My favourite restaurant would be Buenos Ayres,  an Argentine Steak house in Hackney, and I love most eateries in Brixton Village as there is a lot of variety.
See Also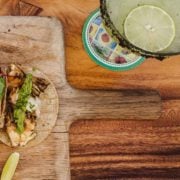 You were asked to do MasterChef in the same week that you handed in your notice to your previous job as a diversity manager.  What advice would you give someone wanting to switch to a food based career?
Changing career is always hard, but as long as you have family and friends to support you through the tough times then I'd say go for it!
My friend Jo is visiting Mauritius later this year.  Are there any specific dishes/ restaurants that you would strongly recommend she seek out?
She should definitely try the street food available. The best street food in my opinion is Dal Poori – a wonderful flakey layered flat bread made from split peas and typically served with butter bean curry ('cari gros pois') and some 'satchini' (ferociously hot yet fragrant sauces made from chilli, coriander, coconut and garlic)…. Lovely! Gateaux Piment are also a firm favourite of mine, deep fried chilli cakes made with split yellow peas, chilli, spring onion, just beautiful in a fresh baguette! To cool Jo's mouth down, she can then have a glass of 'Alooda' – a lovely milky drink made with basil seeds and sweet flavouring, similar to a milkshake….Enjoy!
Shelina will be cooking live at the BBC Good Food Shows in the UK this Autumn. For more info and to book tickets, visit www.bbcgoodfoodshow.com or call 0844 581 1363.
Reena Pastakia
Reena grew up thinking Indian cooking was a dark art where the quantities of spices required in each dish were innately known to a chosen few. It was only after she married an Englishman with a voracious appetite for Indian food that she started phoning home for cooking tips. She started her blog (coconutraita.com) in an attempt to document her family's recipes and make Indian cooking accessible to all.