Heather Sharpe with a chocolate conundrum and delicious single sourced chocolate and fig tart.
By Heather Sharpe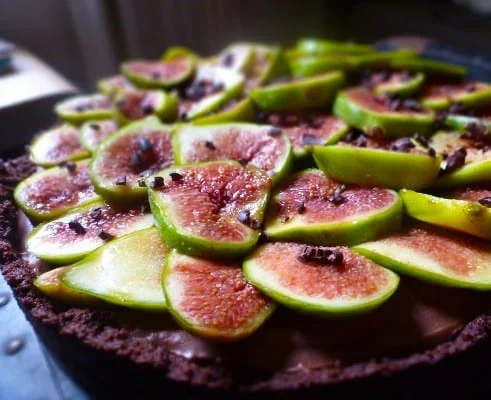 Why hello there, I'd like to introduce myself, I'm Heather and  I care about food a lot. I'm not talking about snobby, expensive food. I can't even remember the last time I ate at a fancy restaurant and I rarely buy expensive cuts of meat. No, I love the process of food, I'm committed to knowing about where my food comes from, how it was produced and trying new ways to prepare food with my friends and family. I'm all about food being a communal experience. Over the past few years I've been working to eat more ethically, eating less meat, more organic food, less processed stuff and trying to grow my own stuff whenever possible.
I want to believe that how I eat and what I eat is more important than how busy I am, how much marking I have (yes, I'm a teacher), how tired I am, how much work I have to do… I want to believe that even if my work life is incredibly hectic it's possible to make time to cook healthy food and share it with people who are important to me. It has to be, otherwise… what's the point?
Today I'm going to be sharing a recipe with you for a chocolate fig tart, invented after discovering the wonders of single-origin chocolate, from Gabriel's in Margaret River (one of my favourite places in the world).
What is single sourced chocolate? Single-sourced chocolate is chocolate has all got beans from only ONE place in it, from one quite specific place, like a particular town/farming community.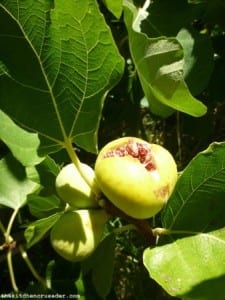 Why would you bother with that? Try some single sourced chocolate and get back to me with that one…. but here's a hint: the flavour gets affected. I never realised how much an effect the soil that a bean plant is grown in can effect the flavour of the chocolate it makes. We're not talking a small amount, we're talking chocolate bars that have notes of cherry vs. chocolate bars that have strong flavours of smoked paprika… without anything actually being added to these bars to flavour them except the beans themselves. I was shocked. And it made me kind of angry that I had never known this before.
Within the same week I discovered a laden fig tree in a vacant lot near my house. The figs were rotting on the tree- what a crime! I may have stolen a few figs from the lot- I mean no-one else seemed to want them.
This tart was the serendipitous product of both of these inspiring items (the figs and the chocolate). This is not a tart for everyday, but rather something lovely to make for a special occasion or a group of friends, it's rich and fresh and delicious all at the same time. It's really not much work at all, but none of your guests would ever suspect it… it can be our little secret.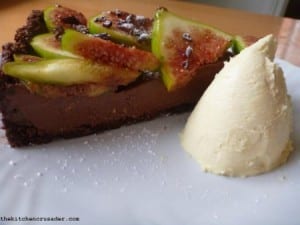 Reader opinion time (I want to hear from you!)
I'd be really interested to hear what people think about single-sourced chocolate… the two ethical conundrums I'm mulling over are to do with:
1) Fairtrade cerification for small scale producers 
Gabriel's, like most single-sourced chocolate producers, is a small business, owned and operated by passionate food people, but they do not have fairtrade certification. However, they deal on quite a small scale with producers, they're certainly not about screwing the little guy over – they are the little guy. I've heard over and over again from small scale producers that it's hard for them to get fairtrade cerification for several reasons. My very simple understanding of the main factors causing this problem are (please add any/correct me if you feel I'm wrong):
See Also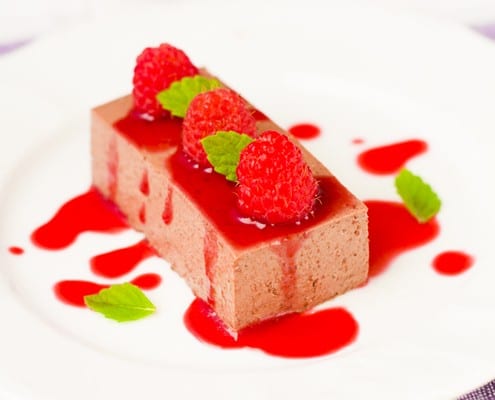 *to apply for certification costs money, if you have multiple products, you have to pay for each product to be individually certified, small bussinesses don't usually have the capital available to pay for this process mutliple times.
* It's really hard as a small scale producer, buying your ingredients from elsewhere, to police the whole process of each product you're buying to make your own product.  For example, with chocolate, every cacao based ingredient of the product would need to have come from situations where fair practice was employed, which isn't always proveable, certainly not without a lot of financial outlay. At Gabriel's they don't even have a constant range, they're getting new beans from new places regularly and might finish a batch of beans and get some different ones instead. This of course makes the policing process even harder, because each new batch of beans they got in would need to be certified, which would cost money, which they would struggle to get because they're a small business.
So what do we think, is it okay for small businesses to not have fairtrade certification? Do we accept this reasoning from small businesses regarding their inability to get fairtrade licences? Is it more important to support fairtrade or local small business?
2) Buying products that are grown overseas
What do you think about buying products that are being grown overseas? Personally, I'm all about local produce – if it's appropriate for that product to be grown locally. As far as I'm aware we don't grow cacao trees in Western probably because the dry heat that most of the state experiences renders it inappropriate. So if a product would require an environment inappropriate for the local climate, is it okay to buy it from overseas (contributing to carbon emissions)? It's probably important to note that if we were to grow cacao in Western Australia we'd probably have to waste a lot of water and energy to ensure that the cacao plants produced at their optimum. Which also is obviously not very environmentally friendly. Or should we just avoid that product all together? Although, this would make me sad because I quite like chocolate.
So what do you think? I'd love to hear from you!

Single-Sourced Chocolate and Fig Tart
A Delicious chocolate and fig tart
Ingredients
for the base:
125g butter, room temperature
1½ cups almond meal
1 cup cocoa powder (depending on how string the powder is... I used a pretty crappy brand)
250g plain chocolate biscuits
for the filling:
1 cup ricotta
500g marscarpone cheese
400g 70-80% cocoa dark chocolate
⅔ cup of port
for the topping:
10 figs
juice of ½ a lemon
2 tbsp honey
1 tsbp cinnamon
Instructions
The base
Blitz the biscuits, almond meal and cocoa in a food processor until the mixture resembles fine breadcrumbs.
Add the butter and blitz it through until it's combined. The mixture should stick together if you press it together, but not be runny at all.
Press the mixture into a greased tart, flan or cake pan. The pan I used has a diameter of 26cm, but a you've got some room to move, a little narrower or wider will still work. You need to press the mixture down hard onto the base and around the sides of the tin, so it's compact. To avoid having really thick corners, really press in at the edges (where the sides meet the base) it can be a little lower than the rest of the base.
Cover the tin and put it in the fridge to set for about 30 minutes to an hour (see note for details of how you could pre-prepare this dish)
While this is happening you need to make your filling.
The filling
Blitz your ricotta and marscarpone together in a food processor or in a mixer. Set aside while you prepare the chocolate mixture.
Put about 4-5cm of water in a sauce pan.
Put a pyrex or metal bowl on top of the pot, the water should NOT be touching the base of the bowl. Bring the water to the boil then lower to a simmer (low, steady bubbling).
Put your chocolate and port into the bowl on top. Mixing all the time, melt the chocolate into the port. This is a technique called DOUBLE-BOILING. It's good for chocolate because it ensure you don't burn it by having it too close to the flame.
Remove the molten chocolate/port mixture from the heat and blitz (in the food processor or using a hand mixer) into the ricotta/marscarpone straight away.
Refrigerate until the base is done with its refrigeration time. You will need to get the filling into the base at least an hour before serving to allow it time to set.
About an hour before serving (or several if that suits you better!), spoon your ricotta mixture into the tart base, then spread it out evenly and gently. Re-cover the tart, being careful not to have the cover resting on the ricotta mix (otherwise it'll stick). Leave to refrigerate for 1 to 6 hours, whatever best suits you.
Fig Topping
About half an hour before serving, prepare your figs.
Slice them up, into something that looks aesthetic, then prepare their simple marinade.
Heat the honey for about 10 seconds in the microwave, so that it's thin and runny, then mix through the lemon juice and cinnamon.
Drizzle this over your figs, cover and refrigerate for about an hour.
Just before serving top your tart with the figs. This will stop the figs from getting a bit too squishy and collapse into the tart, ruining the aesthetics of it.
You can arrange your figs however you like; I like to splay them out from the centre, overlapping one another (as pictured above)
Very carefully remove the sides of the tin from your tart. This may take some careful manoeuvring. I usually place the base of the tin on a large glass or a couple of food tins to do this, it means I can pull the tin sides down without fiddling too much. If one of the sides comes off, it's not great catastrophe, just squash it on and refrigerate for about 20 minutes (without the cake tin sides) to get it reattached.
Slice it carefully with a sharp knife and use a cake slice to get it off the tin (be careful, the base needs a little gentleness, remember it's just butter holding those crumbs together!)
Serve by itself or with
Notes
You can pre-prepare the base and the filling up to a day before, keeping them separate until an hour before serving. The figs you can really only prepare half an hour before use. Even though I've listed a "cooking time," there's no actual baking here, most of the "cooking time" is actually "refrigeration time."
Heather Sharpe
A frequenter of farmer's markets and fan of things free-range and organic, Heather concerns herself with trying to live/eat/cook more ethically and sustainably. Her playful approach to flavour combinations promotes the idea that cooking healthy, more ethical food is an attainable goal, even with our hectic lifestyles. Heather's recipes have been published in Metior Magazine and Dash Magazine, Heather also not-so-secretly blogs as the culinary super-hero, The Kitchen Crusader.