Sinaloa Inspired Chicken Chorizo Tamales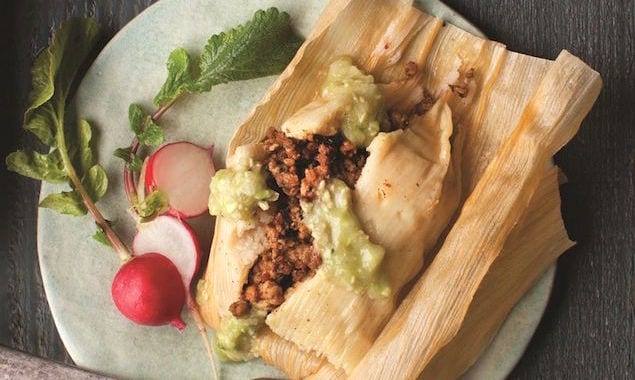 These meat filled tamales are simple to make with an even easier red pasilla chile sauce recipe to go along.
By Serge Lescouarnec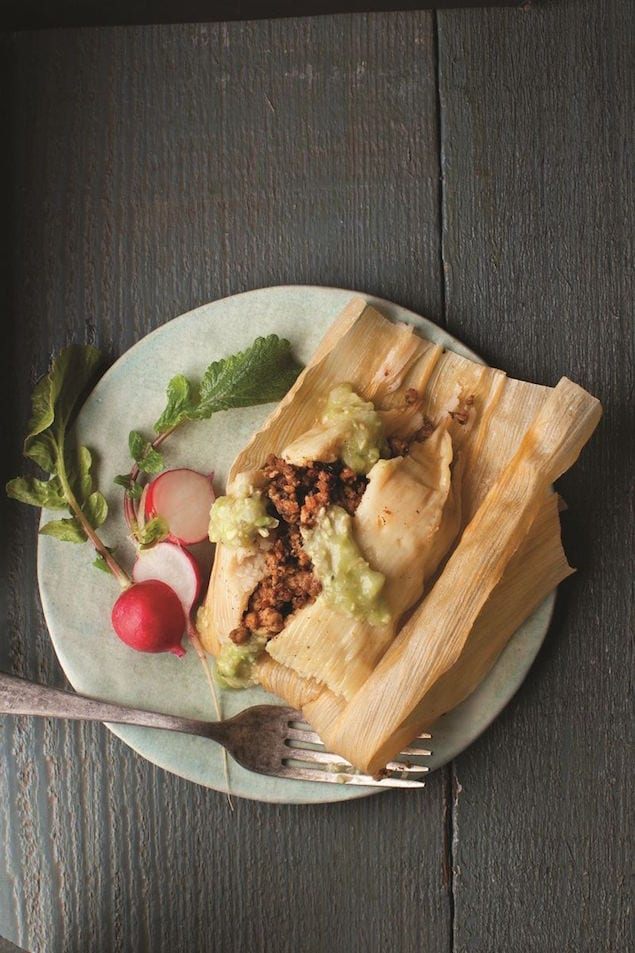 In contrast to Vegan Jalapeno Pesto Potato Tamales from Tamales, Fast and Delicious Mexican Meals by Alice Guadalupe Tapp, here's a meat filled recipe from same book.
This is a great version of Sinaloa-style tamales. Sinaloa is a state in Mexico where my father was born—Mazatlán, Puerto Vallarta, and Acapulco are all in located in Sinaloa. These tamales are simple to make with the Super Easy Red Pasilla Chile Sauce.
See Also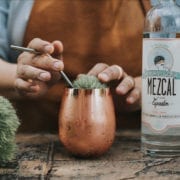 A simple version of the famous red chile sauce, this recipe cuts the preparation time down from 2 hours or more to 45 minutes. If you have leftover sauce, make enchiladas or chilaquiles. If the sauce is too hot, add 16 ounces of tomato sauce. If you want more heat, use New Mexico hot dried chiles instead of the pasilla chiles, which are milder.
To make this type of masa dough, my grandmother used lard, and my mother used vegetable shortening or a combination of both. I switched to butter. Traditional cooks use even more fat than what is called for here, but I think this 1:5 ratio of butter to masa is perfect. Feel free to use your preference of lard, shortening, butter, or margarine.

Sinaloa Inspired Chicken Chorizo Tamales
These meat filled tamales are simple to make with an even easier red pasilla chile sauce recipe to go along.
Author:
Alice Guadalupe Tapp
Serves:
18 tamales and 7 cups of sauce
Ingredients
Tamales
¼ cup olive oil
1 small to medium onion, diced
1 medium potato, diced
1 carrot, diced
1 zucchini, diced
2 pickled jalapeños, minced
1 teaspoon salt, or to taste
1 medium tomato, diced
½ cup raisins
½ cup finely chopped green olives
3 or more cups Super Easy Red Pasilla Chile Sauce (see below)
2 cups cubed cooked chicken
31/2 cups Basic Fresh Masa (see below)
Super Easy Red Pasilla Chile Sauce
1 (2-ounce) package dried pasilla chiles, stemmed and seeded, or 4 tablespoons prepared chile paste
2 (28-ounce) cans enchilada sauce
1 teaspoon oregano
2 teaspoons sugar
½ teaspoon cumin
½ teaspoon salt
¼ teaspoon pepper
¼ cup olive oil
Basic Fresh Masa
1 pound butter or margarine, softened
5 pounds stone ground fresh masa (unprepared)
2 to 3 cups stock (chicken, pork, beef, or vegetable)
2 tablespoons salt (or less to taste)
Instructions
Tamales
Heat the oil in large pot over medium heat, add the onion, and sauté for 2 to 3 minutes. Add the potato, carrot, zucchini, jalapeños, and salt and stir to combine. Sauté for 15 minutes or until the potato and carrot are barely soft. Remove from the heat and let cool. Add the tomato, raisins, olives, chile pasilla sauce, and chicken. Fold well.
Taste and adjust the salt.
Assemble the tamales (see pages 5-6), using ¼ cup masa and ¼ cup filling for each tamale.
Transfer to a steamer and steam for 50 minutes.
Super Easy Red Pasilla Chile Sauce
Place the cleaned chiles in a medium bowl and pour boiling water to cover, place a dish on top to keep the heat in, and set aside for 20 to 30 minutes, until the chiles are completely soft. Place the chiles into a food processor or blender and process until you have a smooth paste, then add the enchilada sauce, oregano, sugar, cumin, salt, and pepper and process or blend until well combined, about 5 to 10 seconds.
Heat the olive oil in a large pan and add the sauce, cover, and cook over medium heat for 15 minutes, checking and stirring occasionally to make sure the sauce doesn't burn. Set aside to cool. The sauce can be refrigerated or frozen for future use.
Basic Fresh Masa
Place the butter in the bowl of a stand mixer and whip until fluffy, about 2 minutes. Add one-third of the fresh masa alternating with one-third of the stock, then add the salt. Beat until well mixed, adding more stock if needed, turn the mixer to high, and beat for 3 to 5 minutes, or until the dough resembles spackling paste.
Take a small piece (about ½ teaspoon) of the dough and drop it into a cup of cold water. If it floats, it is ready; if it sinks, whip for another minute and test it again. Repeat this process until the masa floats.
Note: The fresher the masa, the faster it will become light and fluffy enough for use.
Reprinted with permission from Tamales, by Alice Guadalupe Tapp, copyright © 2014. Published by Ten Speed Press, an imprint of Random House LLC. Photographs copyright © 2014 by Sara Remington
Serge Lescouarnec
Also known as Serge The Concierge, food and wine are essential parts of the DNA of New Jersey based Serge Lesouarnec. His French roots guarantee strong opinions on food, wine and travel, topics he has been writing about since 2005.