Simply Delicious Chicken Broth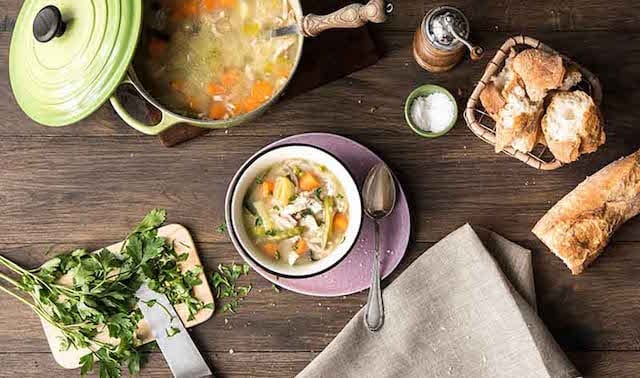 If you are feeling under the weather or in the mood to get cozy, learn how to easily make a bowl of flavorful, healing chicken broth.
By HelloFresh
Chicken broth is incredibly good for you and when it's so easy to make there is no excuse to not cook some up and let the good times roll. Did you know that chicken stock is anti-inflammatory and that there is something in chicken stock called carnosine which fights against flu? Nice one chicken stock! If you're a chicken lover, check out our top 10 chicken recipes for autumn. Scrumptious!
Simply Delicious Chicken Broth
If you are feeling under the weather or in the mood to get cozy, learn how to easily make a bowl of flavorful, healing chicken broth.
Ingredients
25ml (0.8 fl ounces or a few tablespoons) olive oil
1 red onion, chopped
150g (1.7 ounces) chopped bacon
3 garlic cloves
1 whole chicken, jointed
200g (7 ounces) risoni/orzo
6 carrots, chopped
6 leeks, chopped
150g (1.7 ounces) mange tout beans
2 tbsp flat-leaf parsley, coarsely chopped
500 ml (16.9 fluid ounces) chicken stock
Salt and pepper
Instructions
In a large pot, add the oil at a medium high heat. Then add in the onions, bacon, and garlic and fry for about 8 minutes. Now add the chicken stock and bring to the simmer. Add the jointed chicken and then cook for about 10 minutes at a medium low heat. Add the risoni follow by the carrots and cook for about 8 minutes.
Remove the chicken from the soup and use a fork to shred it (get rid of the bones and skin). Now add the beans and leek to the pan and then add the shredded chicken. Season with salt and pepper.
Serve in a bowl and add parsley to the top.
HelloFresh
At HelloFresh, we want to give people the simple knowledge they need to cook delicious, healthy meals. Whether you want know how to boil an egg or cook an elaborate dinner menu, you know who to call!