Jules Clancy's go-to simple pasta recipe is pantry cooking at it's finest.
Text And Photo By Jules Clancy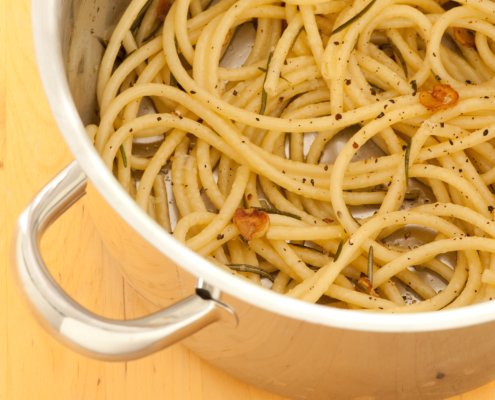 Having a well stocked pantry is a bit like having a culinary insurance policy. No matter what life throws at you, it always feels more bearable knowing that you have something decent in the house to eat.
But of course there are times when supplies get low and that's when I turn to this simple pasta dinner. There's always a half used packet or two to cobble together enough for a meal.
This is my go-to simple pasta recipe. Dressed simply with olive oil, garlic and a little rosemary from the garden (mine or my neighbors!), it's pantry cooking at it's finest.

simple spaghetti with rosemary & garlic
If you aren't lucky enough to grow rosemary or have a neighbour who does, feel free to leave it out or substitute in any other herbs you happen to have access to. If all else fails, a little dried chilli will make a different but delicious alternative.
Ingredients
200g (1/2lb) pasta
3 tablespoons extra virgin olive oil
1 large sprig rosemary, leaves picked
1-2 cloves garlic, peeled & finely sliced
Instructions
Bring a large saucepan of salted water to the boil. Cook pasta according to the packet directions.
Meanwhile, heat oil in a small saucepan over medium. Add rosemary & garlic and fry until garlic is golden and the rosemary has gone crispy. Remove from the heat.
When the pasta is cooked, scoop up a mug full of cooking water then drain the pasta well. Return drained pasta to the hot saucepan and add the flavoured oil. Toss, taste and season well. Serve hot.
Jules Clancy
Jules Clancy is a former Food Scientist turned Author and Simplicity Lover. She only writes recipes with 6-ingredients or less. She lives in Australia blogs about 6-Ingredient Dinners over at Stonesoup.