Simple Roasted Tomato Pasta with Basil and Goat Cheese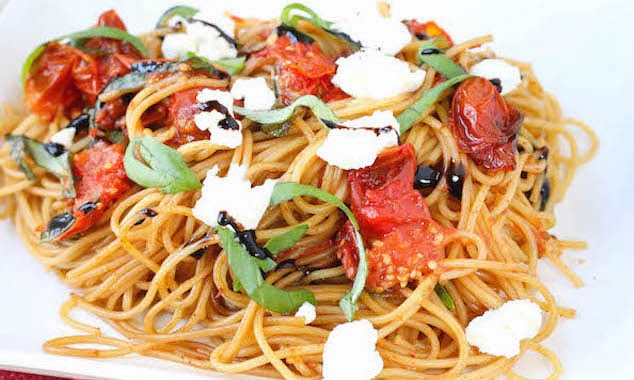 Ditch the boxed macaroni and cheese and make this roasted tomato, basil, and goat cheese pasta topped with balsamic for a weeknight dinner rescue.
By Taylor Kadlec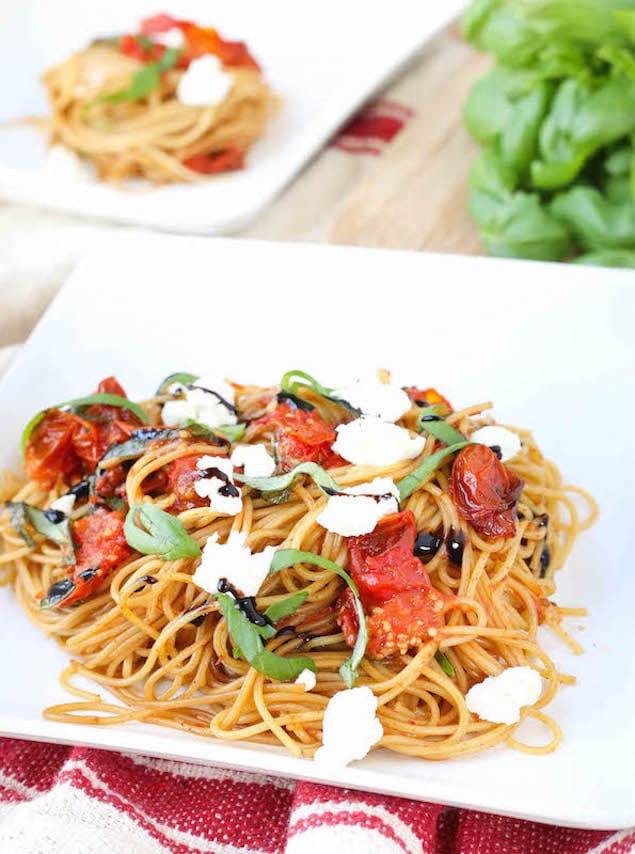 Luckily this dish is really not much more complicated than making the box of pasta and powdered cheese. The great thing about roasting tomatoes is they hardly take any time (15 minutes, tops!) and while they are roasting, you can get the pasta cooked, basil chopped, and goat cheese ready, so when they are done all you have to do is toss it all together and dinner is served.
While this dish might not be seasonal-friendly quite yet, I can just imagine how handy this is going to be when my tomato plants are (fingers and toes crossed) bursting with cherry tomatoes, my basil plant is overflowing, and I have fresh goat cheese or mozzarella on hand at all times.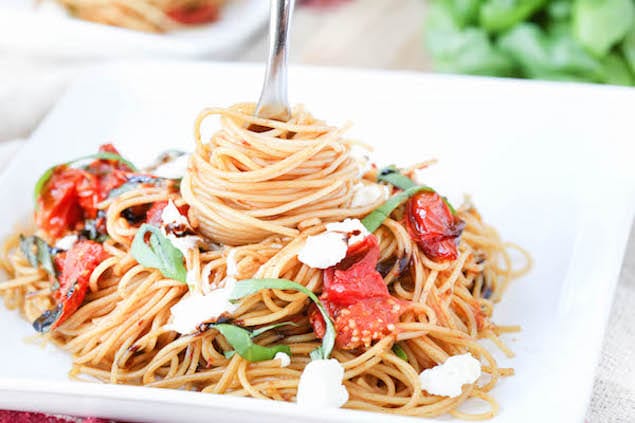 See Also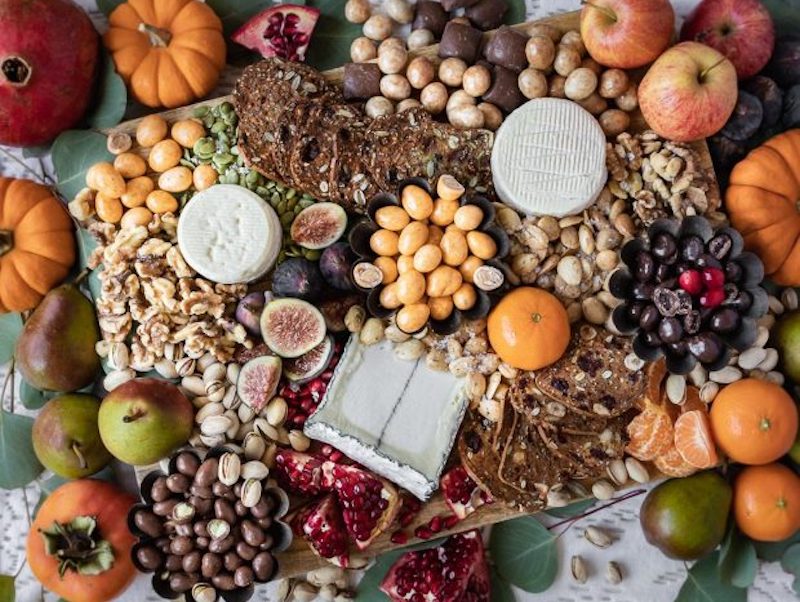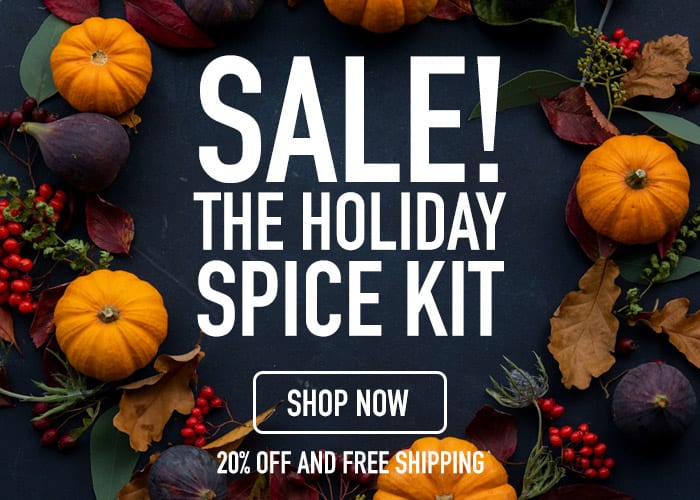 Which brings me to another thing – the cheese! I absolutely loved the creamy and tangy goat cheese in this pasta, but it would be wonderful with chunks of mozzarella, too, tossed in at the end to get slightly warm from the pasta, but not enough to completely melt.
Finished off with a drizzle of balsamic reduction, this meal was pasta perfection.

Simple Roasted Tomato Pasta with Basil and Goat Cheese
Ditch the boxed macaroni and cheese and make this roasted tomato, basil, and goat cheese pasta topped with balsamic for a weeknight dinner rescue.
Cuisine:
Italian Inspired
Ingredients
Balsamic reduction:
1 cup balsamic vinegar
1 tablespoon sugar
Pasta:
10 ounces (approximately) angel hair pasta, or whatever your favorite pasta is
2 cups grape or cherry tomatoes
1 tablespoon olive oil
4 tablespoons balsamic vinegar
2 cloves garlic
½ teaspoon salt
2 tablespoons chopped basil
⅓ cup crumbled goat cheese
Instructions
First, start your balsamic reduction by combining balsamic vinegar and sugar in small pot over medium low heat.
Let cook until reduced for 20-25 minutes. It will be thickened and syrupy when finished.
Meanwhile, preheat oven to 425 degrees F.
Bring pot of water to boiling and cook pasta according to package.
While water is heating up and oven is preheating, combine tomatos, olive oil, 2 tablespoons balsamic vinegar, garlic, and salt. Toss to combine.
Place on baking sheet (I lined mine with aluminum foil), and roast in preheated oven for 12-15 minutes, until tomatoes start to soften and break down.
Once tomatoes and pasta are cooked, toss them together, along with the remaining 2 tablespoons of balsamic vinegar and basil.
Add goat cheese and toss gently.
Finish off with balsamic reduction drizzle.
Taylor Kadlec
Taylor Kadlec is a lover of all things food including baking, cooking, and of course, eating. She is a self-taught baker and cook, and she shares her kitchen adventures on her blog Greens & Chocolate, where healthy cooking meets sinful indulgence.