Italian pasta and beans is a hearty dish that's along the lines of a pasta e fagioli – but it's not a soup. It is rich, so grab a fork.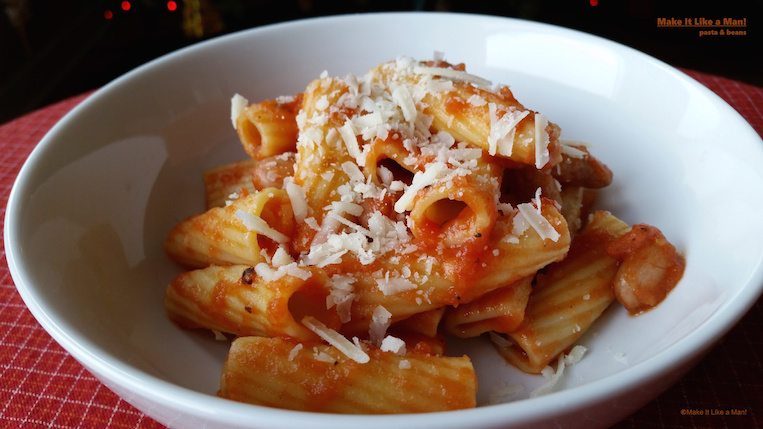 This recipe involves a lot of sitting around waiting for things to happen. Great for a cold, wet, rainy, weekend day. These Italian beans, once soaked, will last a couple of days. Cooked potatoes: a week. Cooked beans: five days. That would leave you with finishing the sauce, which you could do easily in the time it takes to boil the pasta.
Check out more of my favorite pasta dishes here.
Print

---
4 oz

. of dried Borlotti or Cranberry beans (soaked (at least

12

hours))

1

medium-sized (Russet (or similar) potatoes, peeled and left whole)
Salt

1

stalk celery (or celery root, minced, about ? cup)

1

Tbs olive oil

1

clove garlic (minced)

2

fresh sage leaves (minced)

10 oz

. tomato sauce (plus more to taste)
Freshly ground black pepper

1

lb rigatoni
Shredded or shaved Parmesan (for serving (optional))
---
Instructions
Cook the beans and potato together in salted water. Keep the heat low; otherwise, the beans may burst. Remove the potato once it's soft (about 20 minutes). Continue cooking the beans until soft (an additional 40 minutes or so). While the beans are cooking, allow the potato to cool, then weigh it. You should have ½-lb. Coarsely chop it. Once the beans are cooked, strain them and allow them to cool.
Over medium heat, sauté the celery in oil, but don't let it brown (about 5 minutes). Add garlic and sage and continue to sauté for 2 minutes. Add 8 oz. of the tomato sauce and simmer over lowest heat, covered, for 6 minutes or until flavors are well combined. Add ½-cup of water and the potato, and allow to simmer, covered, for 45 minutes, stirring on occasion. Add water if necessary to keep it at a soup-like consistency.
Meanwhile, cook the pasta to al dente. Reserve some of the cooking liquid just before straining it.
Fully mash the potato mixture with a potato masher, or push it through a fine-mesh sieve. It should resemble a thick tomato sauce. Cook it down more if need be, adding pasta water as necessary. If you wish, add more tomato sauce, to taste. Season with salt and pepper. Add the beans, off heat, and cover, allowing the residual heat to warm them. Heat gently and add pasta water to thin the sauce if need be.
The ratio of sauce to pasta is a matter of taste. Add the pasta to the sauce gradually, until you arrive at a ratio you like. Be gentle, since it's easy to crush the beans.
Garnish servings with Parmesan, if you wish.
If you want to spice things up, consider adding red pepper flakes, mussels, or sausage to this dish.
Category:

Pasta, Primi

Cuisine:

Italian
Jeff Make it Like a Man
Jeff is a well-seasoned home cook who produces Make It Like a Man, an occasionally irreverent blog about more-or-less everyday cooking. When he's not at home making vanilla extract, Jeff divides his time between hanging in out in cafés and dedicating himself to several arts and culinary-related Chicago-area non-profits. He is also a member of the Board of Directors of Chicago Food Bloggers.