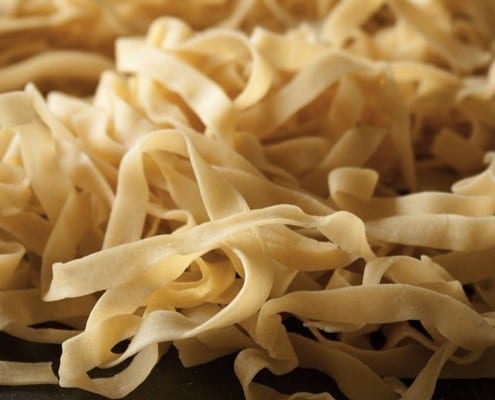 Making home made pasta can be intimidating, but this recipe shows that it is not only fun, but simple and extremely rewarding.
By Laura Davidson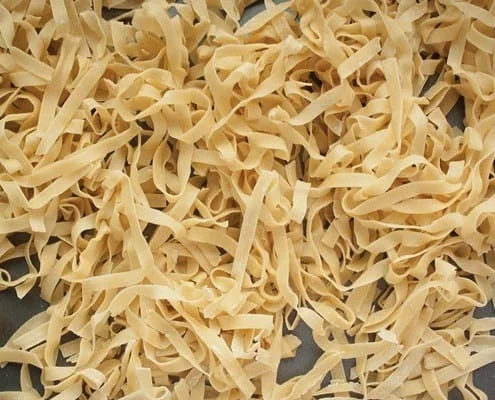 In my mind, nothing beats homemade pasta.  It is delicious, can be eaten and topped with anything (or nothing, for that matter, besides a bit of butter and parmigiano-reggiano cheese), and is comforting, yet elegant at the same time.
Making homemade pasta from scratch is, by no means, an everyday occurrence in my own kitchen. However, since starting culinary school, I've come to realize it is not as difficult or time-intensive a process as many people assume.  It requires only four ingredients—flour, eggs, salt, and a little bit of olive oil—and can transform an everyday staple into something special.
This is not to say that I won't still be buying boxed, dried pasta at the store (my favorite white & whole wheat brands are DeCecco & Bionaturae)—I most certainly will—but the next time you find yourself with an extra 20-30 minutes to spend in the kitchen,  try making your own from scratch.  It is not only fun, but simple and extremely rewarding!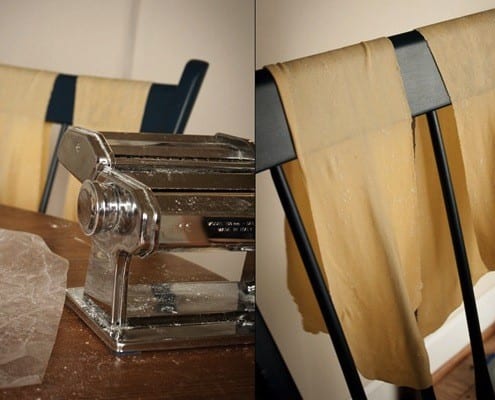 See Also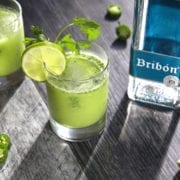 While this recipe calls for a pasta machine (Imperia is a known for being great brand for anyone looking to buy one), it is not required, but will make your life a lot easier.  If you are rolling by hand, one easy preparation is to cut the dough into triangles or small squares ("handkerchiefs").
Though every homemade pasta dough recipe calls for a slightly different method or ingredients, the following recipe, which I learned during my time in culinary school,  is pretty much as fool-proof as you can get.  If you do not have Italian "00 flour" on hand, feel free to substitute regular all-purpose.  It will work just as well!
If you want to go for something a bit more special—you could also try adding in herbs or cracked black pepper for extra flavor!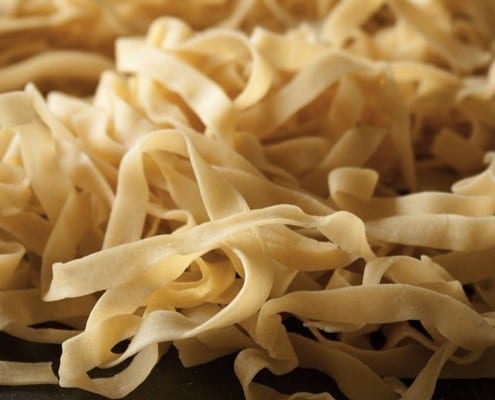 Author:
Laura @ Blogging Over Thyme
Ingredients
~1.5 cups "00" Flour or All-Purpose Flour
1-2 teaspoons kosher salt
2 whole eggs
1-2 teaspoons extra virgin olive oil
Instructions
Sift flour onto clean countertop. Add salt and mix thoroughly with fingertips.
Using fingertips, create large well in center of flour, so that countertop is visible.
Crack eggs into well, along with adding olive oil. Whisk eggs and olive together using fork.
Using fork, slowly begin adding flour from sides of well into egg mixture, whisking as you go, until egg mixture is no longer runny.
Using floured hands (or bench scraper), continue to incorporate flour into dough, just until you can squeeze the dough with your hand without it sticking. **Be careful not to add too much flour, as it will cause the pasta dough to get dry and crack during rolling.
Flatten pasta dough into disk, using palm, wrap in plastic wrap, and allow to rest at room temperature for 15-20 minutes.
Once dough has rested, add more flour if necessary (flour will absorb during resting). Flatten into disk and roll (at largest-width setting) using pasta machine. Fold into envelope (bring side into center, repeat with other side—open seams facing vertically into machine) and repeat until dough is smooth.
Roll pasta dough into desired thickness. **For thinner, delicate (eg. cream) pasta sauces, roll pasta dough very thin. **If you plan on serving your pasta with a hearty, rougher sauce, roll a slightly thicker pasta.
Allow rolled dough to dry slightly at room temperature until no longer tacky (this will ensure that shaped pasta will not stick together).
Shape pasta using pasta machine attachment. Cook pasta in large amount of boiling, salted (should taste like the ocean) water until al dente.
Laura Davidson
After deciding to take a leap of faith, Laura enrolled in culinary school to pursue her passion for all things food. On her blog, Blogging Over Thyme, she shares her experience as a culinary student, her favorite recipes, stories, and photography!