This recipe from Judith Klinger was inspired by the traditional Provencal fish soup that is served with aioli.
By Judith Klinger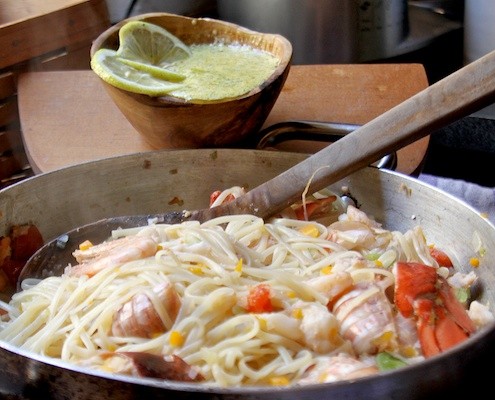 Spaghetti with a seafood sauce, or spaghetti allo scoglio as they call it in Italy, is a summery sort of dish. It's delicious any time of year, but maybe because it goes well with a chilled white wine, it seems perfect, right now, in the middle of summer.
What's fun about this recipe is that everyone can adjust the amount of heat and garlic exactly to their taste. This recipe was inspired by the traditional Provencal fish soup that is served with aioli. Why not take a variation on aioli and add it to pasta? Parsley, garlic and egg all play very nicely with pasta, so why not aioli? Turns out the aioli gives the pasta a soft, silky mouth feel while packing in a wallop of garlic-chili flavor.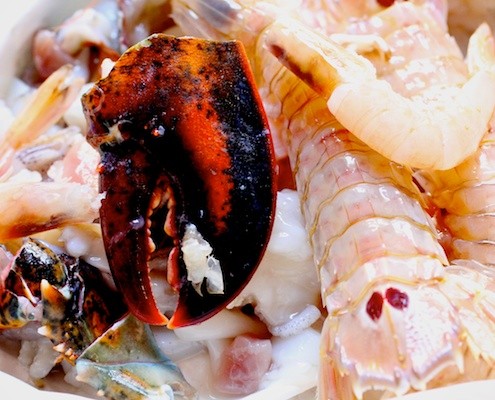 Serve the aioli alongside the pasta, make sure you have some chilled wine on hand, and to get into the mood, you could wear your favorite beach clothes and at least pretend you are sitting on the Amalfi coast eating Spaghetti allo Scoglio. Buon appetito!
Print
Silky Seafood Spaghetti with Lemon Parsley Chili Aioli
This seafood spaghetti turns seductively silky when you add this spicy, creamy aioli.
Author:

Judith Klinger

Prep Time:

10 mins

Cook Time:

10 mins

Total Time:

20 minutes

Yield:

2

1

x
Lemon, Parsley, Chili Aioli

1

fresh egg yoke

1/2 cup

extra virgin olive oil
Juice of

1/2

lemon

2

–

3

chili peppers

3

–

4

cloves of garlic

2

–

3

T, 45g of finely minced parsley
Seafood Spaghetti
10 oz

300g dried linguine pasta

1

lb or 500 gm mixed seafood (see note below)

1

medium carrot

2

large ribs of celery

1

medium sweet onion

1

clove of garlic

1

bay leaf
Instructions
Finely mince together the parsley, chili, pepper and garlic. In a bowl, add the egg yoke and parsley mixture. Pouring the oil slowly, slowly, in a very thin stream, whisk in the olive oil. You are making an emulsion, so you must whisk until each bit of oil is emulsified before you add more. When you are finished adding the oil, add the lemon juice to taste. Refrigerate the aioli until you are ready to serve.
Seafood Spaghetti
For the mixed seafood, go to your fish monger and get a bit of this and a bit of that…mix it up according to your taste and what looks fresh. In our mix we had some chopped lobster, 2 different kinds of shrimp, squid, and "connocchie" which is a cousin to shrimp that I've never seen outside of Italy. Cockles would be a nice addition and you could even add a white fish fillet; but avoid any oily fish like salmon. Chop the seafood into small, bite size pieces.
Put a large pot of pasta water on to boil. The sauce will be ready in the time it takes to boil the water and cook the pasta.
Finely chop the soffrito: carrot, onion, celery.
Over medium heat, gently saute the soffrito in a few tablespoons of olive oil, until it it soft and snuggly, about 2-3 minutes. Now add the chopped garlic and bay leaf and keep stirring to avoid any browning of the soffrito. Use a saute pan that is big enough to hold all of the seafood and cooked pasta.
When the pasta water is boiling, generously salt the water and add the pasta.
Assuming it takes 4-5 minutes for the pasta to cook, now is the time to add the seafood to the soffrito saute pan. You don't want to cook the seafood for more than 4-5 minutes.
About a minute before the pasta is done, add a ladle full of the pasta water to the seafood pot. Drain the pasta and add to the seafood pot. Continue cooking until the pasta is done and has absorbed most of the water.
Serve immediately with the bowl of parsley aioli on the side and I bet you'll feel the cool breezes blowing in from the sea.
Notes
Serves 2 as a hearty main course, or 4 as as first course.
Judith Klinger
Judith Klinger is a culinary events producer, former Director of Operations for the International Association of Culinary Professionals. Judith and her husband, Jeff Albucher are the creators of Aroma Cucina, an Italian lifestyle blog. She is the author of Cooking Simply The Italian Way.