Sichuan Chicken and Cashew Noodle Salad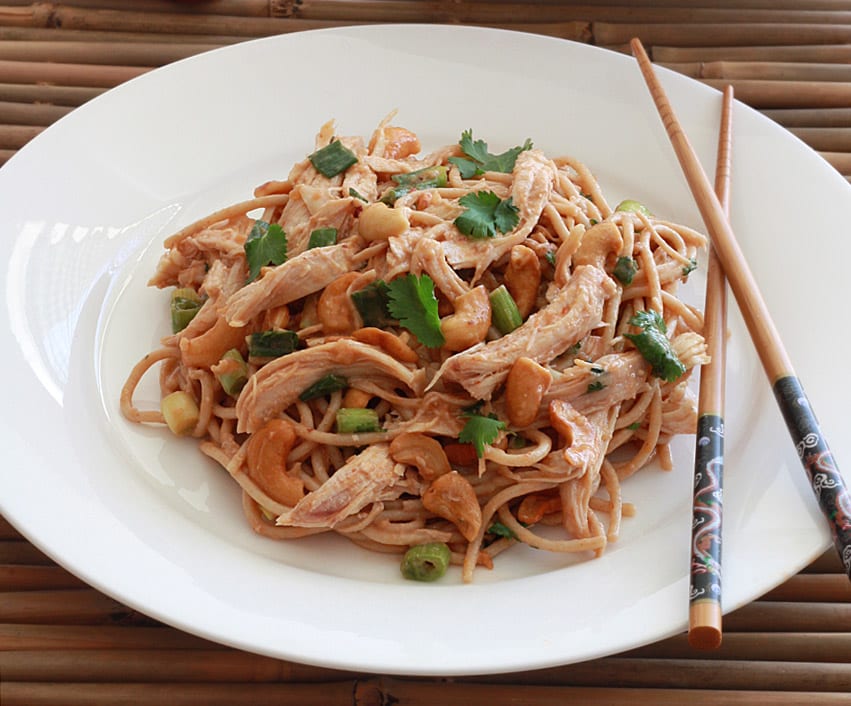 Highly aromatic but imparting no heat, sichuan pepper has a very unique taste, and one that's relatively unknown in the Western world.
By Kimberly Killebrew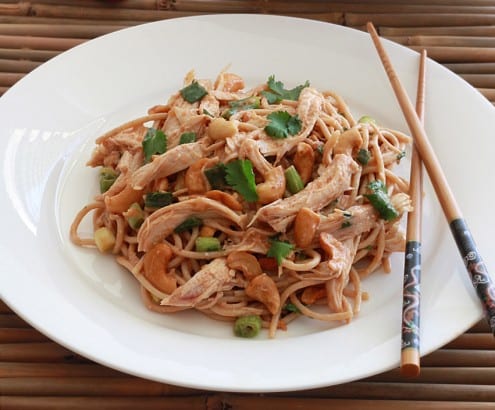 Here is a dish I threw together a few years ago and it's been a family favorite since. It's quick and easy to assemble. It's also a perfect dish for using up leftover chicken. A delicious blend of Asian flavors, tender chicken, and crunchy cashews makes for a fantastically flavorful dish.
Sichuan Chicken and Cashew Noodle Salad
Highly aromatic but imparting no heat, sichuan pepper has a very unique taste, and one that's relatively unknown in the Western world.
Author:
Kimberly Killebrew
Ingredients
1 package (1 lb) whole wheat spaghetti noodles, or Chinese egg noodles, prepared according to package directions
1 large chicken breast, bone-in/skin-on (or about 2 cups shredded chicken)
⅓ cup roasted cashews
6 green onions, chopped
¼ cup fresh cilantro, chopped
3-4 garlic cloves, minced
¼ cup smooth natural peanut butter
¼ cup chili sauce
2 tablespoons soy sauce
2 tablespoons red wine vinegar
2 tablespoons sesame oil
¼ cup extra virgin olive oil
¼ cup chicken broth
1½ teaspoons dry roasted sichuan pepper, crushed
Instructions
Place the chicken breast in a saucepan and add enough water to just cover the chicken. Add ½ teaspoon salt. Bring to a boil, reduce the heat to medium, cover and simmer for 30 minutes or until the chicken is done. Reserve ¼ cup of the chicken broth. Save the rest for another use.
While the chicken is cooking, cook the noodles.
In a medium bowl, combine all ingredients except for the noodles, chicken, and cashews.
Place the noodles in a large bowl and add the chicken and cashews. Toss to combine. Pour the sauce over the noodles and toss and stir until combined.
Serve at room temperature.
Kimberly Killebrew
Raised in Western Europe, widely traveled, and currently residing near Seattle with her husband and children, Kimberly loves preparing and experimenting with a large range of flavors and cuisines. This is reflected in her food blog, The Daring Gourmet, where she invites all to "tour the world through your taste buds." Passionate cook, recipe developer and photo enthusiast, her culinary repertoire includes everything from gourmet to simple comfort food, and, as she puts it, "simply downright good eats."