On one of her weekly expeditions to the Farmer's Market, Tamara Novacoviç finds these beautiful crustaceans.
Text And Photo By Tamara Novacoviç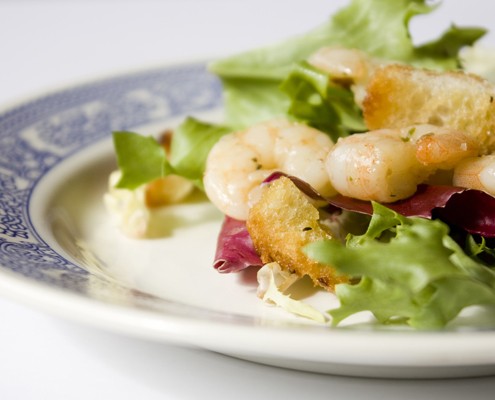 Every week I scout the farmer's market for fresh and delicious food, now more than ever, since it is springtime. A few days ago I found delicious shrimps that looked so good. I knew right away what I would use them for. Some delicious salad. I make a lot of salads to accompany certain meat meels, but sometimes I like to enjoy a salad on its own. I like and eat a lot of sea food. Shrimps are one of my favorite and they have the leading role in this salad. I like to have salads for a light dinner and this one is perfect: refreshing and healthy. Citrus juice goes very well with shrimps, it enlightens the whole combination. Olive oil gives it depth.  I like spicy food so I added a bit of chilli powder just to give it a slight kick. Shrimps are tender and the crispness of croutons works great with this salad.

Shrimp salad with herbed croutons
Shrimps are one of my favorite seafood and they have the leading role in this salad. Lemon juice enlivens the whole combination, olive oil gives it depth, chilli powder that extra kick and croutons a nice, crisp contrast.
Ingredients
1 small baguette bread
¼ tsp powdered garlic
⅓ cup (75 ml) olive oil
Juice form ½ lemon
1 handful of fresh chives
3 tbsp finely chopped parsley
10 oz (300 g) shrimp, peeled and deveined
¼ tsp powdered chilli
½ tsp thyme
2 cups (150 g) mixed lettuce, loosely packed
salt-to taste
pepper-to taste
Instructions
Cut the baguette into small cubes. Heat olive oil in a skillet, with powdered garlic and thyme. Add cubed baguette, toss to coat and cook over medium heat until toasted-nicely golden in color. Remove from heat and let cool.
Heat olive oil, add shrimps. Season with salt, pepper and chilli. Cook on medium heat until they get nice color, about 10 minutes.
Wash lettuce and put in a bowl. Add shrimps, finely chopped chives and parsley. Season with olive oil and lemon juice. Put in the fridge to cool.
Before serving, add croutons on top of the salad.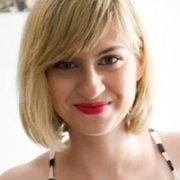 Tamara Novakoviç
Tamara Novakovic is a passionate self-taught cook, food blogger, freelance food writer and photographer behind bite-my-cake.blogspot.com. Her life journey has led her through Faculty of Humanities in Zagreb, Croatia to discovering passion for making cakes. She is currently a weekly food columnist for Croatian newspaper V magazine and food magazine Repete.