Summer corn is great even off the cob. And here's a simple, delicious way to use it.
By Mitch Weinstein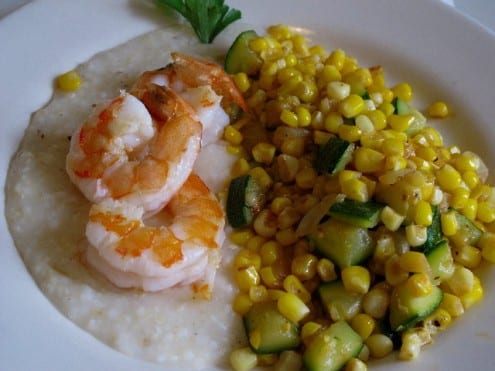 There's an old saying that farmer's use:  Knee-high by Fourth of  July, and back when I was a farmer, we'd say that when we planted our corn in anticipation of a good season.
Okay, so I'm not a farmer and never have been one (although I did have a backyard garden for a few years in Cali), but I still like the saying. Even though this year I feel for a lot of the farmer's around the country, whose crops are suffering due to the stifling heat and lack of rain – and don't get me started on global warming kids.
It also happens to be fresh corn season at NYC's farm markets, and I've had some great luck with sweet corn this year. Maybe it's the heat, maybe the rain, maybe even the lack of rain – I don't really know, but all the corn I've bought so far this year has been super sweet, crisp, juicy and delicious, and I guess the farmers in the northeast are having better luck than those in the parched midwest.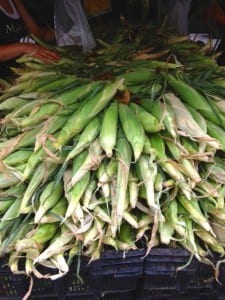 I love corn on the cob, slathered with butter and salt and pepper, or perhaps a squeeze of lime and a shake of chili powder (but hold the mayo, please). It's quintessentially summer, and whether you boil, steam, grill or roast your corn, you can't go wrong – as long as you don't overcook it.  I mean, fresh corn is so tasty that you can eat it raw, but if you're like most people, you'll want to give it a bit of heat –  and I never steam or boil it for more than 3 minutes. On the grill, you can go a little longer, because some browning adds a great complexity to that corny goodness.
The other day I came home from the market with a bag of corn, and Significant Eater was at the dining-room table working, so I figured I'd make the corn easier to eat, since corn on the cob can be a bit messy. I also had some stone-ground white-corn grits in the fridge (you keep that stuff in the fridge, don't you?), so I decided to make corn on corn – and then some.
While the grits were sputtering away, I shucked a few ears of corn and removed the kernels with a paring knife – and no, you don't need a special tool for this, just cut the ears in half and stand them up on the cut ends for the de-kerneling (which is a word I just made up)…
See Also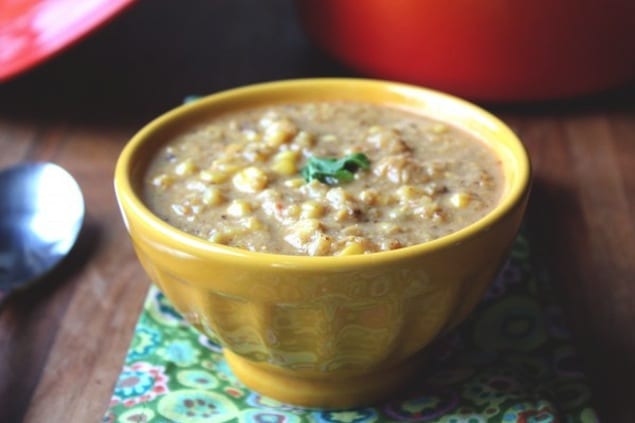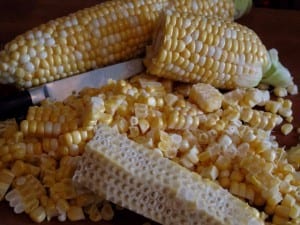 I also diced some market zucchini and onions into about corn kernel size, and started cooking. In a sauté pan with a tablespoon or two of butter, I cooked the zuke and onions first, just until they were translucent.  Then I added the corn and as I said above about cooking times,  I only cooked the corn for another 3 minutes or so; it was still nice and crisp, if that's the right word.  If you're worried about your sauté burning, just add a couple of splashes of water to the pan.  The saute was done at the same time as the grits; they got a good grating of parmesan, black pepper and a spoonful of butter stirred in – because, really, that's what grits need.
I wasn't done though.  I also happened to have half a dozen large, frozen wild shrimp in the deep-freeze – and yeah, wild shrimp is all I buy and all you should buy too…shrimp farming screws up the environment pretty badly, so do your part, even though they're hard to find.
The shrimp were briefly brined, for about 15 minutes or so, dried well, and pan-fried for a minute or two on each side.  Significant Eater was ready and so was lunch…shrimp and grits, with corn off the cob…
Print
Shrimp, Grits and Corn Off the Cob
Summer corn is great even off the cob. And here's a simple, great way to use it.
Author:

Mitch Weinstein

Prep Time:

20 mins

Cook Time:

30 mins

Total Time:

50 minutes

Yield:

2

1

x
¾ cup

stone-ground grits – water to cook

½ cup

freshly grated Parmigiano Reggiano

2

T butter
salt & pepper to taste

2

ears of corn, shucked and kernels removed

1 cup

diced zucchini

½ cup

diced sweet onion

2

T butter
salt & pepper to taste

6

large, wild caught shrimp
Instructions
Cook grits according to package directions.
Add grated parmesan, cheese, salt and pepper to taste.
Follow the rest of the instructions in the article.
Can be scaled up.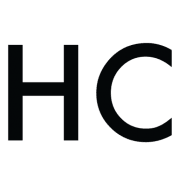 Mitch Weinstein
Mitch Weinstein is an avid seeker of good food, culinary school grad and writer of the blog Tasty Travails. When not cooking at home, he is on the hunt for that next delicious restaurant meal, great market or maybe even a cocktail. He regularly contributes to the food and drink forums on mouthfulsfood.com, eGullet.org, Chowhound.com and others.