A rémoulade is a mayonnaise based sauce with endless variations that is used here to add a creamy texture to contrast the crispy shrimp cakes.
By Bryan Picard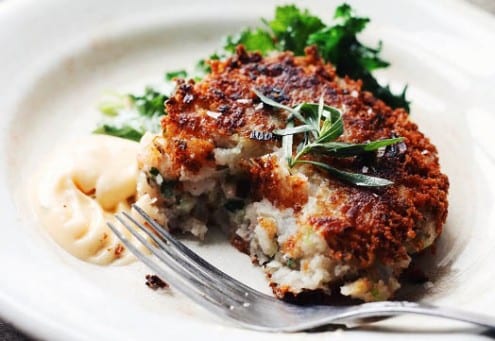 Shrimp Cakes with Rémoulade
A rémoulade is a mayonnaise based sauce with endless variations that is used here to add a creamy texture to contrast the crispy shrimp cakes.
Serves:
6 large or 12 small cakes
Ingredients
Shrimp Cakes
• 1 pound northern shrimp, peeled and cooked
• 1 medium potato, diced
• ½ leek, finely chopped
• few sprigs of fresh tarragon or chervil, chopped
• 3 tablespoons flour
• 1 bay leaf
• pinch sea salt
• small pinch cayenne pepper
• ¼ cup peanut or sunflower oil
Rémoulade
• 1 cup mayonnaise
• 1 tablespoon Dijon mustard
• 1 tablespoon grated horseradish
• 1 tablespoon fresh basil, tarragon, and/or chervil, chopped
• 1 teaspoon apple cider vinegar
• 2 cloves garlic, chopped
• few celeriac or celery leaves, finely chopped
• pinch cayenne pepper
• pinch sea salt
Instructions
Shrimp Cakes
Put the potatoes and bay leaf in a pan and cover with water.
Bring to a boil, then simmer for about 15 minutes, until the potatoes are cooked.
Strain and leave to cool for a few minutes.
Put ⅔ of the shrimp and the potatoes in a food processor. Pulse a few times until roughly smooth.
Transfer to a bowl and mix in the rest of the shrimps, the leek, tarragon, flour, salt and pepper.
Form 6 large or 12 small patty.
Heat up the oil in a frying pan. Once the pan is hot and the oil runny, add half the cakes and give the pan a small shake.
Make sure not to overcrowd the pan. Cook for 3-4 minutes, until golden brown, flip, and cook for another 3 minutes.
Transfer to a plate, repeat with the rest of the cakes.
Serve right away and season with some sea salt.
Rémoulade
Mix all ingredients.
Let to sit for at least 30 minutes.
Bryan Picard
Bryan Picard is a wild and homegrown food enthusiast. He lives in the Maritimes in Canada and has worked the kitchens as a cook and chef for the past ten years. He writes on his blog The Bite House.