Back from an inspiring visit at the Shepherd's Way Farm in Minnesota, Laura Lindekugel makes a gorgeous batch of Ricotta Doughnuts.
By Laura Lindekugel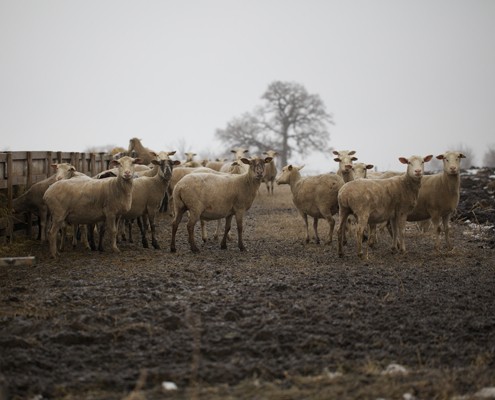 I visited Shepherd's Way Farm on a 27-degree icy day in late November.  Jodi welcomed me and my dear friend Gracia in for tea and we talked for a long time around her table before she showed us around the farm.  She is a striking person, both vulnerable and incredibly strong, and her belief in what she does is clear.
Jodi Ohlsen Read, her husband Steven, and their four sons, Aidan, Elia, Isaiah, and Maitias, are sheep milk farmstead cheesemakers who practice sustainable farming in Nerstrand, Minnesota.  They take great care around every step of the process, from the diet they feed their ewes, to humane milking practices, to making every small batch of cheese by hand.
The Reads began having a series of conversations in 1994 around the question, How do we want to live?  They wanted a fulfilling life, one in which they could spend time with family and friends, take care of the land and animals, and do something they cared about.  They talked about what an ideal life might look like, and they talked through ways to make that life.  One defining day, Steven asked Jodi, "How do you feel about milking sheep?"   Weeks later they had 40.  They arranged a sweat equity exchange with a farmer whose land and buildings were in need of refurbishing, and eventually Jodi found a farm that they purchased as their own.  She placed an ad in local rural papers and one day a retired farmer called.  Their conversation went something like this: "You looking for a harvester?"   "No, I'm looking for a farm."  "Oh, I have one of those."  Jodi visited and, though the barn was unsuitable for lambing, she knew it would be home.  When Steven came the next day to look at the property, a rainbow appeared over the barn, the wind came up, and the For Sale sign blew away.  It became Shepherd's Way Farms.  Through hardship that would have made most people crumple and walk away—financial challenges and the devastating loss of their barns and two thirds of their flock to an arson—Jodi and Steven have worked hard to continue to make artisanal cheeses and a life that is meaningful to them.
Making cheese is a physical pursuit, and one that has transformed Jodi.  Her hands are muscular and powerful, so much so that her wedding ring no longer fits.  Making a batch of Friesago requires lifting wheels of cheese weighing cumulatively almost two tons, and that's just a day's labor.  It's one that Jodi clearly loves.  She became an award winning cheesemaker almost by accident.  In the early days of the farm she wanted to learn about the process before she hired someone to make the cheese.  But she was a natural cheesemaker, and her Friesago won a prize the first time they entered it in a contest, hoping only to receive formal feedback.
Jodi credits her teachers when she talks about her cheesemaking skills, but, as anyone who has cooked or baked knows, there is an alchemy and a kind of magic that separates two cooks or bakers following the same recipe.  It's the way one intuitively knows a feel, a smell, a sound, and a moment that marks ingredients becoming something truly special.  Jodi has this gift and intuition with cheeses, and hers are products not only of the pastures she and her husband lovingly care for and the sheep they lovingly tend, but of her rare gift.
The Reads have added natural wool bedding, fine meats, and charcuterie to their cheese offerings, all with the same uncompromising attention to detail and pride as their award winning cheeses.  They raise heritage breed Large Black Pigs and Buckeye chickens in addition to their flock of sheep.
I couldn't help but think as I sat over tea with Jodi about what a gift they have given not only those of us lucky enough to enjoy their cheeses in Minnesota, but to their four sons.  They have taught them that it's possible to live your values, to be imaginative and creative, to be present in your own life, to work hard for something that's important to you, and that making something beautiful is far more important than chasing wealth.  They've taught us, too.
The Reads wonderful cheeses are available in the Twin Cities region at various restaurants and at Twin Cities Co-ops, Surdyks, Byerly's, Lunds, Kowalskis and other specialty cheese shops and at the Mill City Farmer's Market and the St. Paul Indoor Farmers Market at Golden's Deli.  Depending on availability, Shepherd's Way cheeses can also be found in the Ferry Building in San Fransisco, Pike's Place in Seattle, Clyde's in Washington D.C., and Pastoral in Chicago.
See Also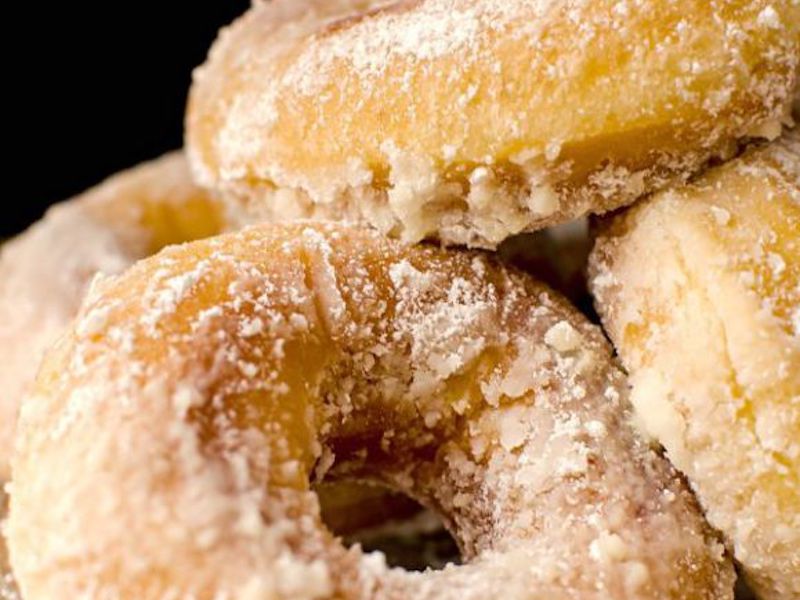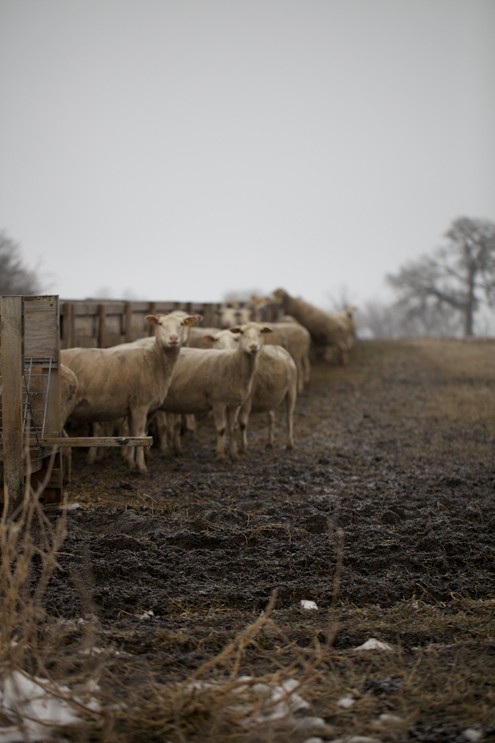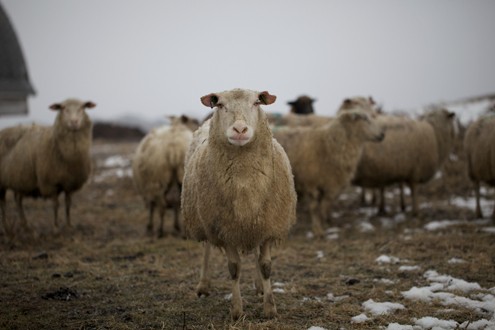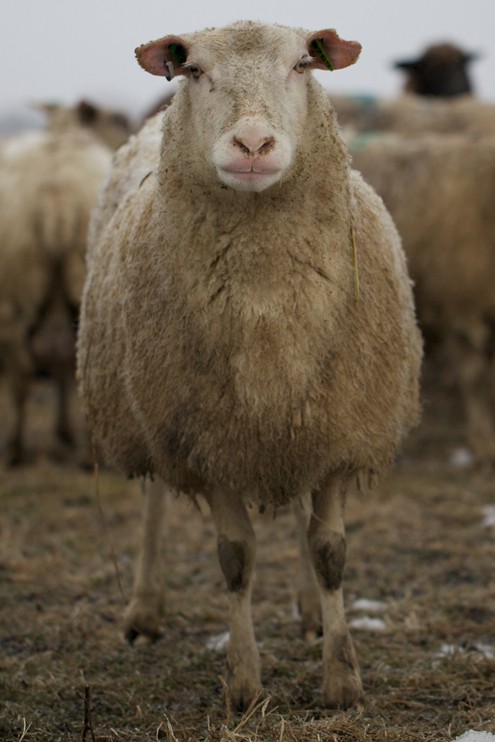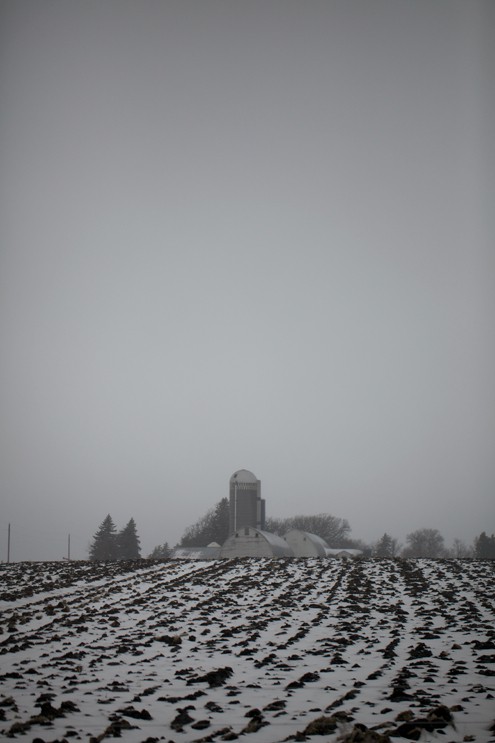 Shepherd's Way Farms

http://www.shepherdswayfarms.com
Holiday Gift Baskets from Shepherd's Way Farms include an assortment of carefully selected handcrafted cheeses and, if you'd like, their smoked lamb and pork Westlund sausage.
CSA Shares

Shepherd's Way Farms members will receive a monthly cheese share made up of an assortment – usually 4 – 6 pieces – of Shepherd's Way Farms cheeses totaling one and a half pounds. Members also have unique opportunities to try new Shepherd's Way products and receive invitations to special member events at the farm. Pickups are available in Northfield, St. Paul, and Minneapolis at various locations. Visit the Shepherd's Way Farms website for more information or to sign up.
I made these fresh sheep's milk ricotta doughnuts for breakfast with a pot of strong coffee, but they would be equally at home on a dessert plate. I was expecting fair food, something like a fritter or a funnel cake, but they are quite elegant, lighter than a doughnut, but with a crisp exterior. I rolleded them in warm honey with fresh orange zest and dusted with cinnamon, sweet, warm, and lovely counterpoints to the fresh ricotta. Even my husband, who is not customarily entranced by fried foodstuffs, was in love. We stood at the stove together, eating them still hot from the oil. Mmmm.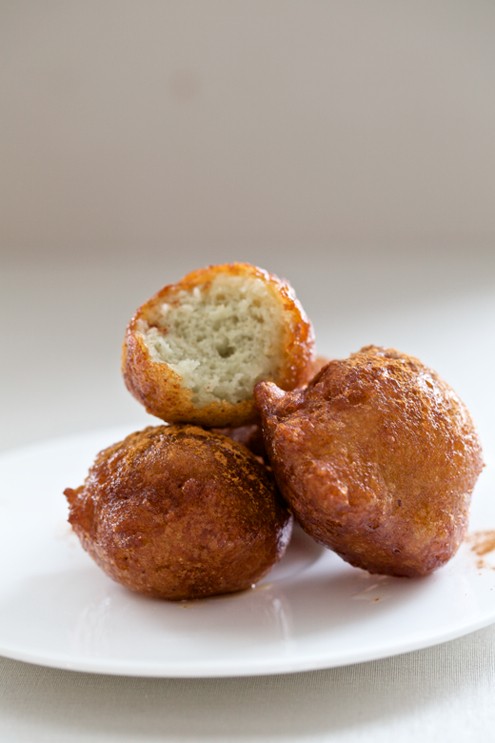 Print
Fresh Sheep's Milk Ricotta Doughnuts with Warm Honey & Cinnamon
Author:

Laura Lindekugel

Prep Time:

20 mins

Cook Time:

20 mins

Total Time:

40 minutes

Yield:

4

to 6

1

x
vegetable or other neutral oil for frying

1/2

c. (100g) honey

1

t. (a good pinch) very finely grated orange zest

3/4

c. (95 g) all purpose flour (I prefer King Arthur.)

1

t. (4 g) baking powder

1/4

t. (1 g) baking soda
a pinch of salt

1

T. (12 g) sugar

1/2

c. (125 g) fresh sheep's milk ricotta*

1

large egg

1/2

c. (125 g) whole milk

1

t. (5 g) vanilla extract
cinnamon for dusting
Instructions
In a medium saucepan over medium heat, warm about two inches of oil to 360 degrees F (180 C).
In a small saucepan, warm the honey and orange zest over the lowest possible heat.
In a medium bowl, whisk together all of the dry ingredients.
In a small bowl or the bowl of an electric mixer, whip the ricotta until it is light and fluffy, about two minutes.
Add the egg and beat until it is shiny and light in texture.
Beat in the milk and vanilla.
Pour the wet ingredients into the dry and beat briefly to combine.
When the oil reaches temperature, drop in tablespoons full of the batter. Fry them, turning them in the oil, until they are deep golden brown.
Transfer them with a slotted spoon from the oil to the warm honey. Roll them briefly in the honey and transfer them to a serving plate.
Dust with cinnamon.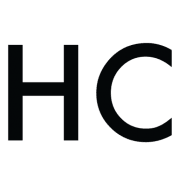 Laura Lindekugel
Laura Lindekugel is a passionate cook and the writer of A Little Zaftig, a food blog featuring simple and approachable farm to table cooking and baking, sweetly inspired stories, local gems and heritage foods, all from the heart of the Midwest. She is a frequent contributor to Honest Cooking.