Since St. Patrick's Day is right around the corner, enjoy this personal Shepherd's Pie recipe from Roberta Pipito.
By Roberta Pipito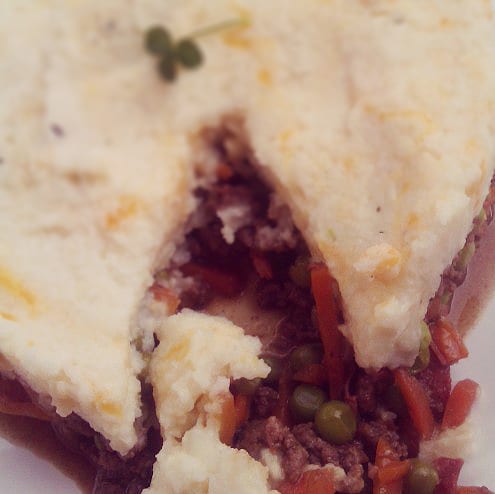 Since St. Patrick's Day is right around the corner I figured I would share this yummy little recipe with you. I am far from being Irish, but I have respect for all foods. I wanted to give this traditional dish a little twist. I went with using Cauliflower instead of the mashed potatoes. I also used some turkey bacon and beer for the meat mix. I hope you enjoy it as much as my little family did. Sláinte to all my Irish friends out there.

Since St. Patrick's Day is right around the corner, enjoy this personal Shepherd's Pie recipe.
Ingredients
1.25lbs of Ground Meat
A head of Cauliflower, Chopped
2 Small Onions, Chopped
3 Carrots, shredded or chopped
12 oz Bag of Frozen Sweet Peas
6 Strips of Bacon, chopped
Salt & Pepper to taste
1 12 oz Porter Beer
1 12 oz Stout Beer
2 Tablespoons of Unsalted Butter
2 Tablespoons of Extra Virgin Olive Oil
½ Cup of Shredded Sharp Cheddar Cheese
1 teaspoon of Fresh Thyme, Chopped
1 teaspoon of Fresh Rosemary, Chopped
3 Garlic Cloves, minced
½ Cup of Heavy Cream
1 Tablespoon of All Purpose Flour
Instructions
Boil Cauliflower in salted water until tender, about 10 minutes or so. Drain cauliflower and pour them into a food processor or blender until smooth or chunky depending on how you like it. Place into a bowl and add the cream, garlic, rosemary salt, pepper and cheese mix everything together.
While Cauliflower boils, preheat a large skillet over medium high heat. Add oil to hot pan and chopped bacon. Cook until its nice and crispy about 8 minutes. when done place them on top of a paper towel on plate to drain access fat. Keep and bacon drippings in the skillet. Now add chopped onions season with salt and pepper. (Tip: Caramelizing faster add ½ teaspoon of sugar). Onions should take about 10 minutes or so. Add meat to caramelized onions and break the meat up and cook for another 5 to 8 minutes. Add carrots, sweet peas and thyme to the meat. Cook veggies with meat 5 minutes, stirring frequently then add beer. Add 1 tablespoon of flour sprinkle it on and stir.
Now you can either serve it or you can place everything into a casserole dish and place it in the broiler on high until you get a nice golden brown on top of the Cauliflower.
Roberta Pipito
Roberta Pipito is a chef, food blogger and wine and beer aficionado. Her work continues to expand in the foodie world, and can be seen on www.homemadedelish.com.