A no-fuss, shaved summer salad, perfect for a backyard barbecue or a rooftop potluck.
By Carly DeFilippo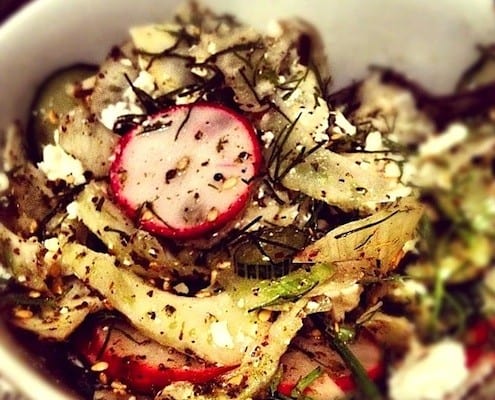 Shaved Summer Whites Salad
A no-fuss, shaved summer salad, perfect for a backyard barbecue or a rooftop potluck.
Recipe Type:
Appetizer, Side
Ingredients
1 fennel bulb
1 cucumber
4-6 small radishes
Half a block of feta
1 lemon (juice of)
¼ cup za'atar
olive oil
Instructions
Wash all vegetables well. Cut the core out of the bottom of the fennel bulb and the tips off of the radishes.
Use a mandolin to shave all vegetables into a large mixing bowl. (Save the stems of the fennel, chop finely and add to mixture as well.)
Add za'atar, crumbled feta, lemon juice and a generous drizzle of olive oil.
Toss together and serve
Notes
You can also chop these ingredients finely with a large kitchen knife, but shaving is preferable for texture. If you are not planning on serving the salad immediately, hold off on the olive oil and feta until just before serving. If you cannot find za'atar at your spice shop, you can find a recipe for this spice blend at the following link: http://mideastfood.about.com/od/middleeasternspicesherbs/r/zaatar.htm
Carly DeFilippo
Carly is a Contributing Writer at Honest Cooking. Though the first line of her college application essay was "I love tunafish," it wasn't until she pursued graduate studies in Paris that she ever considered a future in food. Based in Manhattan, Carly is a freelance writer and the co-founder of Cognoscenti Creative, a boutique branding agency dedicated to establishing artisans as influencers.