There are plenty of ways to delight your tastebuds when concocting cocktails. Here is another way to surprise your guests on ladies night.
By Christina Soong-Kroeger
Sex and the City was addictive, must-watch TV back in the late 90s and early 2000s: millions tuned in every week to find out what Carrie, Charlotte, Samantha and Miranda were wearing and who they were sleeping with.
Single, city-dwelling women were fascinated with every glossy aspect of the quartet's lives and strove to emulate them: after Carrie and Miranda were filmed catching up over cupcakes at Magnolia Bakery the company's fortunes rose exponentially. As did the worldwide trend for cupcakes.
As synonymous with the series as cupcakes, $500 pairs of Manolo Blahnik heels and Fendi baguettes was the Cosmopolitan, a crimson hued cocktail comprising vodka, lemon vodka, triple sec and cranberry juice. Women saw Carrie drinking it on the show time and time again so they drank it, too: suddenly, Cosmos were the drink du jour.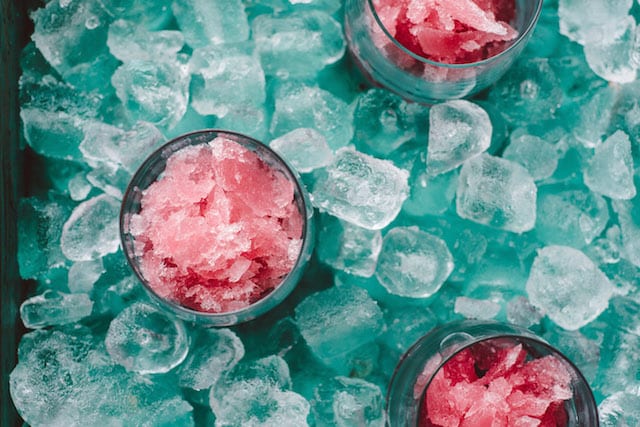 Nowadays, the Cosmopolitan has been usurped by crowd-pleasers like the admittedly delicious mint, rum and lime based Mojito. But this shouldn't stop you from enjoying them so here's a recipe for Cosmopolitan ices by Josh McGee that you can make at home next time you have some friends over.
The mixture won't freeze completely solid — the alcohol content is too high — so it's ideal for serving straight from the container: simply use a fork to scrape the ice into pieces and then spoon it into a tumbler.
That's Friday night drinks and nostalgic TV viewing sorted. Face masks and nail painting optional.
The Shaved Ice Cosmopolitan
Christina Soong-Kroeger
Ingredients
1

shot vodka

1

shot triple sec

½

shot lemon vodka

½

shot cane or sugar syrup

6

shots of cranberry juice

2

shots water

Juice from ½ lime

optional
Instructions
Measure out all of the ingredients into a cocktail shaker and give it a good shake.

Pour mixture into a freezer proof container and freeze for at least 5 hours or overnight before serving.
Christina Soong-Kroeger
Christina publishes The Hungry Australian - a collection of recipes, reviews and stories about food - and is a regular contributor to Sumptuous. Her writing has appeared in the China Daily and That's Shanghai while her photography regularly appears on Foodgawker, Tasteologie and Photograzing. After eating her way around Shanghai, London, Hong Kong, Leeds and Melbourne, she now calls Adelaide, South Australia, home again.