A simple, raw brussels sprout dish tossed in a vinaigrette and topped with earthy pistachios and sharp pecorino cheese.
By Samantha Ferraro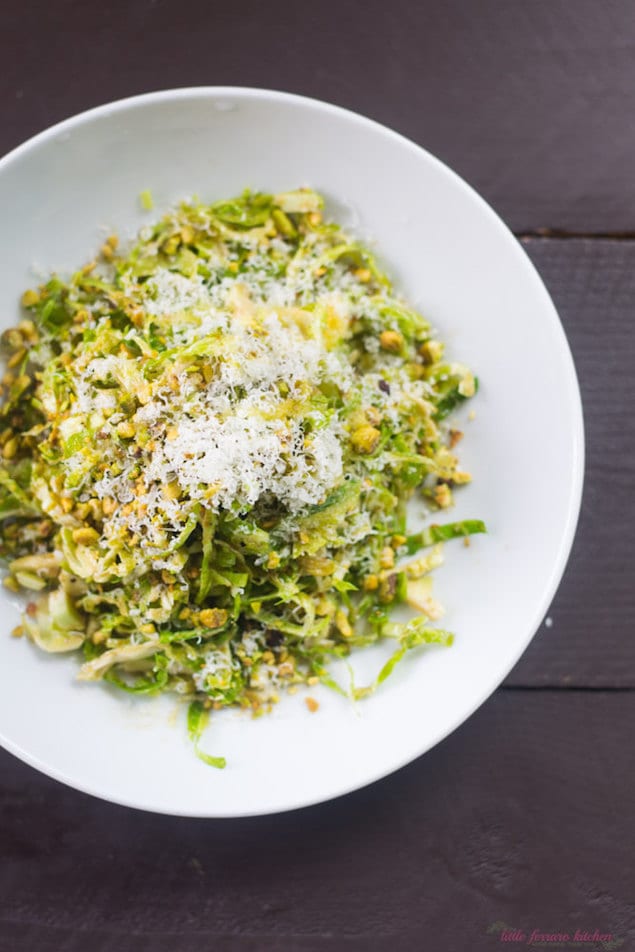 My favorite little green cabbages are in season. I always keep it simple with brussels sprouts. I wanted to play up the raw card and create a brussels sprout salad with earthy pistachios and sharp pecorino. Sounds lovely, yes?
I have been eying pecorino cheese for sometime but hesitated after hearing mixed reviews. "It's too strong" or "too overwhelming". I think we all are so used to Parmesan, which is not a bad thing, in fact, I have been known to eat my weight in small pieces standing over the kitchen sink (don't judge), but there are so many other beautiful Italian cheeses that we need to experience. A sheep's milk cheese, pecorino is much sharper and saltier than it's known cousin. A little goes a very long way and adds the perfect sharp bite to a rustic shaved salad.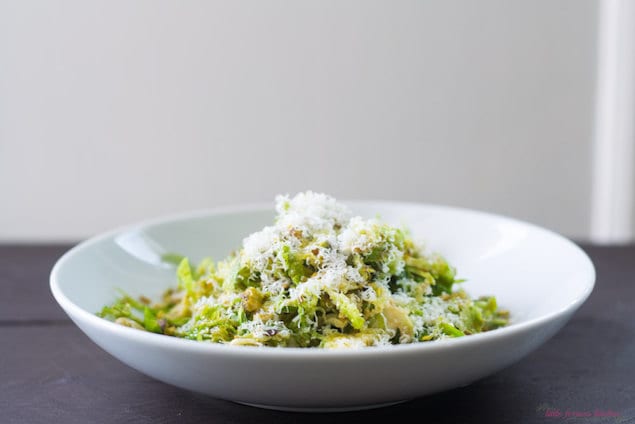 You can make this salad and serve it right away. Or make it and allow it to sit for a few hours. The dressing slowly wilts the sprouts and the bright flavors blend together.

Shaved Brussels Sprout Salad with Pecorino and Pistachios
A simple, raw brussels sprout dish tossed in a vinaigrette and topped with earthy pistachios and sharp pecorino cheese.
Serves:
1 large salad or 2 side salads
Ingredients
Vinaigrette
½ cup olive oil
3 Tb balsamic vinegar
½ tsp honey
1 tsp Dijon mustard
1 lemon, juiced and zest
Salt and pepper, to taste
Salad
2 cups shaved brussels sprouts
½ cup chopped pistachios, toasted
¼ cup Pecorino cheese, grated
Instructions
First make the dressing. Combine all vinaigrette ingredients in a mason jar and shake vigorously to combine. Or you can whisk everything together in a bowl. Set aside.
To shave brussels sprouts, cut the stem off and cut them in half, discarding any tough outer leaves. . Use a sharp knife and thinly slice the brussels sprouts into thin shavings.
Add 3-4 tablespoons of vinaigrette, ¾ of the pistachios (saving some for garnish) and most of the shaved cheese (saving some for garnish). Toss everything together gently and allow to sit for a few minutes so dressing can absorb. (You can also let it sit for a few hours if you're not worried about wilting).
Plate salad in wide bowl and garnish with more Pecorino cheese and pistachios.
Samantha Ferraro
Samantha Ferraro is the food blogger and photographer for The Little Ferraro Kitchen. Samantha comes from a diverse background and is originally from Brooklyn NY, until she turned to the island life and moved to Hawaii. Now Samantha blogs about world cuisine recipes made easy in Southern California with her Italian husband and their dog Hula. When she's not blogging or making a mess in the kitchen, you can find her traveling the world for recipe inspiration.