Where Chefs Eat: A guide to Chefs' Favorite Restaurants gives gourmands solid recommendations from favorite culinary icons so you can be sure to impress on Valentine's Day.
By Annelise McAuliffe
The 2015 edition of the in depth guidebook, Where Chefs Eat: A guide to Chefs' Favorite Restaurants, comes out this month. Food lovers and renowned chefs have named their favorite local eateries as well as their top fine-dining experiences around the globe. This year's guide will showcase the best of new restaurants as well as keeping you up to date on what is still a delicious classic. Over 600 food experts from Michael Voltaggio to April Bloomfield dish on their favorite joints that are mapped out for simple navigation.
Rather than taking a risk on Valentine's Day, when you are trying to impress or appreciate someone special, by making reservation at an unapproved restaurant, take a page out of Where Chefs Eat and discover not only some of their best meals, but some of the sexiest eating adventures they've had.
Follow this short guide for top eateries around the world that are sure to give your meal a romantic, cozy vibe.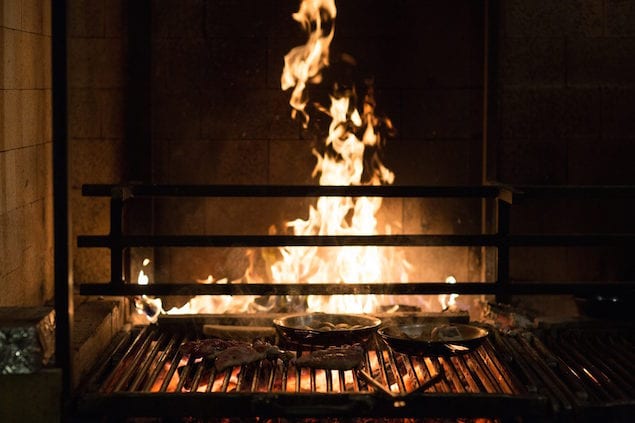 http://penroseoakland.com/
The United States
For Romantic New Orleans Cuisine
Location: Bayona, New Orleans
Cuisine: Modern American cuisine
Chef Recommendation: "…really captures the romantic vision of New Orleans French Quarter dining."—Donald Link, Executive Chef and Owner of Link Restaurant Group
For an Intimate Cocktail Experience
Location: Les Nomades, Chicago
Cuisine: Modern French cuisine
Chef Recommendation: "…in a sexy French brownstone…There's an intimate bar that's perfect for an illicit drink poured into hand-etched crystal Martini glasses."—Carrie Nahabedian, Michelin starred chef of NAHA
For A Casual, but Sexy Environment Complete with Fire
Location: Penrose, Oakland, CA (p. 705)
Cuisine: Modern American cuisine
Chef Recommendation: "This place is sexy: from the bar design and the space to cooking everything over a fire….A great place to gather and let loose."—James Syhabout, San Fransisco Chef
For a Romantic Morning Rendezvous
Location:Gjelina, Los Angeles
Cuisine: Modern American cuisine
Chef Recommendation:"…sexy brunches"- Josef Centeno of Baco Mercat, Los Angeles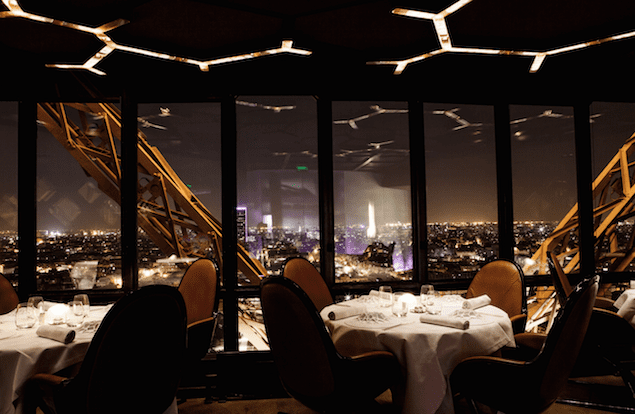 http://www.lejulesverne-paris.com
Paris
For a Breathtaking View
Location:Le Jules Verne, Paris, Top of the Eiffel Tower
Cuisine: Modern French cuisine
Chef Recommendation: "…you can't beat it for a romantic treat."—Shaun Rankin, Ormer restaurant in St. Helier
For a Cozy Atmosphere
Location: Le Laurent, Paris
Cuisine: Modern French cuisine
Chef Recommendation: "It has a very romantic atmosphere—it's like a hunting lodge in the middle of Paris."—Giorgio Locatelli, Locanda Locatelli
For a Sensual Fusion of Asian and French Cooking
Location: Yam'tcha, Paris
Cuisine:French-Chinese, high end cuisine
Chef Recommendation: "breathtakingly sensual cooking…"- Bertrand Grebaut of Septime, Paris)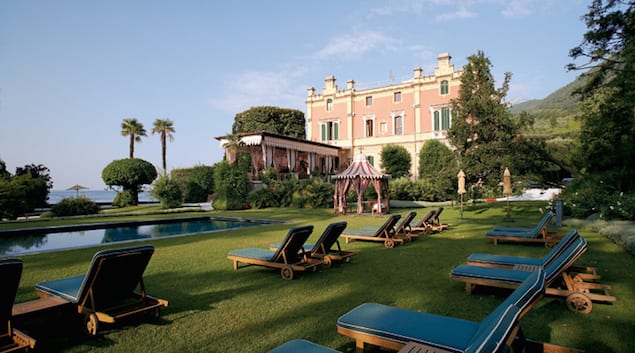 blog.libero.it
Italy
For Authentic Italian that will Make Your Date Smile
Location: Ristorante Laganà, Rome
Cuisine: Italian cuisine
Chef Recommendation: "…one of the most beautiful and romantic meals I've ever had."—Ethan Stowell, Ethan Stowell Restaurants
For a Luxurious, Pampering Atmosphere
Location: Villa Feltrinelli, Lombardy
Cuisine: Modern Italian cuisine
Chef Recommendation: "The setting is romantic, pure luxury…"—Pierre Gagnaire, Pierre Gagnaire Restaurant
For the Beverage Nerd in Your Life
Location: Trattoria della Posta, Piedmont
Cuisine: Piedmontese cuisine
Chef Recommendation: "Romantic with professional service…great Piedmontese cuisine, an extensive local wine list and some very rare grappa…"—Chris McDonald, Toronto Chef
For a Sexy, Fresh Seafood Meal
Location:Ristorante Quadri, Venice
Cuisine: Modern Italian cuisine
Chef Recommendation: "…a spectacular, romantic setting."—Tony Mantuano, Spiaggia Restaurant
The Netherlands
For Sleek, Modern Beach Dining
Location:Pure C, Zeeland, The Netherlands
Cuisine: Modern European cuisine
Chef Recommendation: On the beach, a "sexily futuristic destination restaurant"
"It is a pleasure to eat the sexy food."—Arjan Wennekes, Restaurant Visaandeschelde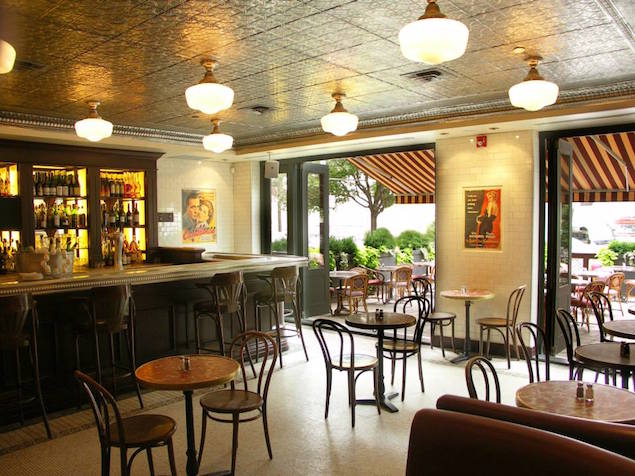 http://www.leselect.com/
Canada
For a Warm, Unassuming Experience
Location: Le Sélect Bistro, Toronto
Cuisine: French Bistro cuisine
Chef Recommendation: "…one of the most beautiful, romantic, warm, elegant and comfortable dining rooms in the city."—Michael Caballo, Edulis Restaurant
For a Complete Delicious and Picturesque Get-Away
Location: Point-No-Point Resort, British Columbia
Cuisine: International cuisine
Chef Recommendation: "Rent one of their rustic cabins with a fireplace and an outdoor hot tub. Eat a delicious dinner with local wine watching the sun set over the ocean…"—Brad Holmes, Ulla Restaurant