Explore America's obsession and fascination of Chinese food with a special dinner led by Chef Lucas Sin of Junzi Kitchen and Jonathan Wu of Fung Tu  hosted at the Haven Kitchen in New York.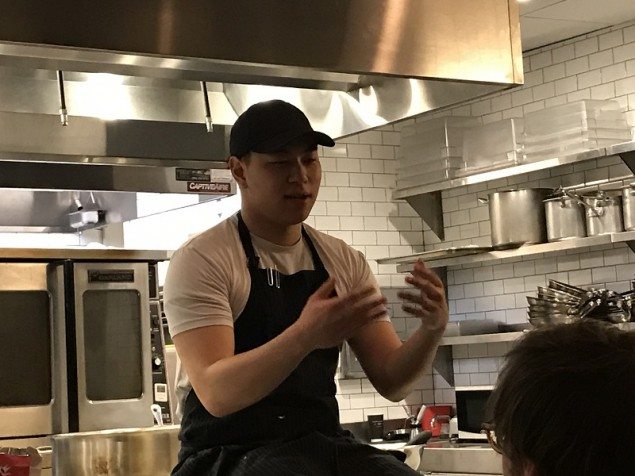 Starting intellectual informative conversations around food, Haven's Kitchen launched its inaugural series "At the Table".  A series of dinners inspired by current conversations surrounding immigration, borders, and national identity. In the first dinner guests divulged in the discourse of Chinese immigration in America, via the consumption of modern and traditional takes on Northern Chinese cuisine. 
For a short bio on the favored food; Northern Chinese cuisine is based in Beijing and includes influences from the regions of Shandong, Mongolia and other areas in the northeast. Since the harsh northern climate consists of "bi-polar" weather in other words super hot summers and cold dry winters, the flavors of its' food are affected. It is one of the reasons why the cuisine is known to to have bold and strong salty flavors. Chinese cooking methods include; stir-frying, roasting and deep-frying of basic ingredients such as chicken, mutton, fish, tofu and specialty meats like squab.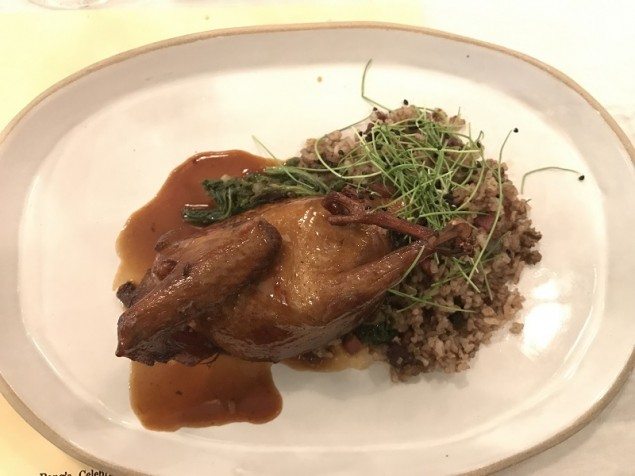 Here is what Chef Jin and Chef Fu made guests at Haven Kitchen:
Chinese Charcuterie; duck ham, salt cured pork hock, pineapple mostarda, rose furu, celtuce. The Duck ham portion was a shout out to traditional Chinese pineapple chicken- Chef Lucas.
Black fish with white sauce; sea bass, fresh bamboo, potato, sichuan peppercorns, doubanjiang. Exclusion act stopping Chinese ripple from coming to the country– despite that 1910 building chop Suey houses In 1925- chopped suey is midday food-seas bass is in this dish fermented spy beam taste.
Luscious squab with brown gravy; braised half squab, liver rice, mustard greens, olive, chickweed.
Also common condiments include bean pastes as used in the soy sauces, vinegar and sugar resulting in dishes with rich brown sauces. Sharp, aromatic flavors from garlic, ginger and green onion also prevail in Chinese cuisine like in Chef Wu and Jin's following dishes:
Nice rich omelet, a la Chinese; steamed egg foo young, alaskan imitation crab, hazelnuts, buddha's palm. Thiis was a reinterpretation  of the classic egg foo young made with fire sauce, Alaskan crab and Alaskan pollock.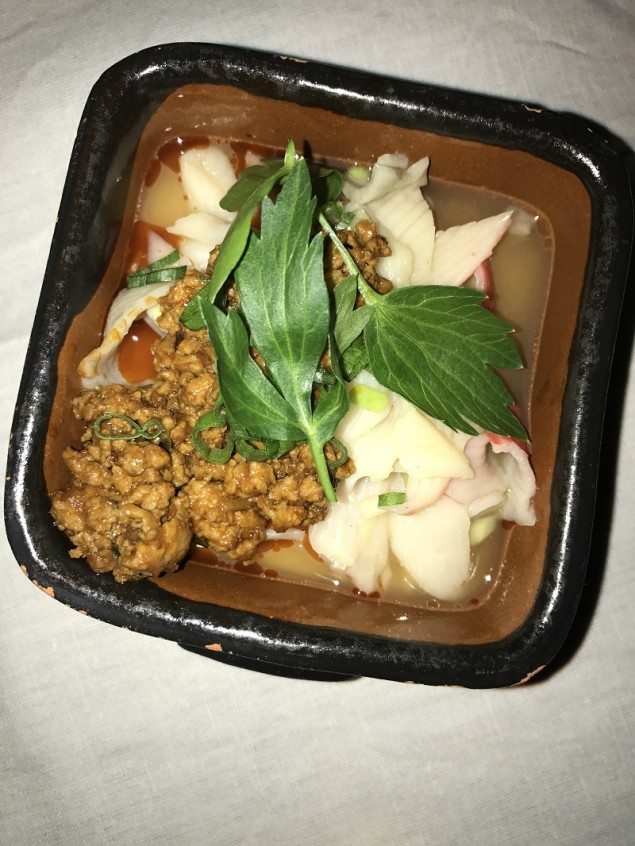 Chinese desserts are are usually served with tea and encompass a wide variety of ingredients such as rice, sesame and  sweet bean pastes.
Lychee nuts, best in town; ice poached lychee, nice golden limes, white fungus, barley, osmanthus. Chef Lucas was excited to share this dessert with guests. The Korean pear was frozen and poached.  Because of the frozen process the pear gets sweeter. The pear sat in a Chinese medicinal syrup with salted golden lime (hardest part of the dish)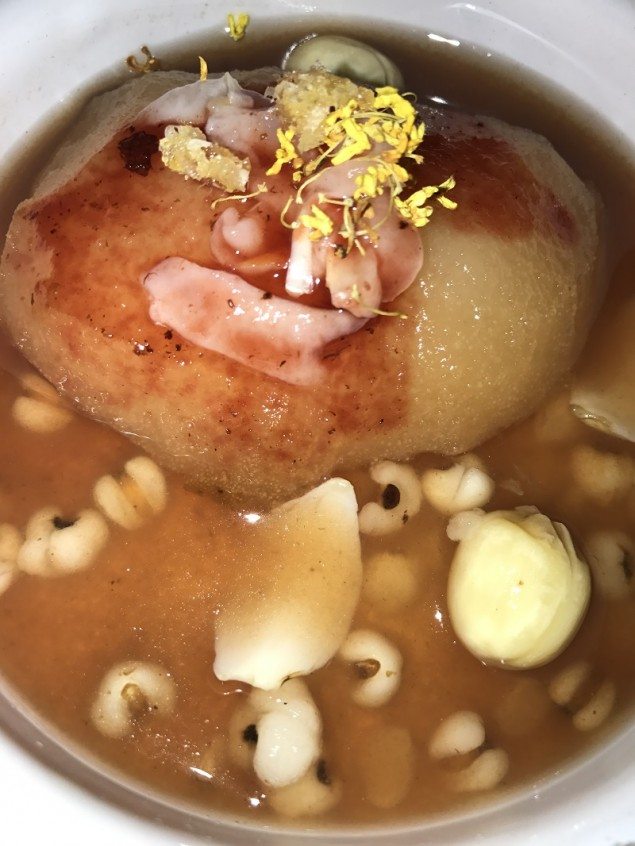 Cakes of Sponge; sesame foam cake, black sesame tapenade, canton ginger, plum preserve pudding. Served with oolong tea from the highest peak. The tea contained Hennessy, with a proposal to bring out the Dalits of the traditional oolong tea.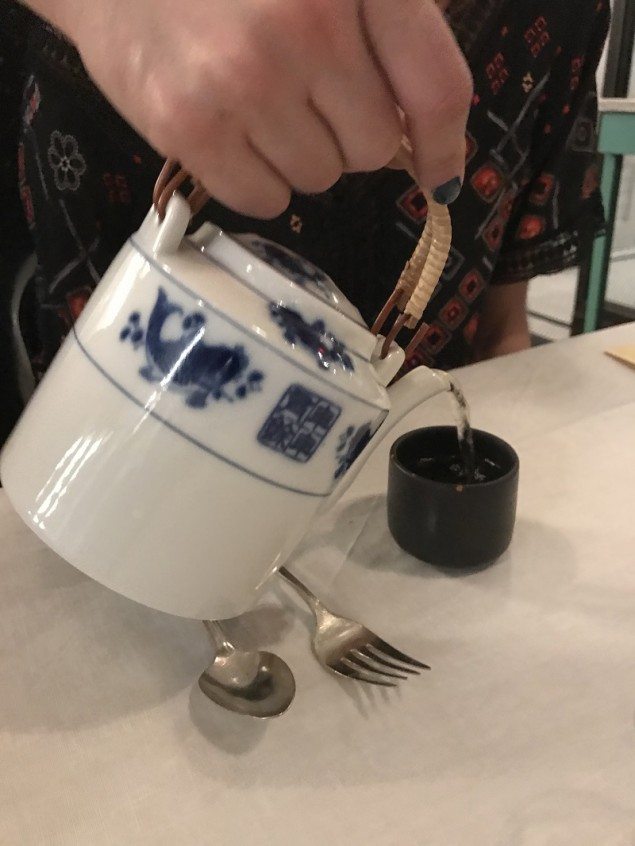 The moral of the story, food brings people together, from all walks of life. Achieving their goal Haven's Kitchen helped guests to have a deeper connection and become more knowledgeable  about Chinese food. A cuisine Chef Lucas will continue to pursue cooking at Junzi Kitchen. A fast casual restaurant merging modern American ideas and culture with Northern Chinese culinary traditions. Dishes include; signature noodle bowls and chun bing wraps. The restaurant will open its doors to New York City soon in Morningside Heights.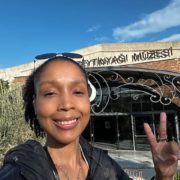 Alyssa Holder
Alyssa Holder is a writer specializing in food and travel topics since 2015.