African recipes are versatile and Thieboudienne from Senegal is an example of staple rice dish that is as recognized as the country flag.
By Yollande Deacon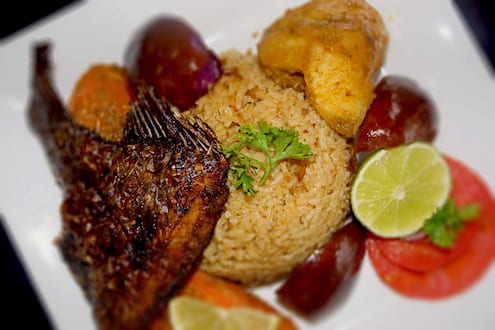 A business trip to Senegal in 2007 and long-lasting friendships with the Senegalese community has taught me a great deal about the Senegalese culture and African food. I have been privileged to learn some staple African food recipes of Senegal including Thieboudienne, or ceebu jen along with, Soupoukanja, Thiou poisson and Yassa which I will feature in subsequent posts on Honestcooking. Traditionally presented in a large dish, today, I feature modern deconstructed Thieboudienne showing differents adaptations of this eclectic dish that has been transformed and re-adapted overseas. It is made from fish, rice and tomato sauce. Its other ingredients include onions, carrots, cabbage and which ever vegetable you prefer.
African food recipes are versatile and Thieboudienne from Senegal is an example of staple rice dish that is as recognized as the country flag.
Ingredients
3 Tilapia cleaned and cut into 4 pieces each
3 branches of parsley finely chopped
3 branches of cilantro finely chopped
3 bay leaves
1 tablespoon of thyme
3 green onions finely chopped,
2 tablespoon of Afro Fusion Cuisines' All Purpose Seasoning
4 ounces of tomato paste
2 plum tomatoes finely chopped
3 medium onions finely chopped
3 lb broken rice (broken one once or twice)
1 cup of oil
salt , black pepper
Vegetables of your choices
2 large carrots root cut into 4 inches pieces
1 eggplant root cut into 4 inches pieces
1 cassava or yucca root cut into 4 inches pieces
3 okra
Instructions
Clean the fish very well and set aside
Prepare the special marinade called "Nokoss" by mixing in a blender all your spices and herbs
With a sharp small knife make small cut on the fish. Using ½ of your marinade in step 2 stuffed the fish and immediately broil or fry then set aside
Parboil or steam your rice and set aside
In a heated pot, using 4 tablespoon of the oil used to fry your fish, put a dash of salt , add onion, tomato paste and plum tomatoes (cook for 5-7mn stirring) .
Add 6 cups of water to the pot, add the cut veggies, add the fish already fried and lastly add
The remaining half of the marinade Let simmer for 15 minutes for the fish and Juices to blend
Remove the fish roe from the pot and start plating
Then remove from the sauce the cooked veggies and add it to the plate.
Add the pre-cooked or steamed broken rice to the boiling sauce
Put the fire on low and let it reduce...should take about 15-30 mns depending on the nature of your rice. Your Thieboudienne is ready!
Notes
Now you need to serve it Senegalese style...like the locals... meaning: put the rice in a large plate or large serving bowl. Put the fish steaks in the middle of the rice and put all around it the veggies and fish steak. Add the cut lemon.
Yollande Deacon
Yollande Tchouapi Deacon, is the founder of Afro Fusion Cuisine, a trusted passport to explore Central Africa culinary beauties. She is a cookbook author, African Chef and contributor to two foreign online lifestyle magazines including Goducamer in Cameroon and MamaMag in France.