Seedy Batter Bread the Vermont Kitchen Way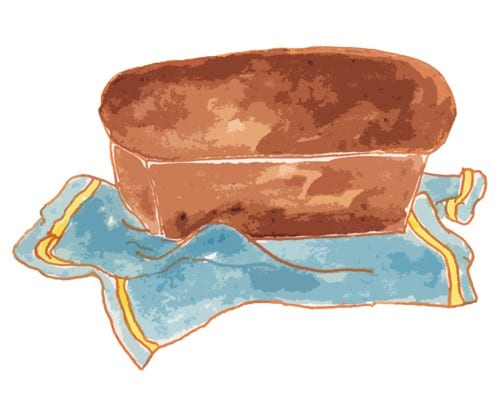 A quick, yeast raised, batter bread with no kneading. This whole grain, seedy bread is lovely toasted and topped with jam, as the 'outside' of your favorite sandwich or partnered with soup and salad for dinner.
By Carol Egbert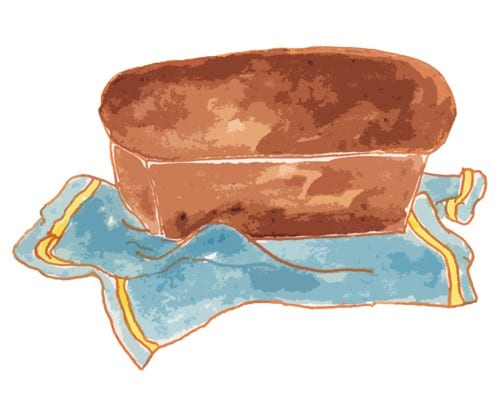 I've been doing everything possible to avoid going to the grocery store. I don't want to sit in the car, get stuck in traffic or push a grocery trolly up and down the aisles of the grocery store when I could be taking our dog Gracie for a walk in the snow. But, we still have to eat and, to Charles, lunchtime is sandwich time and he hasn't figured out a way to make a sandwich without bread. The time had come for Charles to learn how to make a loaf of bread.
Making bread can be a long and complicated process. Some dedicated bakers begin by hunting, capturing and nurturing the wild yeast floating in the air. Sour dough starters begin as a slurry of flour and water and with a little luck, a fair amount of patience and enough time, nearly a week, it is possible to make a loaf of yeast bread. Although Charles was willing, lunchtime was looming. We didn't have three days, we had less than three hours. Luckily we had active dry yeast in the pantry. Rather than making a loaf of slow rise, knead-before-you-bake bread we would make a quick loaf of hearty batter bread. Here's how we did it:

Whole Grain Sunflower Seed Bread
A quick, yeast raised, batter bread with no kneading. This whole grain, seedy bread is lovely toasted and topped with jam, as the 'outside' of your favorite sandwich or partnered with soup and salad for dinner.
Ingredients
2 teaspoons active dry yeast
1¼ (360ml) cups of warm water (110º F)
1 tablespoon honey
1 cup (110g) plain flour
1 cup (120g) whole meal flour
1 cup (90g) rolled oats
½ cup (75g) sunflower seeds
1½ teaspoons kosher salt
butter for pan
Instructions
Sprinkle yeast into warm water, add honey and stir until yeast has dissolved.
Set mixture, aside in a warm place, for five minutes or until yeast has 'bloomed' and the mixture is foamy.
Combine plain flour, whole meal flour, rolled oats, sunflower seeds and salt in a large mixing bowl.
Pour the yeast mixture into flour mixture and stir to form batter.
Tip batter into a 9 in x 4.5 in x 2.75 in (220 mm x 120 mm x 70mm) loaf pan that has been smeared with butter.
Covered pan with a damp cloth and set aside in a warm place until dough has nearly doubled in bulk, about 45 minutes.
Bake for 35 minutes in a preheated 350ºF (175ºC) for 35 minutes until the bread has begun to pull away from the sides of the pan and an instant read, digital thermometer, poked it into the center of the loaf, reads 185º.
Loosen loaf with a knife and tip the steamy hot bread on to a wire rack to cool.
Let cool at least 15 minutes before slicing.
Notes
Most of the prep time is unattended raising time. To vary this recipe: replace honey with molasses, brown sugar or golden syrup; sprinkle the top of the batter with poppy seeds, sesame seeds or a combination of both; and/or, add ½ cup of raisins, currants, dried figs, cherries or cranberries along with the sunflower seeds. Slice and freeze bread if you plan on having it last for more than two days. Defrost bread by toasting it.
Charles waited as long as he could, about fifteen minutes, and then he used a serrated knife to slice the still warm bread. The aroma of the freshly baked bread was so tempting that he ate two slices slathered with butter before he made his standard Swiss and turkey sandwich with mayo and sliced cucumbers.
Carol Egbert
Carol Egbert is a writer, painter, graphic designer and cook. Her studio is on a country lane in rural Vermont. During mud season she escapes, for a couple of months, to a flat in Sicily overlooking the Ionia Sea. Her newspaper columns, magazine articles and blog are illustrated with her watercolor paintings – Honest Cooking means beautiful food.