Whip up this easy cranberry simple syrup and keep it on hand this month for fun, seasonal cocktails, like a cranberry gina and tonic.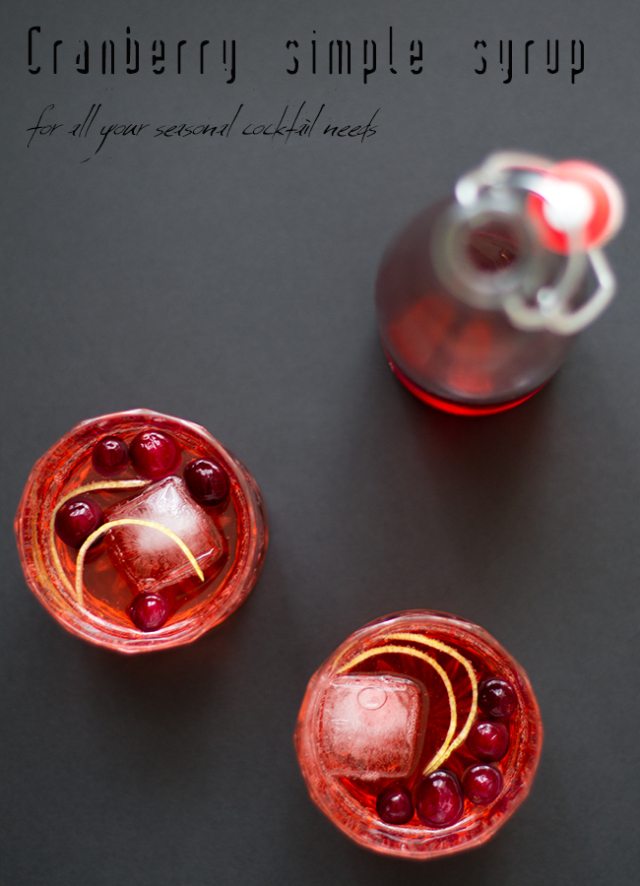 Click here for a cranberry gin and tonic recipe.
Cranberry Simple Syrup
Ingredients
340g (12 oz) fresh cranberries
300g (1½ cups) granulated sugar
375ml (1½ cups) water
Instructions
Rinse the cranberries then prick them three or four times with a toothpick.
In small saucepan, combine water and sugar over medium heat until sugar is dissolved and simmer for about 5 minutes. Remove from heat and stir in the cranberries.
Cover and allow to cool completely, stirring occasionally – for best results, allow to steep in the fridge for 24 hours or more – then strain the liquid into a clean glass bottle, allowing the cranberries to drain well.
Store in the fridge for up to three months.
Notes
You have a few options for the cranberries after you make the syrup…

To garnish those seasonal cocktails – spread the cranberries on a baking sheet so they're not touching and freeze them. When frozen, transfer to a container to store in the freezer to use as a garnish in place of or in addition to ice cubes.

For use as decoration or just for snacking – spread the cranberries on a sheet of baking paper and coat generously with granulated sugar and allow to dry. Store in an airtight container in the fridge.