A true spring meal, with refreshing trout, a rich truffle and pea sauce plus plenty of potatoes to mop it all up.
By Sylvia Fountaine
This dish is a nod to spring and all lovely green that has sprung up around here so unbelievably early this year. In this recipe, I used Steelhead trout for the fish because that's what we seem to have the most of here-but this is also delicious with halibut, seabass, salmon or even seared scallops. (Steelhead is technically trout, but is related to Pacific salmon, and if you ask me, tastes a lot more like salmon. )
If fish is not your thing, check out this recipe for Herb Crusted Leg of Lamb with Mint Gremolada.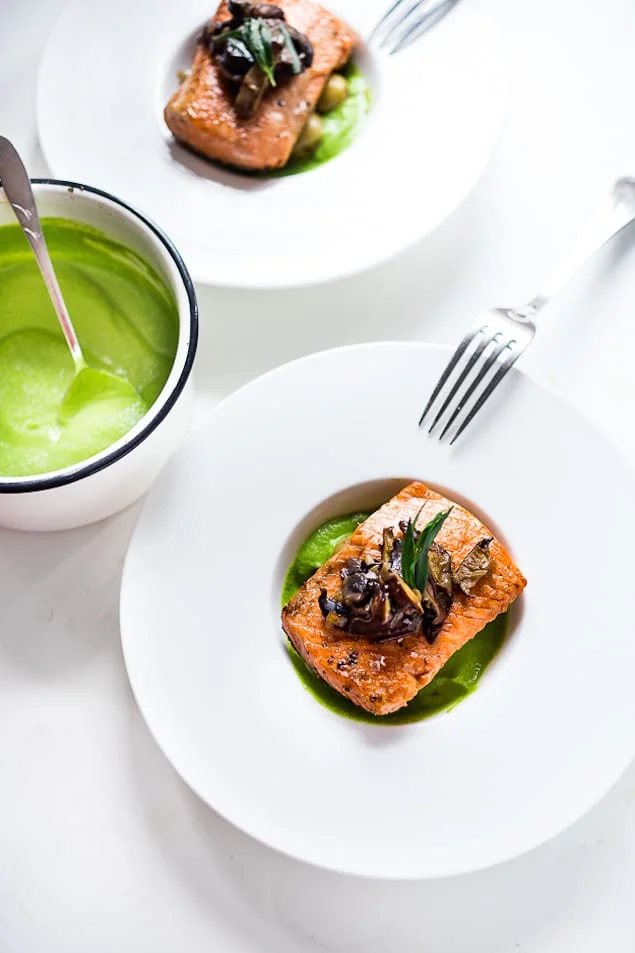 The truffled pea sauce is one of my favorites…fresh spring peas, blended with truffle oil, tarragon and lemon into a silky luscious sauce you will want to mop up with every one of these tender new potatoes. The whole thing is topped with mushrooms, shiitakes or creminis, sautéed in a little butter. If you are lucky enough have morels in your vicinity, this would absolutely qualify as a "special enough" meal to justify investing in them.
As you can see, there is a lot of fresh Spring goodness happening here.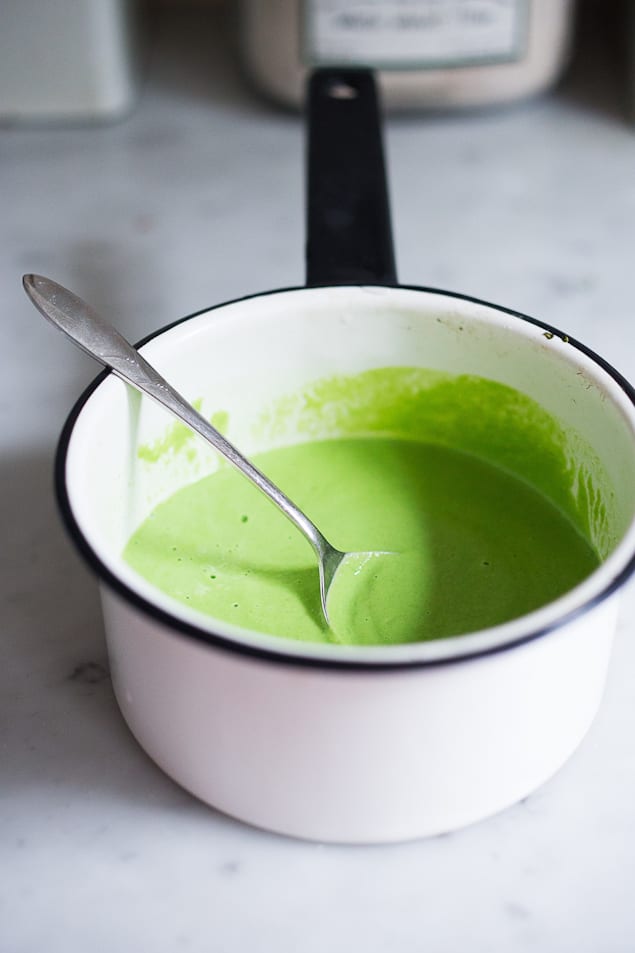 Peas and truffle oil are a perfect union.
In catering, we make a fresh spring pea bruschetta with lemon zest, mint and truffle oil that is always a little surprising to people at first, but ends up being a big huge hit. It's one of my all time favorites.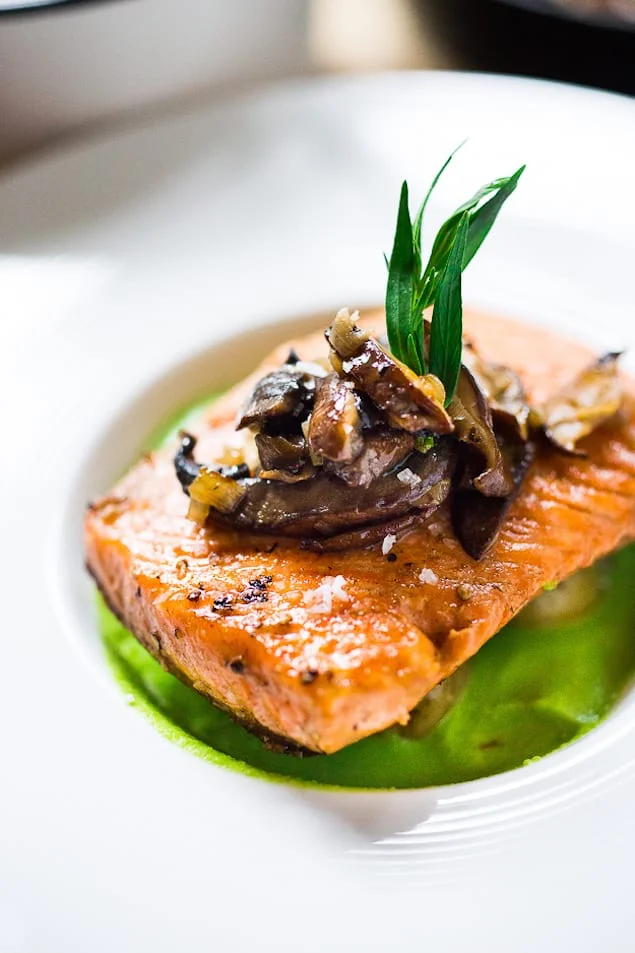 I personally love love love crispy skinned fish, but feel free to use fish without the skin, if that is your preference. Just right before searing, pat it dry, season with salt and pepper, and place it a hot oiled skillet. The secret to searing fish, is to season it after its patted dry, just right before searing. Otherwise if you salt too early, the salt will draw out moisture from the fish and you won't get a good sear. Place it in the hot skillet, and give the pan a shake. The awesome thing about fish, is it takes only about 5 minutes to cook.
Blanch the potatoes, sauté the mushrooms, warm the pea sauce and pan-sear the fish. It's a 4 pan kind of meal, but it comes together surprisingly easy and fast. I can whip this up in 30 minutes, if I'm being efficient.
Print
Seared Trout with New Potatoes, Mushrooms and Truffled Spring Pea Puree
A true spring meal, with refreshing trout, a rich truffle and pea sauce plus plenty of potatoes to mop it all up.
Author:

Sylvia Fountaine

Category:

Main
2

–

4

six ounce pieces steelhead trout, salmon, halibut, sea bass… or try scallops!

2

–

3

Cups baby new potatoes

1

shallot- diced (or

¼ Cup

red onion)

8 ounces

mushrooms ( cremini, shiitake or morels)

1 Tablespoon

olive oil

1 Tablespoon

butter
salt and pepper
Spring Pea Truffle Sauce
2 Cups

fresh shucked peas, blanched briefly ( or use frozen)

½

C water plus 1 T more if necessary, to get the blender going.

2 Tablespoon

olive oil

1 Tablespoon

fresh lemon juice

1 Tablespoon

truffle oil

¾ teaspoon

salt

¼ teaspoon

white pepper

1

small garlic clove

1/3

C fresh tarragon, basil, mint or Italian Parsley ( I like tarragon)
Instructions
Cook baby potatoes in salted boiling water until tender, about 15-20 minutes. Blanch fresh peas in salted boiling water, until just cooked, about 2 minutes, or until they float. Rinse with ice cold water to shock them and stop the cooking process ( to help them stay green). Place peas in a blender with the rest of the pea sauce ingredients, and blend until very smooth. Place in a sauce pan, and do not heat until right before serving. Saute mushrooms and shallots in butter, over medium heat, until tender, about 5-7 minutes. Season with salt and pepper, set aside. Season both sides of fish with salt and pepper. In a large skillet, heat oil over medium high heat. Once hot, sear the fish, skin side down, until the skin is golden and crispy, about 3-4 minutes. Turn over and cook for a couple more minutes or place in a warm oven- until just cooked through to medium ( or medium rare). Drain potatoes, set aside. Heat pea sauce over medium heat, do not boil, just gently heat to keep its color vibrant. To plate: Divide the pea sauce among plates. Top with potatoes, then fish. To keep the skin crispy, serve skin side up. Top with the mushrooms. Finish with few drops of truffle oil over the mushrooms and a sprig of fresh herb. Serve immediately… and enjoy!
Sylvia Fountaine
Caterer and chef of Feast Catering Co., my blog Feasting at Home is where I share wholesome, seasonal recipes we cook at home.