Seared Spicy Fish with Sauteed Spinach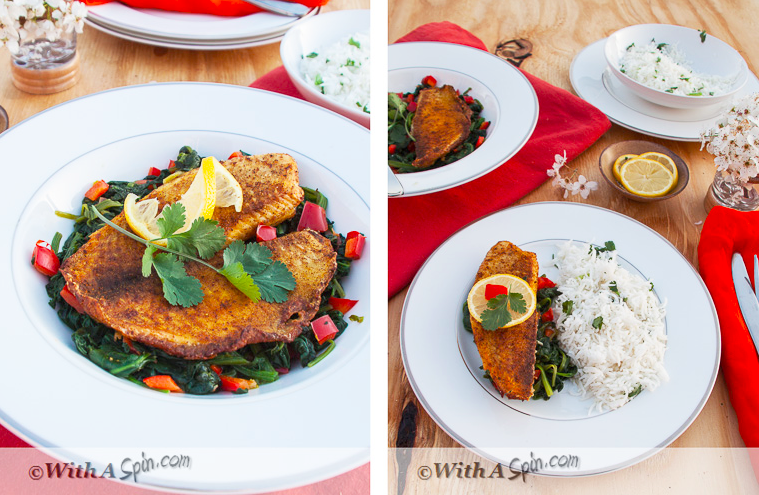 You can use a wide variety of fish fillets for this recipe. Most of them will turn out super delicious.
By Lail Hossain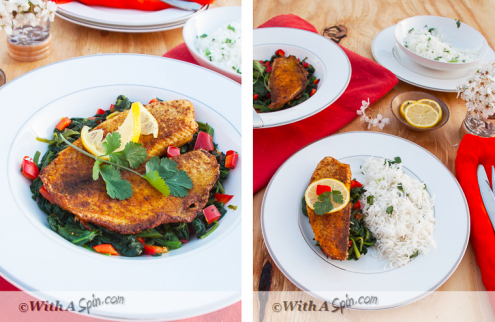 Seared Spicy Fish with Sauteed Spinach
You can use a wide variety of fish fillets for this recipe. Most of them will turn out super delicious.
Ingredients
1 bunch spinach
1 green chili
1 garlic clove, chopped
2 tablespoon chopped onion
2 tablespoon olive oil
1 lb boneless fish fillet of your choice
1 teaspoon cumin powder
½ teaspoon paprika
1 teaspoon garlic paste
½ teaspoon turmeric powder
1 tablespoons lemon juice
Salt, according to taste
Instructions
To cook spinach:
Add 1 tablespoon oil to a non-stick pan
Add chopped garlic, green chili and onion. Cook until slightly golden.
Add spinach and salt.
Saute for 3-4 minutes until spinach is wilted.
Spread spinach on a platter. Set aside.
To cook fish:
Make a spice paste with cumin, paprika, garlic paste, turmeric powder, salt and lemon juice.
Rub the spice mix generously on each side of the fish fillets.
Add 2 tablespoons oil to the same pan where you cooked the spinach.
Sear the fillets on medium high heat turning once. About 5-6 minutes on each side.
Once done, serve over cooked spinach.
Lail Hossain
Lail Hossain finds cooking to be an explosion of creativity. She is enthusiastic about modifying a laborious step of an old recipe, and experimenting with different ethnic recipes by adding her own spin to it yet keeping the recipes simple, healthy, and delicious. Originally from Bangladesh, Lail shares her journey of food, creativity and family in her blog "With A Spin". She is also very passionate about highlighting Bangladeshi cooking to the international culinary space.