A delicious trio of octopus, clams and shrimp nestled in herbs, white wine, fresh vegetables and farro, created by restaurateur and All-Clad Chef Ambassador Hugh Acheson.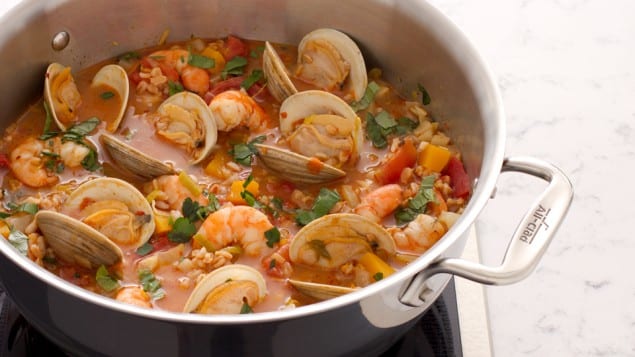 Seafood Stew with Farro by Chef Hugh Acheson
Ingredients
1½ pounds octopus
1 quart water
1 cup Anson Mills Piccolo farro
2 tablespoons unsalted butter
½ cup sliced yellow onion
3 cloves fresh garlic, minced
1¼ tablespoon red pepper flake
½ cup diced fennel
½ cup sliced leeks
½ cup peeled and diced butternut squash
½ cup diced celery
½ cup dry white wine that you would want to drink
1½ cup San Marzano tomatoes or your own preserved tomatoes and their juice
1 quart chicken stock
3 tablespoon salt
¼ teaspoon freshly cracked black peppercorns
15 clams
15 shrimp
¼ cup basil
¼ cup parsley
1 lemon
½ thinly sliced baguette
1 tablespoon olive oil
Instructions
Preheat the Oven to 350° F
For the Octopus:
Place the octopus in a 4-quart All-Clad casserole/soup pot. Fill it with water until it covers about ½ of the octopus. Put the lid on the pot and place in the oven for 4½ hours or until the octopus is easily pierced with a knife.
Once the octopus is tender, remove it from the liquid and let it cool. Once it is cool enough to handle, using gloves, remove the outer, darker skin. Then remove the head of the octopus with a knife.
Cut the octopus in half, lengthwise and then chop into large chunks. Set aside.
For the Farro:
Fill an All-Clad 2–quart saucepot with the water and bring to a boil.
Wisk in the farro and cook until al dente, about 15 or 20 minutes.
Drain and rinse under cool water. Set aside.
For the Stew:
Melt butter over low heat, using an All-Clad 5-quart sauté and simmer pan.
Add onions and caramelize, stirring frequently for about 15 minutes. The onions should develop a nice, golden-brown color. Then add the garlic, red pepper flakes, fennel, leeks, squash, and celery and cook for an additional 2 minutes.
Add the white wine and reduce the liquid by half. Then add the farro, the tomatoes and their juice, the chicken stock, and salt. Bring to a simmer.
Add the clams. After 5 to 7 minutes, the clams will begin to open.
Then add the reserved octopus and shrimp. Simmer for another 2 to 3 minutes and discard any unopened clams.
Finish with basil, parsley, and the juice of half of the lemon. Remove from heat.
To Garnish:
Rub the baguette slices with garlic and olive oil. Toast in the oven at 350° F for 8 minutes or until golden brown.
Garnish in the sauté pan with the baguette slices and 4 rounds of thinly sliced lemon.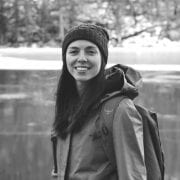 Annelise McAuliffe
Mandatory family outings to the Detroit farmers' market and nightly home-cooked meals cultivated Annelise's respect and curiosity for food. A graduate of The Culinary Institute of America, she spends her free time in New York City recipe testing, eating breakfast all day, and dreaming up international culinary adventures.