Grilled cuttlefish in bite-sized pieces, dipped in a mild roasted garlic alioli.
By Miriam Garcia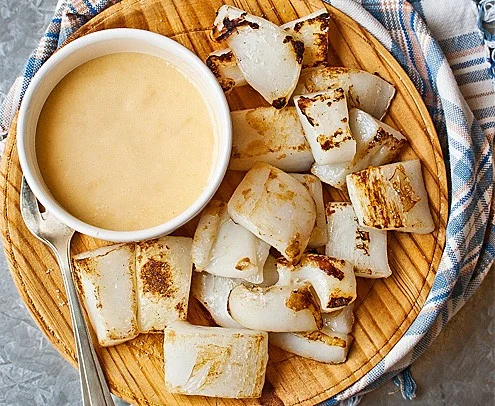 After my vacation break, back to my tapas series with a reinterpretation of a classic: sepia a la plancha, aka grilled cuttlefish. Grilled cuttlefish… I'm sure many people outside Spain shudder at the thought. And even people from Spain (my kids, for example). But it is indeed a very traditional food in the Mediterranean coast and well cooked and seasoned it can be utterly delicious. In this recipe the grilled cuttlefish chunks are dipped in a tasty alioli (like garlic mayonnaise) made with roasted garlic instead of raw, for a softer taste experience.
Cuttlefish belong to the same family as octopus and squid, and share features of both. In Spain they are easily found already clean at supermarkets, but if you attempt to clean them yourself… well, you can make a real mess in your kitchen. You need to remove tentacles, eyes and beak. Then you have to gut the head and extract the ink sack. After that, you need to get rid of as much outer membrane as possible (yes, cuttlefish have like an outer skin which is better removed). The clean head has a pleasant, firm consistency and a healthy white color. It can be sliced or cubed and cooked in a variety of fashions. On the other hand, tentacles can be cooked in fish stews or used to obtain a broth… have I already discouraged you to cook cuttlefish? Overcome prejudices and you will taste something truly delicious.
On the other hand, in the old days preparing tender cuttlefish used to be trickier than today. The thing can easily acquire a tough consistency, especially if you overcook it. But nowadays the first thing you need to do to tenderize the cuttlefish is to freeze it, if it hasn't been frozen before getting to the shop. Then you need to eliminate as much skin as you can. Lastly, the grill needs to be really hot before placing the cuttlefish chunks on it and they are to be cooked no longer than 1-2 minutes on each side. Then total success is at the turn of the corner.
School of tapas: Grilled cuttlefish with alioli
Grilled cuttlefish in bite-sized pieces, dipped in a mild roasted garlic alioli.
Ingredients
½ head cuttlefish, clean
Virgin olive oil
Roasted garlic alioli
1 whole head of garlic
1 tsp salt
1 whole medium egg and 1 yolk
1 cup virgin olive oil
Instructions
First to the alioli: wrap the head of garlic in aluminum foil and roast in the oven preheated to 170ºC (340ºF) half an hour or till tender. Let cool and peel.
Mash the roasted garlic with the salt in a mortar. Transfer the mash to a food processor or blender, add the egg and yolk and mix thoroughly.
Measure the oil. Turn on the blender or processor at medium-low speed and start pouring the oil in a tiny steady stream, until you finish all the oil. Transfer the alioli to a container and set aside.
Preheat a heavy skillet. Cut the cuttlefish head in bite-sized pieces and brush them with olive oil. When the skillet is hot, place the cuttlefish pieces to grill. They won't need longer than 1-2 minutes per side, in fact overcooking them yields a tough rubbery cuttlefish.
When done, serve them immediately with a bowl of alioli on the side.
And enjoy! This roasted garlic alioli is also wonderful with all kinds of grilled meat and fish. So if you don't dare to try the cuttlefish, try at least this scrumptious dip.
Miriam Garcia
Born in Madrid, Spain, Miriam lives in a small town North-West of Madrid with her family. Passionate foodie and amateur photographer, her liking for cooking originates mostly from her mother and her paternal grandmother. Miriam is the creator of the awarded Spanish food blog The Winter Guest.