Miriam Garcia decides to change her mindset and try to think like a non-Spaniard looking for scrumptious, colorful and easy-to-make tapas.
By Miriam Garcia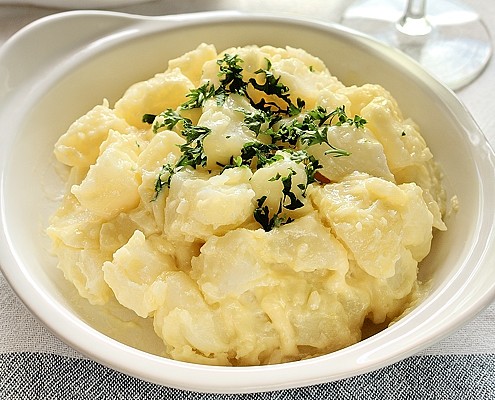 I am starting a new series of articles on the most popular type of dish or at least the best known type of Spain gastronomy: tapas. I already have some tapas recipes in my blog, but never before thought about making a real series out of this type of dish. The trouble with tapas is that they're so familiar to Spaniards that we don't really get the hype about them. It's not that they're not delicious. It's not that an array of colorful tapas is not perfect for entertaining either small or large parties. It's just that we take tapas for granted.
Therefore I intend to change my mindset and try to think like a non-Spaniard looking for scrumptious, colorful and easy-to-make tapas. And what is a tapa? Well, you all know it is essentially a small appetizer that's always served alongside drinks in Spanish bars and restaurants. Even though today a tapa can be made out of literally anything, with for example stews or soups served in tapa-sized portions, I prefer the very traditional choices, small bites that have been around for many years already. So let's start with the first element I've chosen for this series, a real tapa classic: patatas con alioli, meaning potatoes with alioli sauce. Now that the barbecue season is starting all over the northern hemisphere, you'll find this potato-salad-like appetizer to be a great addition to any respectable barbecue party. This tapa can be made in advance and kept in the fridge.
Patatas con alioli is a kind of potato salad dressed with a strong garlic sauce. Alioli is made up of the Catalonian words all-i-oli, which literally translate into garlic-and-oil. Different variations of this sauce are typical throughout the Mediterranean coast of Spain (and it can also be found in France and Italy), where it is prepared by thoroughly mashing garlic cloves in a mortar to release their juices, to which a steady thin stream of olive oil is added until an emulsion is formed that looks whiter and somehow more translucent than classic mayonnaise. Because genuine alioli is not garlic mayonnaise. Although garlic mayonnaise can be used too for this potato tapa. And in fact it is used most often than not; I'm going to use it here because emulsifying the oil with the only aid of the garlic juices is a tricky matter. Believe me, I've tried it. It can take you more than one whole hour to add all the oil needed, drop after drop, till you get a reasonable amount of alioli. And spoiling the emulsion during the making process is the easiest thing to do.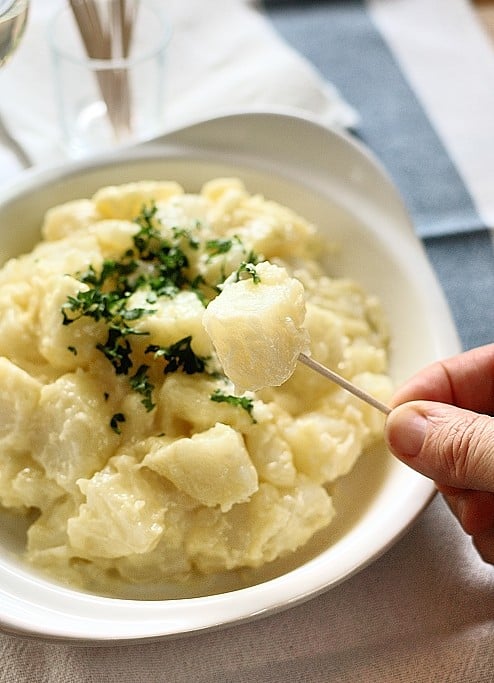 See Also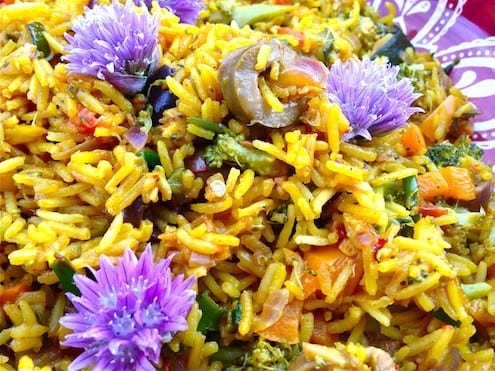 Print
School for tapas: alioli potatoes
---
Author:

Miriam García

Total Time:

1 hour 15 minutes

Yield:

4

1

x
Description
Patatas con alioli or alioli potatoes is a kind of potato salad with a strong garlic sauce, alioli, made by emusifying olive oil only with mashed garlic. A fake (and a lot faster and easier to make) alioli, aka garlic mayonnaise, can be used too.
---
Garlic mayonnaise
1

whole egg

3

garlic cloves

1

dash lemon juice

1/2 tsp

salt

1/2 cup

sunflower oil

1/2 cup

mild olive oil (the oil must be mild, otherwise the sauce will taste too strong)
Alioli potatoes
4

medium potatoes (

1

per person for a tapa-sized portion)

2 tsp

salt

1

bay leaf
Some sprigs of parsley
---
Instructions
Thoroughly wash the potatoes. Put them unpeeled in a saucepan and cover with cold water.
Add the salt and the bay leaf.
Put on high heat, bring to a rolling boil and cook uncovered for 15-20 minutes, depending on the quality of the potatoes. Add more water if needed before the potatoes are cooked. Prick with a knife to check for doneness.
When cooked, turn off the heat and leave the potatoes to temper in the water another 20 minutes. Then rinse and leave to cool completely.
Prepare the garlic mayonnaise while the potatoes cool down: peel the garlic cloves, cut them in half and pry out the germ (the sprout in the center of the cloves), as it is supposed to be the cause of the garlic's digestive aggressivity. Dice the cloves.
Mash the garlic cloves in a mortar with a pinch of salt or process them to a puree in a food processor (if it can handle such a small amount of ingredients).
Put the egg, which should be at ambient temperature, in a blender or food processor.
Add the garlic, the salt and a dash of lemon juice. Pulse to mix.
Switch on the blender and start adding the oil in a steady thin stream through the lid, till you finish all the oil and the mixture has thickened and emulsified. When done, test for seasoning. If you find the sauce too garlicky for your taste, you can always add a ¼ cup more of oil, but not more as one egg yolk can only emulsify a certain total amount of oil. Also I recommend to keep the sauce on the salty side, as you need the sauce to outweigh the blandness of the potatoes.
Peel the potatoes and cut into chunks, put them in a salad bowl or in individual small bowls. Add the sauce to the potato chunks and toss to cover well.
To finish, finely chop a few sprigs of parsley and sprinkle on top of the potatoes.
Notes
Just a warning: as the homemade garlic mayonnaise carries raw eggs, you must get hold of the freshest eggs you can find and always keep the alioli in the fridge for no longer than 3 days.
Prep Time:

15 mins

Cook Time:

1 hour
Serve on a warm day with a very cold beer, fino or even better… with a chilled sangría. Salud!
Try another great Spanish recipe – Padron Peppers – here.
Miriam Garcia
Born in Madrid, Spain, Miriam lives in a small town North-West of Madrid with her family. Passionate foodie and amateur photographer, her liking for cooking originates mostly from her mother and her paternal grandmother. Miriam is the creator of the awarded Spanish food blog The Winter Guest.