Schiaccia Briaca: Drunken Tuscan Cake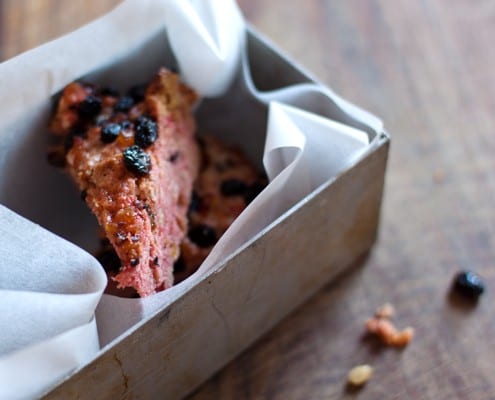 Schiacciata ubriaca is a unique specialty of the Island of Elba: a "drunken" cake, boozy with the island's own red dessert wine, Aleatico.
By Emiko Davies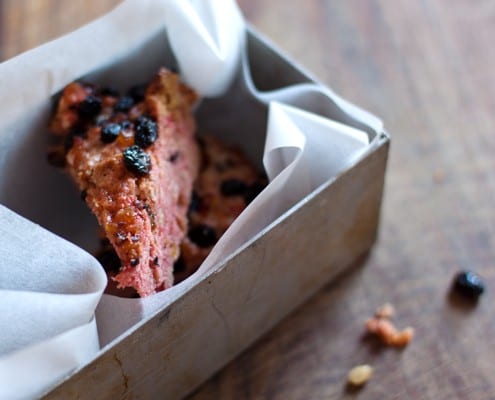 With origins in cucina povera, the cake was reportedly invented by a rather creative baker from Elba's Rio Marina, whose recipe combined two unique alcoholic beverages.
The first and defining ingredient is Aleatico, Elba's very own sweet red wine, which lends the cake its rosy colour, boozy flavour and name, known in its local lilt as schiaccia briaca (schiacciata ubriaca, or 'drunken schiacciata').
Aleatico is made in Elba from a red muscat grape that is also found in Lazio and Puglia. With a long history of Aleatico production on the island that goes back centuries, the sweet, liquorous wine was apparently Napoleon's only consolation during his 300-day exile on the island. But that's not the only reason you should try it. The sweet berry and rose aromas and deliciously syrupy consistency will seduce you on its own.
The second liqueur that's added to the mix is Alchermes, a Tuscan specialty that dates back to the Middle Ages when it was touted as an elixir for longevity. The name comes from the Arabic and Persian words that describe the origins of the striking scarlet-pink colour of the liqueur, originally made from cochineal insects.
The Medici dukes were fond of Alchermes and in the 16th century Catherine de' Medici even brought it with her to France where it became known as the liqueur of the Medici. The monks of Santa Maria Novella church were known to make it in 1743 and the Officina Farmaceutica di Santa Maria Novella still does – you can still find the most authentic version of Alchermes here today. The cinnamon and clove scented liqueur is still very much used in traditional Florentine desserts, including zuccotto and zuppa inglese (named for the English trifle that inspired this dessert), where it is used as much for its bright fuchsia colour as for its aroma and flavour.
If you cannot get Aleatico for this recipe, it won't be a Schiacciata Ubriaca but you could substitute any sticky dessert wine.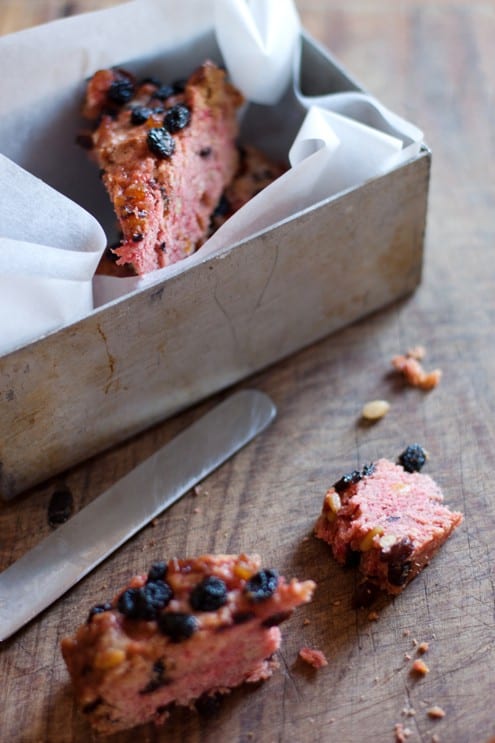 Schiaccia Briaca: Drunken cake from a Tuscan Island
A fruitcake-like specialty, made boozy with Aleatico and the pink-hued liqueur Alchermes.
Ingredients
500 grams/18 oz of plain flour
200 grams/7 oz of currants, raisins or sultanas (or a mix)
200 grams/7 oz of sugar
1 tsp baking powder
pinch of salt
145 ml/5 oz (about a wine glass full) of Aleatico
50 ml/1.5 oz of Alchermes
100 ml/3.5 oz of olive oil
30 grams/1 oz of pine nuts
Instructions
Preheat the oven to 180° C (350 ° F).
Soak the raisins in a bowl of hot water until they become soft and plump.
Combine the sifted flour, baking powder, salt, raisins and most of the sugar (set aside a few tablespoons) with the olive oil, Aleatico and half of the Alchermes until just combined. Be careful not to over mix the dough or it will become hard and chewy rather than crumbly. Some recipes advise on letting the mixture rest for up to an hour before baking.
Press the dough into a greased and lined round baking tin and top with the pinenuts, a sprinkling of Alchermes, a drizzle of olive oil and a few tablespoons of sugar. This final touch gives the schiacciata its characteristic pink, crusty top.
Bake for about 45 minutes or until a skewer inserted into the cake comes out clean. This cake is perhaps even better a few days after it's made, with a characteristically sweet, dense, crumbly consistency and a crispy top.
Emiko Davies
Emiko Davies is a food writer, photographer and illustrator who Amanda Hesser calls the "Renaissance Woman for the Internet Era". She lived in Florence, Italy, for seven years where she nurtured her love of regional Italian cuisine and now calls Australia's food capital, Melbourne, her home.