Rather drink the beer than put it in a burger? No problem, the beer just accentuates what's already there. Take it out and put directly into your belly.
By Maggie Cubbler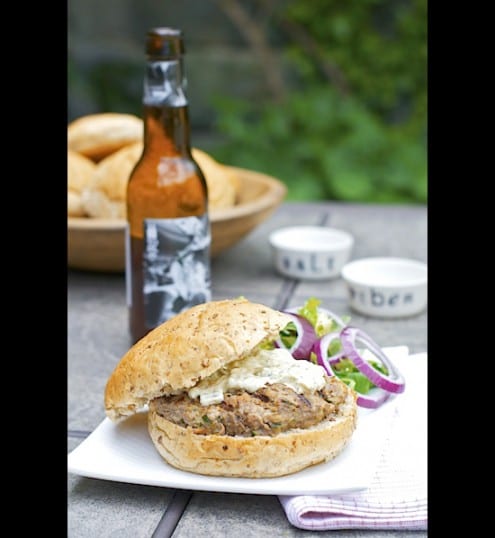 So, slap this sucker on the grill, baste with the beer, spread on the remoulade, and then enjoy!
Scandinavian Beer Burger with Danish Remoulade
Rather drink the beer than put it in a burger? No problem, the beer just accentuates what's already there. Take it out and put directly into your belly.
Ingredients
For the burgers
1lb (500g) lean ground beef (beef mince)
1 medium zucchini (courgette), finely grated
1 medium carrot, finely grated
2TB finely minced onion (white or yellow)
2TB finely minced garlic
2TB chopped fresh dill
½ cup (120ml) beer
1 egg, beaten
1tsp salt
½tsp red pepper flakes
Freshly ground black pepper
4 whole wheat buns or rye rolls
Toppings:
Red onion
lettuce
tomato
remoulade
For the remoulade
1 cup mayonnaise
curry powder (to taste + color)
⅛ tsp. dry mustard
1TB fresh lemon juice
½ cup finely chopped white onion
½-3/4 cup dill pickle relish
¼ cup fresh dill, finely chopped
¼ cup fresh parsley, finely chopped
salt and white pepper (to taste)
Instructions
For the burgers
Prepare the grill. Cook the burgers directly over medium heat.
Wring out the grated zucchini and carrots with a paper towel to ensure that they are very dry.
Combine the beef, zucchini, carrots, onion, garlic, dill in a large bowl and mix lightly.
In a separate bowl, combine the beer, egg, salt, and red pepper flakes. Add this mixture to the beef and mix lightly.
Form the beef into four patties and season with the freshly ground black pepper.
Grill the burgers for 8-10 minutes, covered on the grill and turning just once and basting each side with the beer, or until finished to desired doneness.
For the remoulade
Combine the mayonnaise and the curry powder together until you have achieved a very slight yellow-green color. The version I had was slightly spicy so recognize that the curry powder is not exactly measured out--it is done to your likeness.
Once you have achieved what you are looking for with regards to color and taste, add the dry mustard powder. Stir to combine.
Then add in the rest of the ingredients except for the salt and pepper, reserving some of each of the chopped ingredients to ensure that you'll get the texture you're looking for: roughly the texture of a good oatmeal. Not too runny or chunky. (Of course, this is to your individual tastes but most remoulades are relatively creamy.)
Season with the salt and white pepper to taste.
Assemble the burgers to your liking, spread the remoulade on the bun, and...
Get Loaded!
Maggie Cubbler
Maggie Cubbler is a beer-and-food-loving Yankee living in North Yorkshire, England. When she's not pulling pints at a traditional Yorkshire pub, she devotes her time to her Labrador, husband, and working on her blog: Loaded Kitchen. She loves to pair beer with food, cook with beer, and drink a (half) pint or two with the natives. Besides blogging and drinking, Maggie is currently studying to become a certified Cicerone while trying to figure out why Yorkshire men like lime cordial syrup in their lagers. Take a swing by her blog and check out the party in her pans.